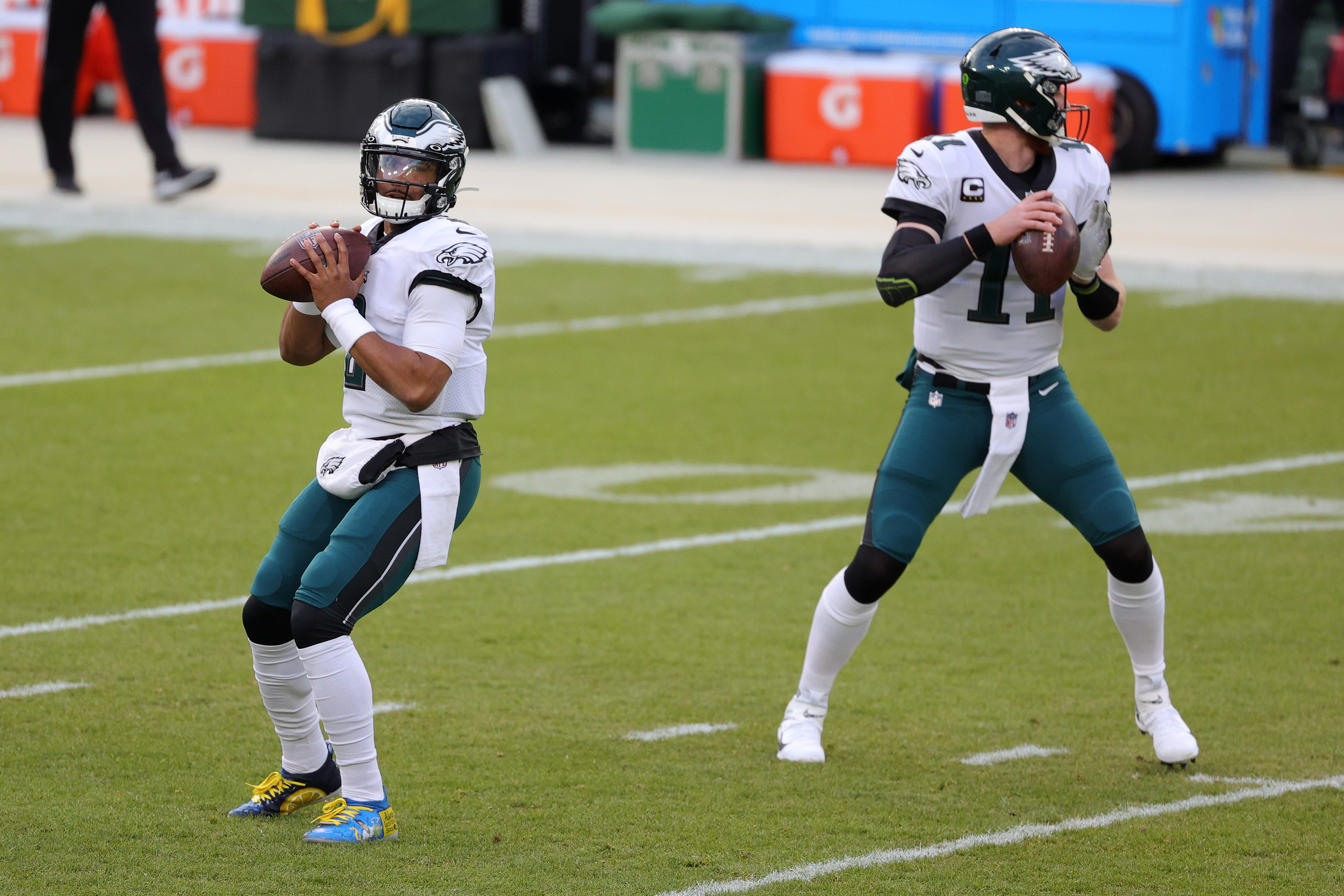 Eagles QB Jalen Hurts Took Carson Wentz's Starting Job but Still Can't Touch His Huge Payday
Come Week 14, Jalen Hurts will be the starting quarterback for the Philadelphia Eagles. Carson Wentz, however, will still be earning plenty of money on the bench.
While purists may insist that defense wins championships, most modern NFL teams succeed thanks to a talented quarterback and an explosive offense. The Philadelphia Eagles offense hasn't done much all season; on Sunday, they'll be trying something at quarterback, too, as Jalen Hurts is starting ahead of Carson Wentz.
Although Jalen Hurts will be taking over the starting quarterback job, he's not quite commanding the big bucks just yet. In fact, his entire 2021 NFL salary is less than what Carson Wentz will make in a single game during the 2021 campaign.
Carson Wentz and the Eagles have struggled in a weak NFC East
Last season, the Philadelphia Eagles managed to make the playoffs thanks, in large part, to the weakness of the NFC East. While the division is still pretty terrible in 2020, things have gotten worse in the City of Brotherly Love.
While the exact predictions varied depending on your preferred outlet, the Eagles were generally expected to be a playoff team; some even though that an offense featuring Carson Wentz, Miles Sanders, Jalen Reagor, and Zack Ertz would be enough to win the division. In reality, though, things quickly went south.
Although the issues at quarterback have grabbed most of the headlines, the entire Eagles team has been a mess. The offensive line has struggled; the receiving corps and play-calling haven't done Wentz any favors, either. All of that has combined to create a 3-8 team that, despite being within touching distance of the NFC East lead, looks miles away from true contention.
"We're here to talk about the Eagles, Cody Benjamin wrote for CBS Sports in November. "What is wrong with them? Who is at fault? And where do they go from here? The short answer: This is a total team effort. The Eagles, despite your fleeting memories of their magical 2017 title run, have been just clutch enough to hover above mediocrity for two and a half years running."
Jalen Hurts will take over the starting job come Week 14
During the 2020 NFL draft, the Philadelphia Eagles raise a few eyebrows when they selected a quarterback, Jalen Hurts, with the 53rd-overall pick. Now, 14 weeks into his professional career, the rookie will get his first chance as a starter.
Beyond the obvious performance issues—Carson Wentz has thrown for 2,620 yards, 16 touchdowns, and 15 interceptions through 12 games in 2020—head coach Doug Pederson said that he also wanted to give his Eagles squad a bit of a jump start.
Same reason I made the switch in the [Week 13] game. We need a spark. It's not about one guy here. We all know we need to be better," Pederson explained, according to ProFootballTalk. "Doing this for the same reason; we need a spark, offense has been poor for many reasons. Opportunity for Jalen's development. Still have great belief in Carson as a QB and leader of the team. We have to get him better and the offense as well."
Jalen Hurts' is the starter, but Carson Wentz still has a massive salary
RElATED: Carson Wentz and Jalen Hurts Are Giving Eagles Fans Nightmares of 2006
While Jalen Hurts may have climbed over Carson Wentz on the Eagles depth chart, there's still quite a financial disparity between the quarterbacks.
Based on Spotrac's numbers, Hurts is earning a base salary of $610,000 in 2020; next season, that will rise to just over $883,000. Wentz, by virtue of the extension he signed in 2019, takes home over $15 million in base salary come 2021.
While the discrepancy is to be expected—any rookie backup quarterback is going to be earning less than an established starter who just signed a sizable extension—it does underscore the situation that the Eagles find themselves in. At this point, Philadelphia has committed millions of dollars to Carson Wentz; no matter how well the Jalen Hurts plays, the veteran can't really be cut released until 2022. In all likelihood, he'll either be playing (potentially poorly) or earning big bucks to hold a clipboard.
At this point, Jalen Hurts has taken Carson Wentz's starting job; since the Eagles aren't going anywhere, there's simply no reason not to see what he can do. The veteran's payday—and the problems it will cause—haven't gone anywhere, though.