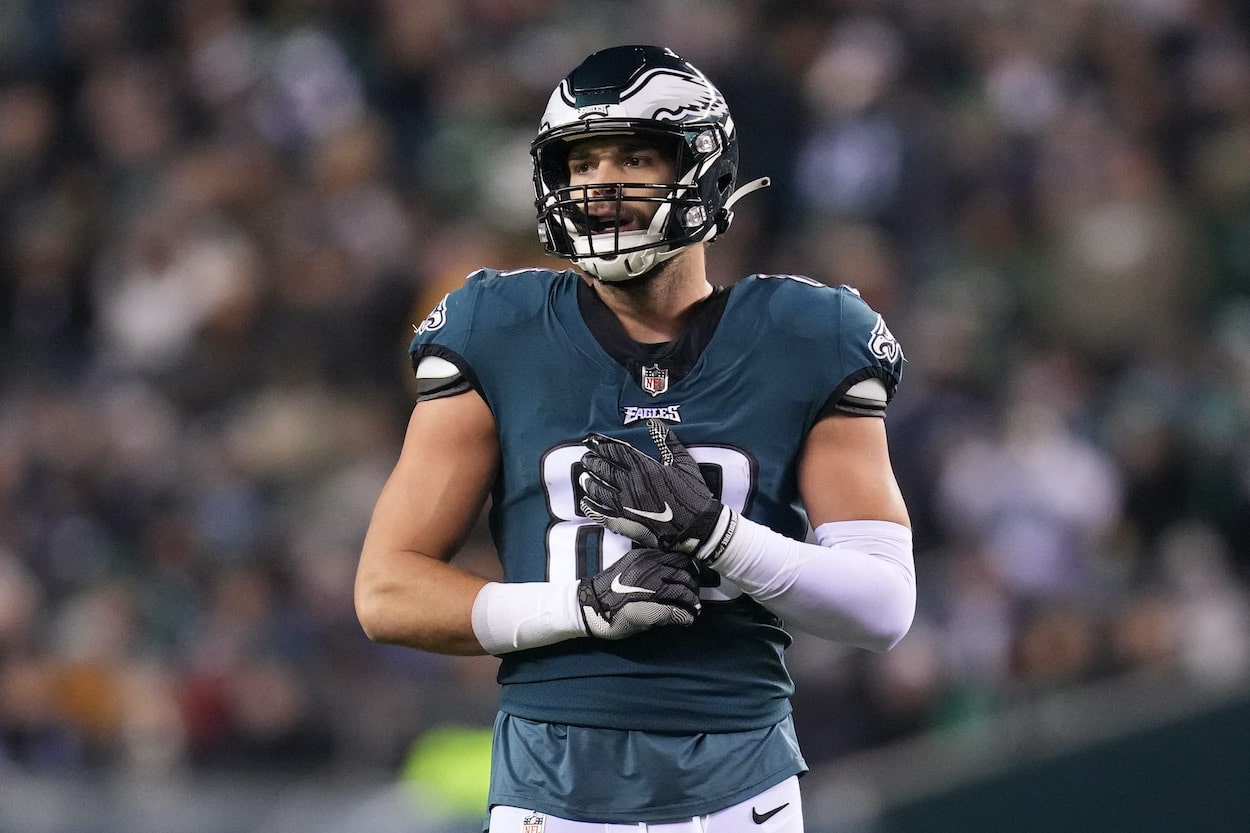 Eagles Suffer Devastating Loss to TE Dallas Goedert That Adds Injury to Insult
Dallas Goedert suffered a shoulder injury on the missed facemask call during Monday night's game.
The Philadelphia Eagles dropped their first game of the 2022-23 season on Monday night to the Washington Commanders, and many fans were quick to blame the referees. To be clear, the refs weren't the reason why Philly lost the game, but bad calls are always amplified during primetime games.
There were a few blatant mistakes by Alex Kemp's crew throughout the second half, most notably the missed facemask on a Dallas Goedert fumble that flipped the momentum back to Washington and resulted in three points. That missed call will haunt Eagles fans all week, and the damage it caused to Goedert added injury to insult.
Dallas Goedert suffered a shoulder injury on missed facemask call
The Eagles went down by nine points in the middle of the third quarter, but they responded with a touchdown on their next drive to cut the deficit to two. Philly looked to finally take control of the game with an interception on Washington's next possession, and the offense rolled ahead for two first downs in five plays.
On the sixth play of the drive, Goedert caught a screen pass and ran for two yards before he was sandwiched by two Commanders defenders and fumbled the ball. Washington recovered the fumble, but upon further review, the referees missed one of the most blatant facemask penalties of the season. Instead of 15 yards and a first down that would've pushed them to midfield, the Eagles lost possession and gave up a field goal to go down five. They ended up losing the game, 32-21.
Goedert stayed down in pain after the lost fumble, and now we know why. On Tuesday morning, Mike Garafolo of NFL Network reported in a tweet that Goedert suffered a shoulder injury on the play and will miss "extended time." Garafolo did note the injury isn't a season-ender, but Jalen Hurts will be without one of his favorite targets for at least a few weeks.
How will the Eagles replace Goedert on offense?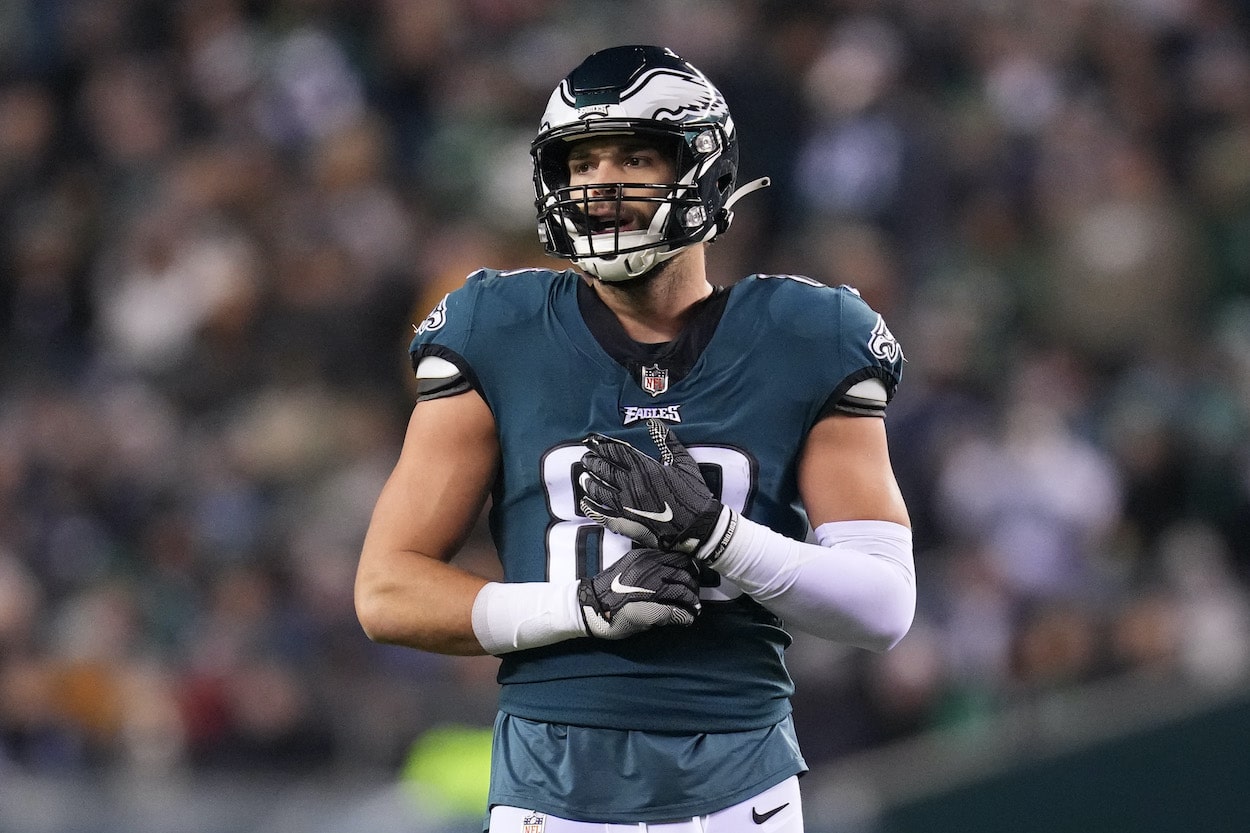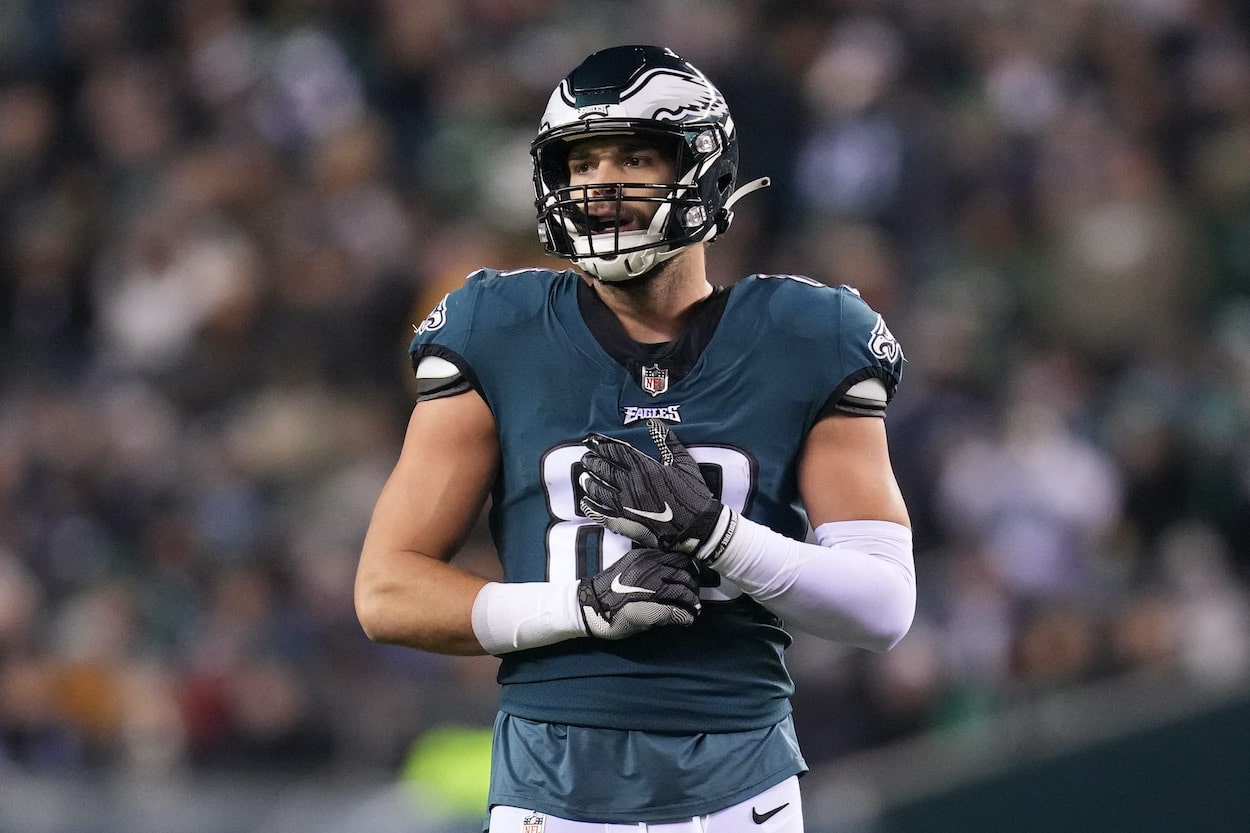 Goedert has been a crucial piece of Philadelphia's offense this season. Through nine games, he ranks third on the team in catches (43), second in receiving yards (544), and second in receiving touchdowns (three). He also ranks first among all NFL tight ends in yards per catch (12.7).
Jack Stoll and Grant Calcaterra are the only active tight ends on the roster right now, but they've combined for just five catches and 89 receiving yards this year. Tyree Jackson, a 6-foot-7, 249-pound freak of an athlete who played quarterback in college, should be placed on the active roster this week. The Eagles could also elevate Noah Togiai, who's appeared in two games this season and hasn't caught a pass, from the practice squad.
Either way, Philadelphia won't be able to replicate Goedert's production with backups. He was on pace for a Pro Bowl season, after all. We should see a heavy dose of Hurts and Miles Sanders in the run game while Goedert sits out, and A.J. Brown and DeVonta Smith will dominate the targets in the passing game.
Have thoughts on this topic? Keep the conversation rolling in our comments section below.