Emmitt Smith Reveals His Favorite Deion Sanders Story with the Dallas Cowboys
Emmitt Smith was all business when he was on the football field. Smith played a major role in the Dallas Cowboys winning three Super Bowls in four years. While Troy Aikman was throwing passes to Michael Irvin, Emmitt Smith kept the defense honest with his strong running game. Recently, Smith recalled a light-hearted moment during a 1995 game that involved his favorite Deion Sanders story.
Emmitt Smith's NFL career
Emmitt Smith played his college football at the University of Florida. Smith was a first-round pick in the 1990 NFL draft, selected by the Dallas Cowboys. He was the 17th overall player taken. Smith was dominant from the get-go.
Smith made the first of his six straight Pro Bowls in his rookie season. He started 15 of the 16 games he played and rushed for 937 yards and 11 touchdowns in his first season in the NFL. He then went on to lead the NFL in rushing yardage the next three seasons. In his third season in the league, Smith led the league in rushing yards (1,713) and touchdown runs (18).
Smith is a four-time rushing leader, and had a monster season during the 1995 campaign. That year, Smith was tops in rushing yardage with a career-high 1,773 yards and also led the league with a career-high 25 rushing touchdowns. He finished his career with 183 rushing touchdowns (playoffs included). Smith also racked up 19,941 rushing yards, postseason included. He was inducted into the Pro Football Hall of Fame in 2010.
Deion Sanders' time with the Dallas Cowboys
Deion Sanders was drafted with the fifth overall pick in the 1989 NFL draft by the Atlanta Falcons. He played five seasons in Atlanta before playing one season with the San Francisco 49ers. With the Niners, Sanders won his first Super Bowl ring and had arguably his best season, winning Defensive Player of the Year.
In 1995, there was a bidding war for Sanders that was won by the Dallas Cowboys. Although the Oakland Raiders supposedly offered Sanders more money, he elected to sign with the Cowboys for a better chance at winning, according to Sanders' book. He played five seasons with the Cowboys.
Sanders was a part of the Cowboys' Super Bowl 30 title, which was Dallas' third championship in four years. During his five seasons in Dallas, Sanders collected 14 interceptions, returning two of them for touchdowns. Sanders was inducted into the Pro Football Hall of Fame in 2011.
Emmitt Smith's favorite Deion Sanders story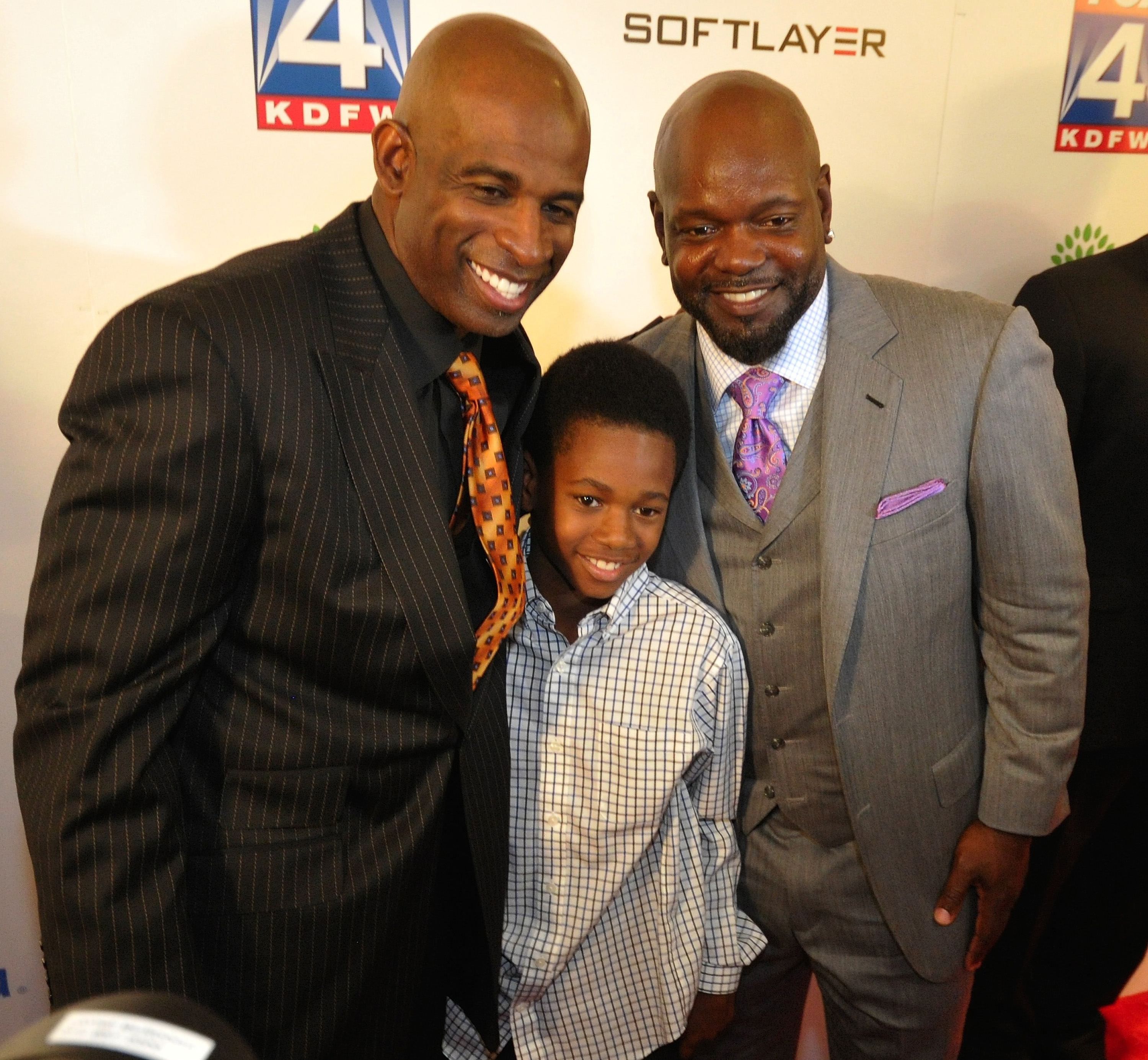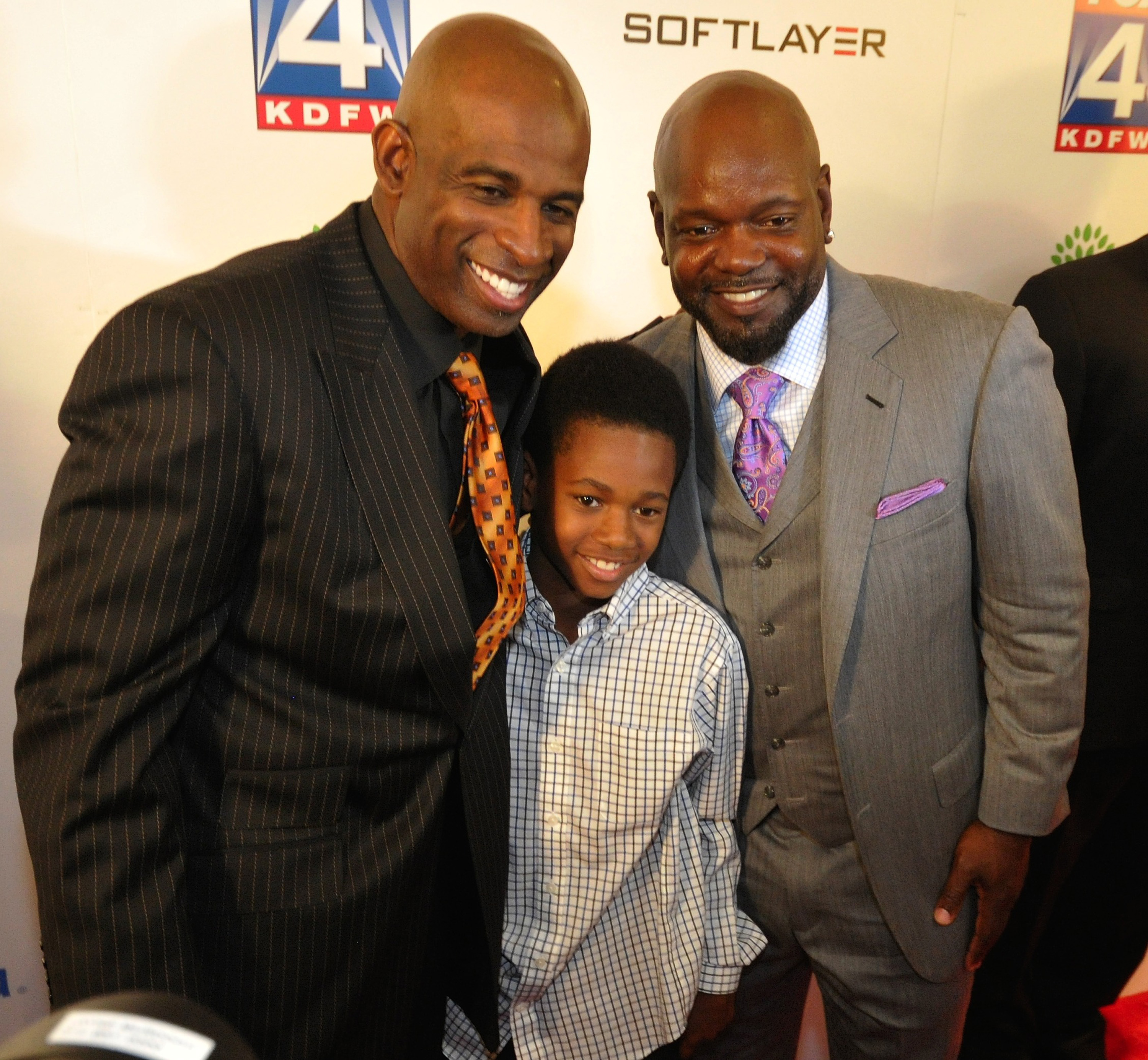 Emmitt Smith and Deion Sanders were Dallas Cowboys teammates for five seasons. Smith was recently on The Saturday Down South Podcast and was asked to share his favorite Deion Sanders story. Smith didn't hesitate. "We're playing the New York Giants on Monday Night Football, and we're beating them pretty handily," Smith recalled. "They take some of the starters out and Deion is one of the starters.
"They put in another cornerback by the name of Kevin Mathis, and I think (Kent) Graham is the (Giants) quarterback at the time. Graham is dropping back, doing his 5-step or his 7-step drop back and throwing this out route towards Kevin Mathis. And they probably did it three or four times during two different series. Deion is on the sidelines without his helmet telling — he called (Mathis) Lil' fella — 'Lil fella, Lil fella. They comin' right at you. Look at the splits of the wide receiver, etc., etc.' And they call another one. Deion snatches his helmet, runs on the field, and says 'Get off the field, get off the field.'
"And I don't think Graham realized that Deion came on to the field. He put his helmet on and Graham throws the same old out route. Prime stepped right in front of it, took it back to the house, high-stepped about 50 yards into the end zone with his hand on the back of his head. He comes to the sideline and goes, 'And that's how you do it,' and takes his helmet off."