England Manager Gareth Southgate Made 2 Crucial Changes, and the Three Lions are Once Again World Cup Contenders
The 2022 World Cup for England has already been a rollercoaster. The side's opening 6-2 win vs. Iran gave way to the lethargic 0-0 draw with the USMNT on Matchday 2. After that worrisome soccer match, England manager Gareth Southgate made two key changes to his starting lineup. Those moves led to the 3-0 victory over Wales, and the team punching its ticket to the quarterfinals with a 3-0 win over Senegal. If not for adding Phil Foden and Jordan Henderson to the starting 11, England may have been in trouble. However, with this pair now in the mix, the Three Lions head into a Round of 8 showdown against France with a real chance to win.
Phil Foden and Jordan Henderson are the England keys to victory
After England sleepwalked through a Black Friday scoreless draw with the U.S., manager Gareth Southgate obviously saw the need to make some changes.
Through two games, Southgate trotted out the same midfield three of Chelsea's Mason Mount, West Ham's Declan Rice, and Borussia Dortmund's Jude Bellingham. Rice is an excellent holding midfielder, and Bellingham is an absolute teenage sensation. The weak link here was Mount.
Up front, the Three Lions had Chelsea's Raheem Sterling, Tottenham's Harry Kane, and Arsenal's Bukayo Saka. Kane is the team's unquestioned tip of the spear, but neither Sterling nor Saka looked dangerous vs. the USMNT.
For match three vs. Wales, enter Manchester City's Phil Foden and Liverpool's Jordan Henderson.
The two players couldn't be much more different. Foden is a 22-year-old creative playmaker who can also score, although he freelances more than Southgate would probably like. Henderson is a 32-year-old jack-of-all-trades whose days as an elite box-to-box midfielder are behind him.
Together, though, Foden and Henderson were just what England needed.
Henderson's cool consistency and positional acumen in the midfield — as opposed to Mount's desire to go forward — freed up Bellingham to be more creative and find the soft spots in the defense. Likewise, Foden's ability to play more centrally — as opposed to Sterling and Saka, who are pure wingers — took attention away from Kane.
The end results were six goals for England, none conceded, a goal for Henderson, and a goal and two assists for Foden.
While these changes were massive for England, it's worth noting that Southgate's hand may have been forced as far as starting Foden against Senegal goes. That's because Sterling unexpectedly had to return to England after his home was the target of a home invasion, per ESPN.
Gareth Southgate and the Three Lions face a tough quarterfinals test vs. France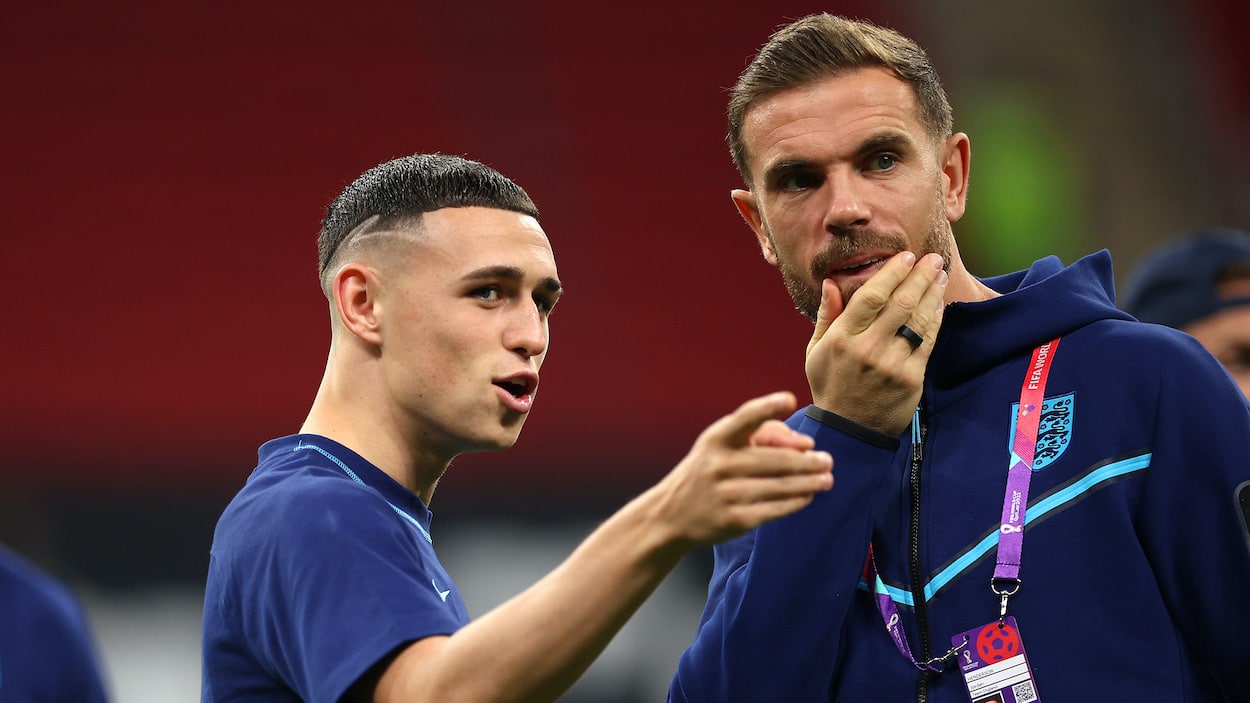 Gareth Southgate and the Three Lions are now one win away from equaling their semifinal run in the 2018 World Cup. However, in-between England and that feat is a defending champion French side.
The two European frenemies have never met in the knockout stages of a World Cup, but will on Saturday, December 10.
While the addition of Jordan Henderson and Phil Foden to the starting 11 has jumpstarted the Three Lions, France hasn't needed a shock to dominate in 2022. The meaningless 0-1 hiccup vs. Tunisia aside, France has outscored its other opponents 9-3 in this year's World Cup.
During this run, superstar forward Kylian Mbappe is leading the 2022 Golden Boot race with five goals, two ahead of Argentina's Lionel Messi, Spain's Alvaro Morata, the Netherland's Cody Gakpo, England's Bukayo Saka and Marcus Rashford, and his teammate, Olivier Giroud.
Stopping France from becoming the first repeat World Cup champion since Brazil in 1962 will be no easy task for England. However, if Southgate keeps riding this dynamic Jordan Henderson, Phil Foden combination, the team absolutely has a chance to beat France and even win the whole thing.