Eric Bieniemy Contract: Chiefs OC Has a $2.5M Decision to Make
Kansas City Chiefs offensive coordinator Eric Bieniemy is a hot topic in the NFL world these days. The OC has won two Super Bowls, coached in three in the last four seasons, and is constantly mentioned for open head coaching jobs. However, after a half-decade under Andy Reid in KC, no job has come. Now Bieniemy is taking interviews with other teams in the hopes of boosting his chances to become a head coach someday and, of course, getting a big new Eric Bieniemy contract.
The Eric Bieniemy contract situation
NFL coordinator salaries are not public record and are almost never fully revealed. What we do know is that the average coordinator salary is around $1 million per season, per NBC Sports Bay Area.
Josh McDaniels with the New England Patriots (~ $4 million) and Todd Bowles with the Tampa Bay Buccaneers (~$3 million) are the highest-known salaries for offensive and defensive coordinators, respectively.
While we don't know the dollar figure on the Eric Bieniemy contract, we do know the recent lengths. After Bieniemy didn't get a head coaching gig in the 2020 hiring cycle, the OC signed one-year deals in 2021 and 2022, per NFL.com.
Now, after hoisting his second Lombardi Trophy with the Chiefs, Bieniemy is interviewing for other OC jobs around the league. The thought is the former NFL running back needs to design his own offense and call his own plays outside the lengthy shadow of his boss, Andy Reid, and succeed without Patrick Mahomes. 
A substantial paycheck will also come with the move.
According to 106.7 The Fan sports talk radio host JP Finlay on Twitter, sources tell him the Chiefs OC is looking for a new Eric Bieniemy contract in the neighborhood of $2.5 million per season.
The lack of a signature offense and play-calling responsibilities isn't the only reason Bieniemy doesn't have an NFL head coaching job yet. The coach has a lengthy arrest record from his playing days and stirred up controversy as a coordinator at Colorado with some seedy recruiting practices.
Nonetheless, Bieniemy has been on the straight and narrow for nearly 20 years now and is now in search of his first Eric Bieniemy contract as an NFL head coach.
Which open offensive coordinator position is the best fit?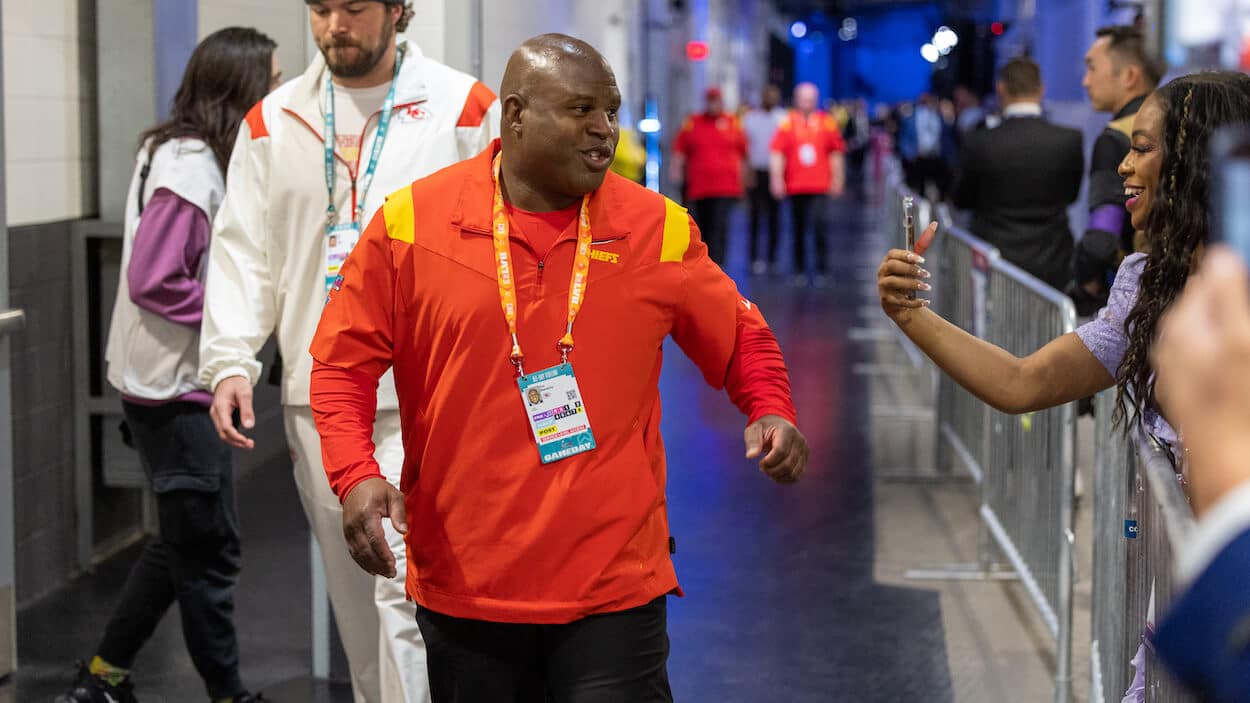 If Eric Bieniemy does leave the Chiefs offensive coordinator job in search of a place he can make his own mark, there are several options available. Reports are that the Baltimore Ravens, Washington Commanders, and Tennessee Titans all requested interviews with Bieniemy for their open OC positions.
The Titans have since elevated their passing game coordinator, Tim Kelly, to the OC role, which leaves the Ravens and Commanders.
The Ravens are a well-coached team by Jim Harbaugh, a special teams coordinator by trade. They also almost always have a stout defense, and 2022 was no exception. The unit finished third in the NFL in scoring defense.
Baltimore could also be incredible if Eric Bieniemy gets to coach Lamar Jackson. However, with the Jackson contract drama going on this offseason, the quarterback's future in Baltimore is very much up in the air.
As for Washington, they don't necessarily have a QB either. Carson Wentz is on his way out, Taylor Heinicke is a free agent, and 2022 rookie Sam Howell is not a known commodity by any means.
That said, Ron Rivera is another coach who gives his OCs a lot of leeway, and the defense, offensive line, and skill position players on the Commanders are above average. Bieniemy could quickly turn them into a winner with some decent QB play.
So, where is the best place for the Chiefs OC to get a fresh Eric Bieniemy contract? Since I believe Lamar Jackson will not be in Baltimore next season, as long as the Commanders offer a solid plan at QB, Washington is the answer.