How Many Super Bowls Has Andy Reid Won?
Andy Reid and the Kansas City Chiefs are back in the Super Bowl for the third time in four years. They'll take on Reid's former team, the Philadelphia Eagles, in Super Bowl 57 in a matchup of the top seeds of their respective conferences.
Reid also guided the Eagles to a berth in the Super Bowl in 2004. In all, Reid has been the head coach in three Super Bowls, with his fourth upcoming. Has he won any?
Andy Reid is 1-2 as a head coach in the Super Bowl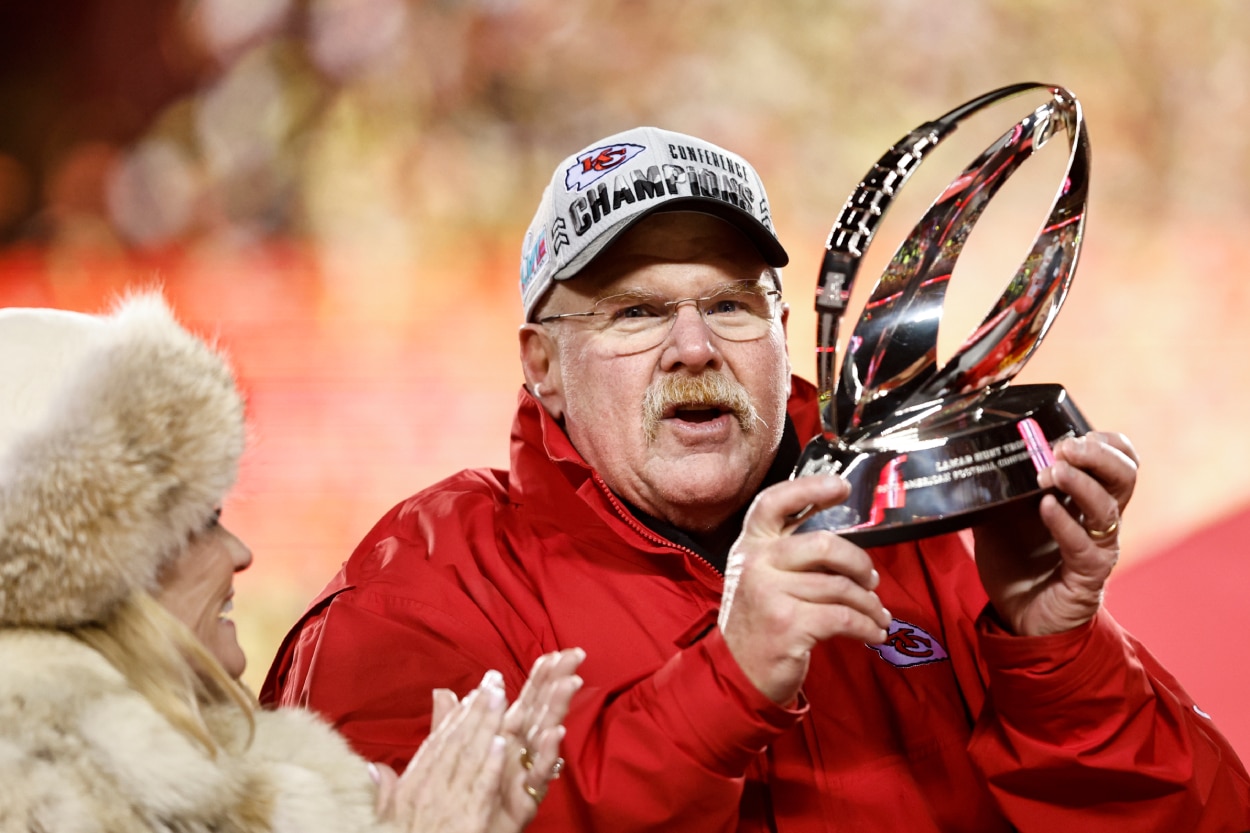 Reid and the Chiefs are on a roll. They have played in the last five AFC Championship Games, winning three of them, including last week's 23-20 win over the Cincinnati Bengals.
Before missing out last year, the Chiefs appeared in two straight championship games, winning Super Bowl 54 and losing Super Bowl 55.
Super Bowl 54 is Reid's lone win as head coach in a Super Bowl. It was his first appearance as a member of the Chiefs, and Kansas City needed a frantic fourth-quarter comeback to pull out the victory. Trailing 20-10 in the final quarter, the Chiefs scored 21 unanswered points and won 31-20.
The following year, the Chiefs lost to Tom Brady and the Tampa Bay Buccaneers, falling 31-9.
Reid's other Super Bowl appearance came with the Eagles in the 2004 season. He spent 14 years as the head coach in Philly and guided them to a berth in Super Bowl 39. Reid fell to the New England Patriots 24-21.
Reid and the Chiefs enter Super Bowl 57 as a slight underdog to the Eagles
Super Bowl 57 is expected to be a tight one, featuring the No. 1 seeds in each conference. The Eagles opened as a two-point favorite, but as of this writing, the line has dropped slightly to 1.5 points.
Both teams enter with identical 14-3 records in the regular season and are 16-3 overall.
There's not a whole lot of history between the teams. They've only met nine times, with the Chiefs holding a 5-4 advantage. Chiefs quarterback Patrick Mahomes has only faced the Eagles one time in his six-year career, that coming last year when the Chiefs outlasted the Eagles 42-30.
In fact, the Chiefs have won the last three meetings. The last time the Eagles knocked off the Chiefs was back in 2009. The last six times the Chiefs and Eagles squared off, Reid was the winning head coach every time. That's a good sign for the Chiefs in Super Bowl 57.