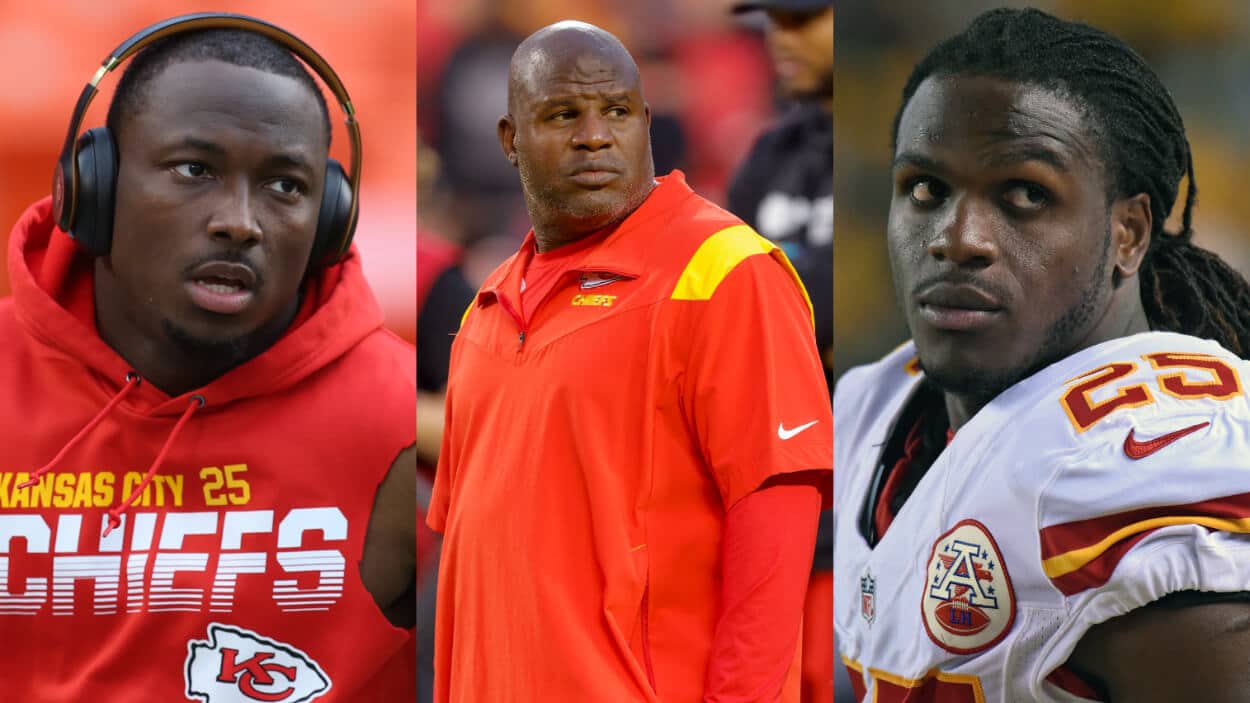 Is Eric Bieniemy Good? 2 Former Chiefs RBs Debate
Is Eric Bieniemy good? Two of his former players, LeSean McCoy and Jamaal Charles have wildly different takes on the new Commanders OC.
There has been a lot of talk, a lot of debate, and a lot of strong opinions shared about former Kansas City Chiefs offensive coordinator Eric Bieniemy. The new Washington Commanders OC hasn't got an NFL head coaching job yet despite being the coordinator of one of the most successful offenses in NFL history. And despite the coach leaving KC and heading to Washington to carve his own path away from Andy Reid, the debate rages on. Now, two former Chiefs running backs are even weighing in, as LeSean McCoy and Jamaal Charles debated the question, is Eric Bieniemy good?
LeSean McCoy and Jamaal Charles argued the question is Eric Bieniemy good?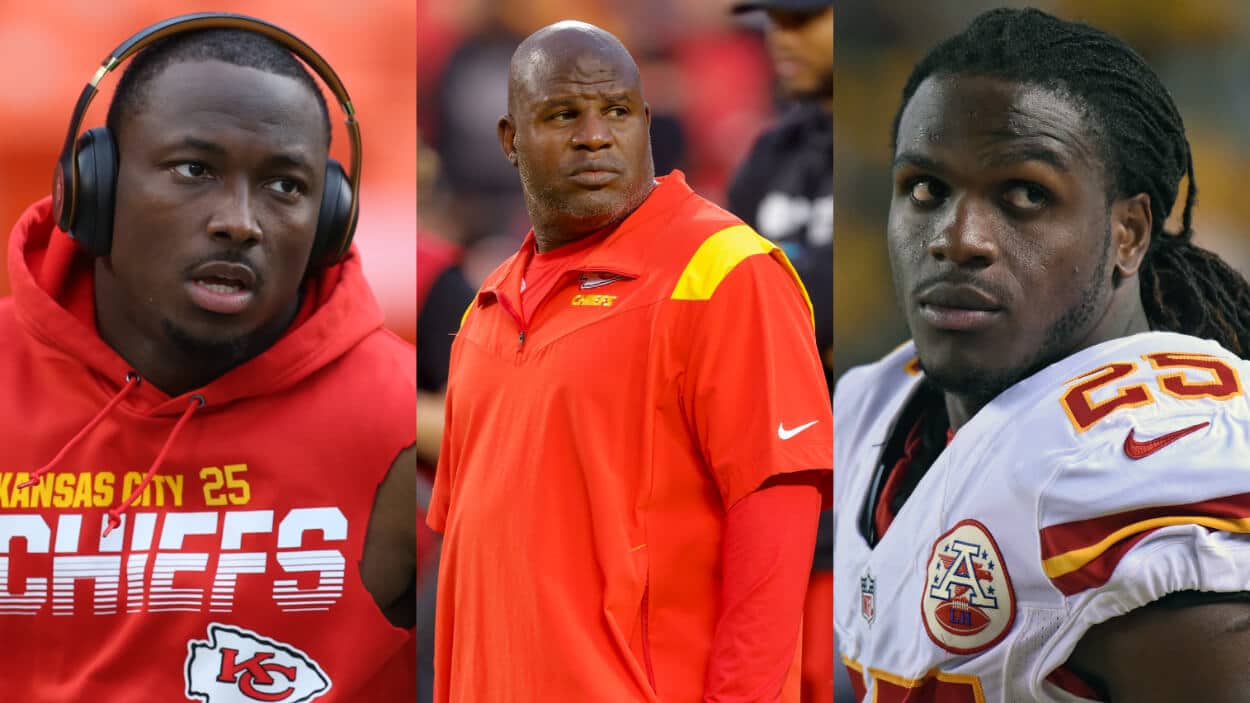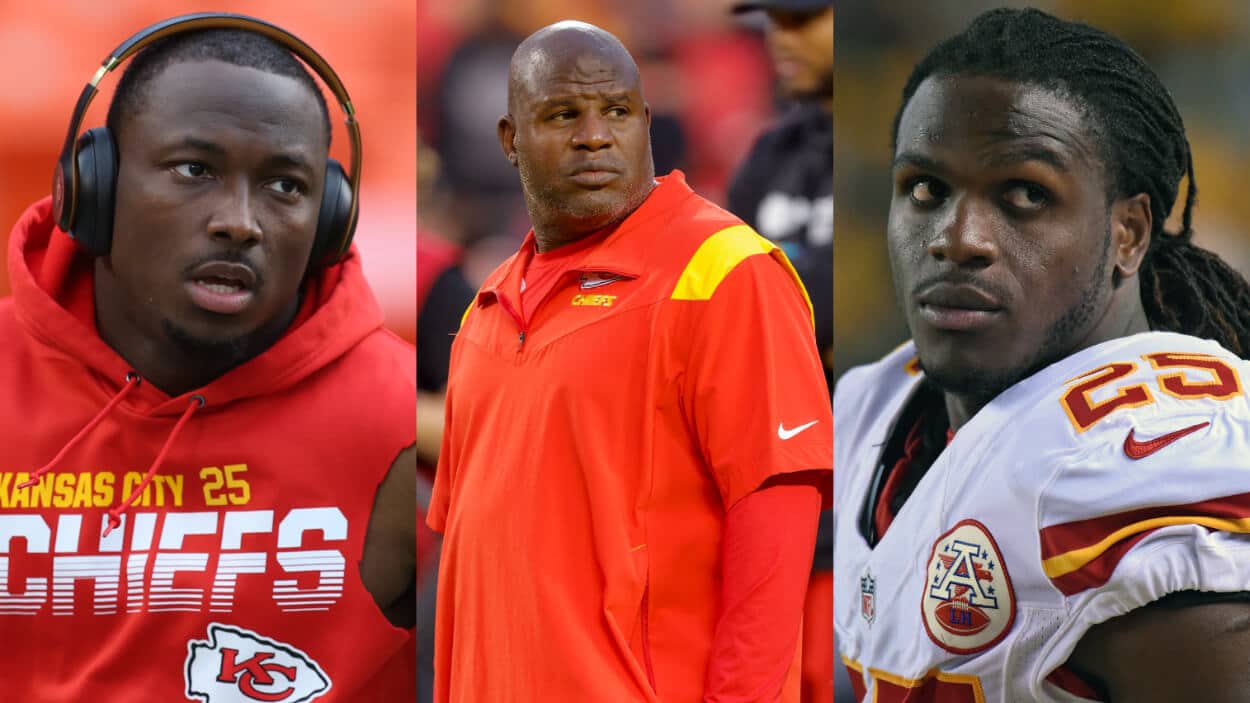 Former NFL running back LeSean "Shady" McCoy played for the Chiefs under offensive coordinator Eric Bieniemy during the 2019 season. Jamaal Charles played the same position for the Chiefs from 2008 to 2016. From 2013 to the end of his Chiefs tenure, Bieniemy was Charles' running backs coach.
Bieniemy has been a lightning rod in the NFL for several years now. As OC of the Chiefs, he's reached three Super Bowls and won two. However, despite interviewing numerous times, he hasn't received an NFL head coaching job yet.
Some see this as proof of discrimination against Black coaches in the NFL. Others argue that with Andy Reid as the primary play-called and offense designer, he is the de facto OC of the Chiefs, and Bieniemy doesn't have the effect on the team some other OCs do.
Either way, the main debate boils down to the questions, is Eric Bieniemy good? And does he deserve a head coaching job in the league?
To help his case, Bieniemy recently decided to leave Reid, Patrick Mahomes, and the Cheifs to go to the Commanders, where he put his own stamp on a team under defensive-minded head coach Ron Rivera.
Ahead of this move, his two former players, McCoy and Charles, shared strong opinions about their former coach.
"I've been in the rooms where he's coaching, and he has nothing to do with the pass game at all," McCoy said on FOX Sports' Speak for Yourself. "When the plays are designed, that's Andy Reid. When you talk about offensive coordinators, I could tell you what makes Brian Daboll with the Giants a very, very good coordinator. I could tell you about Andy Reid or Doug Pederson. But when I ask about Eric Bieniemy, what makes him good?"
McCoy continued saying Bieniemy didn't speak in meetings except occasionally to the running back, he has "no real responsibility," and he could "hide behind Patrick Mahomes [and] Andy Reid" with the Chiefs.
He also said that while Reid is special because he adapts to his players, Bieniemy shocked the six-time Pro Bowler by "dog-cussing" his players at practice.
After the LeSean McCoy rant, Jamaal Charles took to Twitter to disagree with his fellow former Chief.
"I have to disagree with you Shady," Charles wrote. "Bieniemy Coach me 4 years I learned so many thing for EB and I still keep in contact with him a great husband and father. He deserves to be a head coach."
For his part, Bineiemy took the high road when confronted with McCoy's comments. He called the RB a "future Hall of Famer" who is "entitled to his own opinion."
It's fascinating that even two of Bieniemy's former players can't agree on whether he'd make a good head coach or not. However, we should all find out how good an OC he is soon.
Eric Bieniemy inherits a Commanders offense with solid weapons but no real QB. Entering the 2023 offseason, Taylor Heinicke is a free agent, Carson Wentz will get cut soon, and 2022 fifth-round pick Sam Howell is the only QB from last season expected to be on the roster when training camp begins.
Going from Mahomes to that signal-caller situation with the Commanders will truly show what Bieniemy can do as an OC and will likely either get him a head coaching job or ensure he never gets one.