Eric Bieniemy's Next Move on His Quest for a Head Coaching Job Should Be a Lateral Position to Prove His Worth
It seems like Kansas City Chiefs offensive coordinator Eric Bieniemy will not land a head coaching job this offseason. This development has left fans bewildered, as Bieniemy plays a crucial role in the development of one of the league's best offenses. However, that doesn't mean the 53-year-old has no options.
This offseason, Bieniemy is looking to potentially make a move, though it's not the one you might think. He may look to become another team's offensive coordinator. A lateral move might seem counterintuitive for Bieniemy, but there are a few reasons why it makes sense. 
Eric Bieniemy is standing in Andy Reid's shadow
According to ESPN, Bieniemy isn't likely to receive a head coaching opportunity despite helping the Chiefs appear in three Super Bowls in four years. He's been both blessed and cursed to serve as a coach on Andy Reid's staff.
Reid is one of the most brilliant coaches in the history of the league. He's won two Super Bowls and appeared in four. He took over the Chiefs a decade ago and turned them from being a laughingstock into the best franchise in the NFL. But Reid is also known for being heavily involved in his teams' offenses.
Whether it's fair or not, many Bieniemy detractors credit Reid for the team's offensive success rather than Bieniemy. This hardly seems fair, as Reid has repeatedly touted Bieniemy's bona fides as a play caller and offensive mind. But until Bieniemy leaves Reid's staff, he may not be able to get away from the shadow cast by Reid's prowess. 
There's also the matter of having the best quarterback in the league, Patrick Mahomes, on the team as well. 
It wouldn't be the first time a coach made a lateral move
Bieniemy wouldn't be the first coach to do this. Look at the case of Matt Lafleur.
Lafleur was an assistant to Sean McVay in Los Angeles. McVay is known for his offensive wizardry, so Lafleur had to figure out a way to get out of a great coach's shadow. Rather than stay with the Rams, he made a lateral move to Tennessee. 
The result: Lafleur eventually landed the Green Bay Packers head coaching gig. He's still there, so the move must have paid off. Bieniemy can look at that situation as a blueprint for what he could do.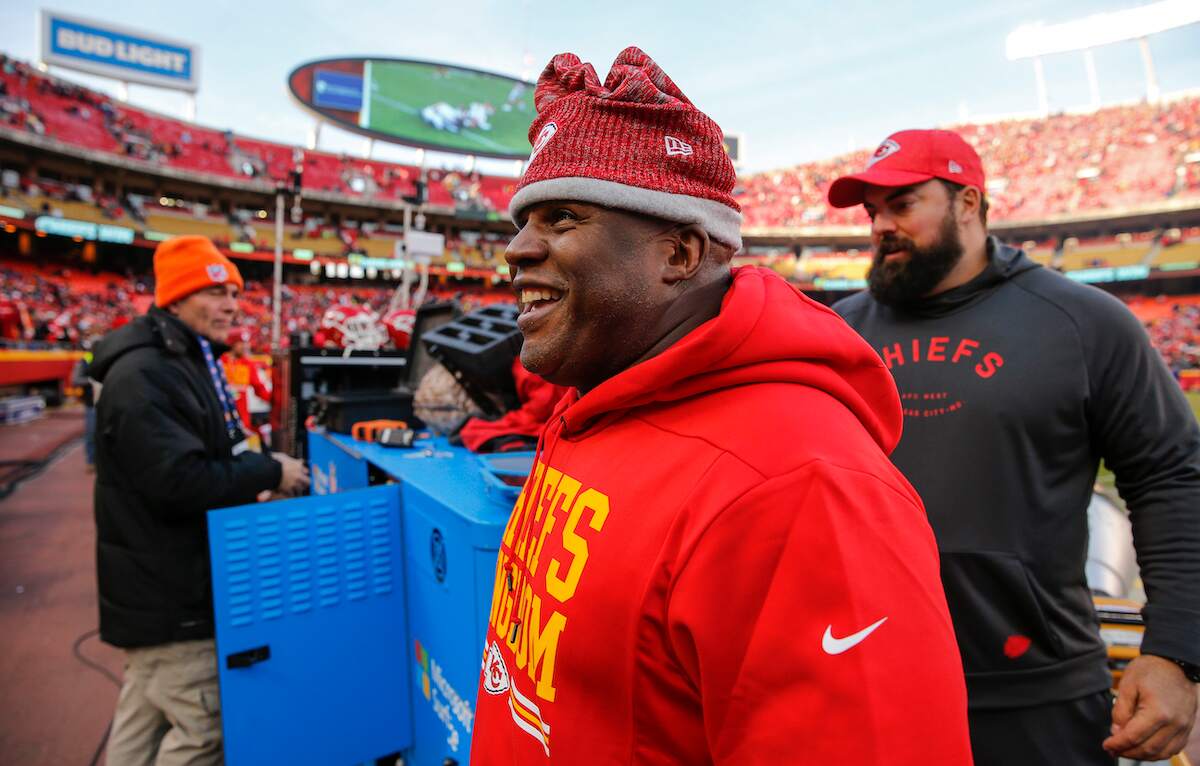 It would make Eric Bieniemy the star of his new team's offensive staff
Finally, joining another team as offensive coordinator would help Bieniemy establish himself as the primary offensive mind on the staff. Consider one situation Bieniemy is rumored to be considering: the Washington Commanders' offensive coordinator job.
The head coach, Ron Rivera, is defensive-minded and is looking for someone accomplished to come in and lead the offense. Bieniemy would have plenty of weapons at his disposal. The team hasn't quite figured out its quarterback situation yet (unproven second-year QB Sam Howell is currently tabbed as next year's starter), but they may be able to add someone this offseason still. 
Bieniemy could enter that situation and assert himself, taking the primary role as the offensive play caller. He could put his stamp on his own team. Rivera is hardly the figure that Reid is; he's had more losing seasons than winning ones and focuses on the defensive side of the ball anyway. But Washington isn't the only place Bieniemy could do that, of course. Tampa Bay is also in need of an offensive coordinator. 
Bieniemy should've already received a head coaching opportunity. Critics whisper about his potentially poor interviewing skills. Others point out the NFL's history of discriminatory hiring practices. Whatever the cause of his lack of opportunity, a lateral move might be just what he needs to open up a world of opportunities for the future.