Eric Bieniemy Should Keep an Eye on These 3 Opportunities in His Quest to Become an NFL Head Coach
Considering the Indianapolis Colts hired an interim head coach with zero experience working at the NFL level, it seems confounding that the longtime coordinator of perhaps the most prolific offense in the league has yet to receive a chance to run his own team.
But after watching less-qualified candidates like David Culley and Jeff Saturday secure coveted head coaching jobs, Eric Bieniemy could finally land a well-earned promotion in the coming months. 
However, that depends on just how much the Kansas City Chiefs (and other NFL franchises) value the 53-year-old's skill set, experience, and ability to put points on the board.
Is Eric Bieniemy leaving the Chiefs a real possibility?
Ever since Patrick Mahomes took over as the Chiefs' starting quarterback, he's had Eric Bieniemy speaking into his headset. The dynamic duo has made life incredibly difficult for defensive coordinators, with the crafty play caller figuring out the best ways to maximize the superstar signal-caller's unique physical tools. 
However, success often comes at a cost. 
And if Kansas City continues on its current track, the franchise may have to say goodbye to one of its most important contributors.
With Mahomes and Co. on pace to finish first in scoring and total yards (a feat they accomplished in 2018), Bieniemy clearly has little left to prove from a performance standpoint. Andy Reid's trusted assistant has successfully overseen a unit that finished first in scoring in 2018, fifth in 2019, sixth in 2020, and fourth in 2021. Plus, he deserves tremendous credit for keeping the train rolling without MVP candidate and future Pro Football Hall of Famer Tyreek Hill.
At this stage of his career, Bieniemy seems to check most boxes for what a franchise should want in a head coach. The Carolina Panthers and Colts are poised to hire permanent replacements for Matt Rhule and Frank Reich, and teams like the Denver Broncos, Arizona Cardinals, and Houston Texans could be in the market for a new head coach, too.
So, with the regular season winding down and the playoffs right around the corner, Bieniemy's time with the Chiefs could be coming to a close sooner than later. After all, given his resume and the number of vacancies that may have to be filled, he should be considered one of the top candidates to become one of the league's 32 head coaches.
Three potential landing spots for Eric Bieniemy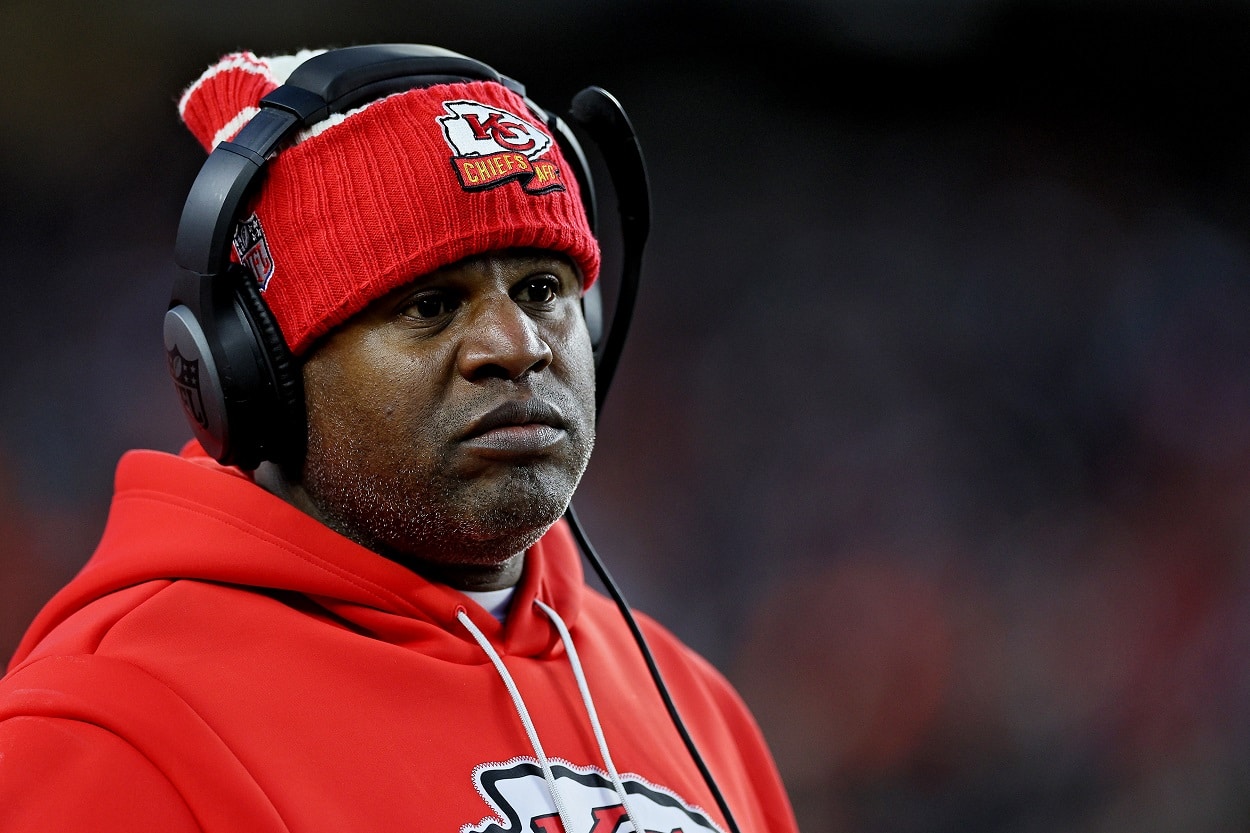 Eric Bieniemy's contract expires at the end of the season, which gives him the flexibility to choose his own path. While most of the top college jobs have been filled, Stanford still has to hire David Shaw's successor. Perhaps the Cardinal could look to poach Bieniemy from the Chiefs to get the program back on track.
Still, it's tough to see the 53-year-old making the jump from the NFL to the NCAA. If Bieniemy believes he deserves to become a head coach, he should have his eye on a few potential landing spots that offer intriguing upside.
Indianapolis Colts
Do the Colts have a long-term solution at quarterback?
No. 
Do they still present Bieniemy with a potential path to success?
Absolutely. 
Look, Chris Ballard has done a masterful job of not finding a permanent solution at the most important position in sports. However, the well-respected general manager has put together a roster that features talented players on both sides of the ball, including All-Pro defensive lineman DeForest Buckner, star running back Jonathan Taylor, future Hall of Fame guard Quenton Nelson, and emerging wideout Michael Pittman Jr.
Hiring Bieniemy would be a smart move for an organization that recently made the incredibly bold decision to replace Reich with Peyton Manning's former center. With promising pieces on offense like rookie receiver Alec Pierce and third-round tight end Jelani Woods, the longtime Chiefs OC would certainly have a solid set of skill players to deploy.
Moreover, making the leap from Kansas City to Indy would give Bieniemy a chance to win immediately. The AFC South features two terrible teams in the Jacksonville Jaguars and the Houston Texans, and the Tennessee Titans face somewhat of an uncertain future after surprisingly firing GM Jon Robinson this week. 
Denver Broncos
If Nathaniel Hackett ends up being a one-and-done head coach, hopefully, the Broncos bring in someone with stronger credentials. Of course, whether Eric Bieniemy wants to be the one tasked with bringing Russell Wilson back to life remains a whole other question. 
Going all-in on the longtime Seattle Seahawks star looks like a massive mistake by a franchise that's swung and missed at the quarterback position for what seems like decades. But with Wilson carrying enormous dead-money charges over the next three years, Denver appears stuck with an expensive, declining player.
Looking at the glass half-full, though, maybe Bieniemy would be attracted to the opportunity to revive Wilson's career. Like the Colts, the Broncos aren't devoid of talent. What they lack, however, is discipline and a clear-cut plan on offense.
Bieniemy certainly seems well-equipped to fix those issues and bring out the best of a Broncos team that entered the 2022 season with expectations of making the playoffs.
New Orleans Saints
Dennis Allen isn't the answer in New Orleans. That much has been made clear during the course of a disappointing campaign that will undoubtedly end without a playoff berth.
In desperate need of a worthy heir to Drew Brees, it will be interesting to see how the Saints approach the quarterback position this offseason. Will they finally move on from Jameis Winston? Will they pursue a veteran on the free-agent market? (That could be difficult based on their salary cap situation.)
Complicating matters is the fact that the Saints don't hold a first-round pick in the 2023 NFL Draft. So, if Bieniemy doesn't think the team has the resources to acquire a viable starter, he may not want to take his talents to New Orleans.
Still, it's not as if the Saints are a total disaster. Top Offensive Rookie of the Year candidate Chris Olave looks like a future perennial All-Pro. Alvin Kamara still has enough in the tank to be a top-flight playmaker. And the offensive line features several starters with first-round pedigrees, including top 2022 selection Trevor Penning.
Bieniemy could bring structure to an offense that has to figure out its identity in the post-Brees era. And with Tom Brady potentially moving on from the Tampa Bay Buccaneers this offseason, an already weak NFC South division could suddenly become an attractive destination for the Chiefs OC.
Have thoughts on this topic? Keep the conversation rolling in our comments section below.