Will Tom Brady Retire? An Updated Look at the Tampa Bay QB's Status After the 2022 NFL Season Ends
Could Tom Brady retire just months after getting divorced? While the idea of the greatest quarterback of all time walking away from football (or Gisele Bundchen) no longer seems unfathomable, it would certainly be shocking to see him do so for the second year in a row. 
Ultimately, though, there's no guarantee the Tampa Bay Buccaneers will still have No. 12 headlining their offense in 2023. In fact, if Brady elects to play a 24th season, he could look to take his talents to the opposite side of the country. 
At age 45 and with nothing left to prove, every option is on the table. With the Buccaneers trying to cling to a slim lead in the lackluster NFC South, will their star signal-caller still find December football as enjoyable as ever? Or will NFL fans be treated to another Tom Brady retirement press conference this spring?
Will Tom Brady retire for good if the Buccaneers fall short?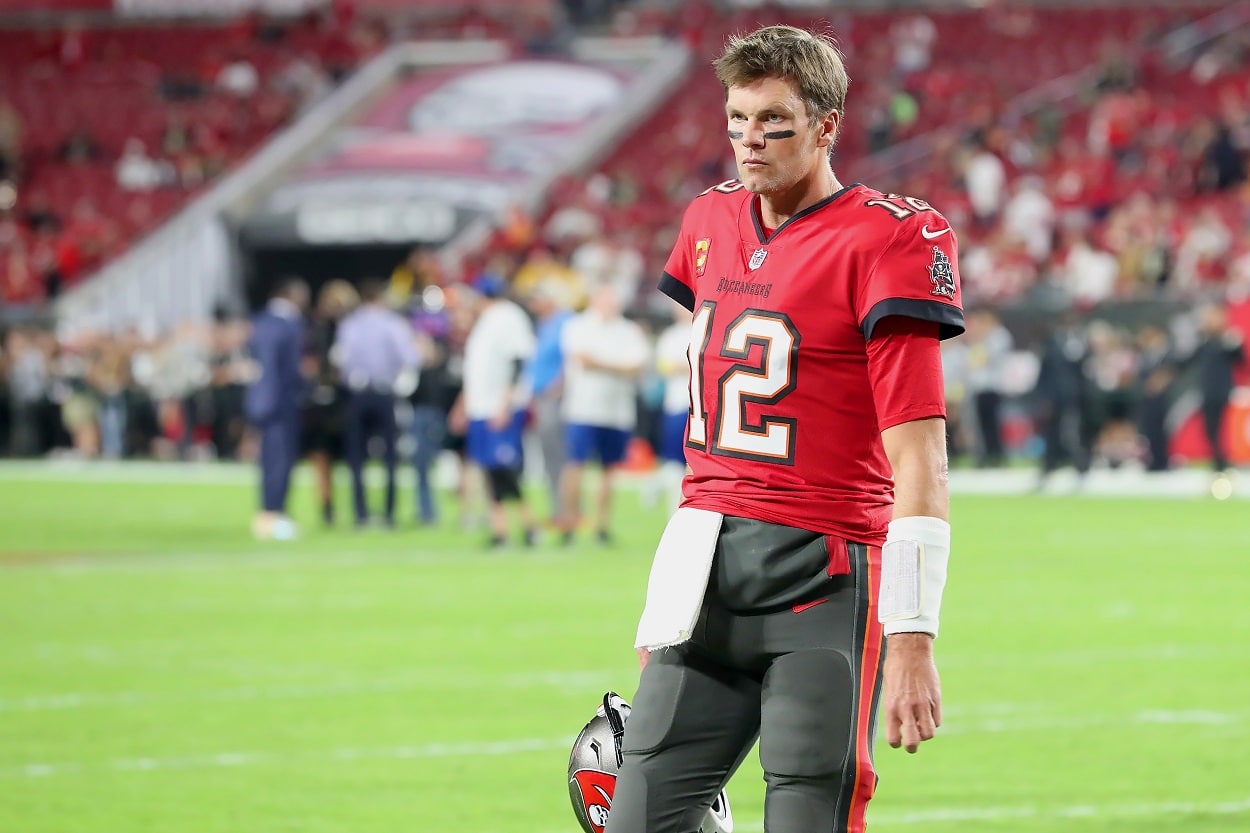 Heading into the 2022 season, most expected the Buccaneers to compete with the Los Angeles Rams and Green Bay Packers for the No. 1 seed in the NFC. 
However, both the Rams and the Packers look poised to finish with losing records. Meanwhile, the third year of the Tom Brady era in Tampa (the first with Todd Bowles as head coach) has not gone smoothly. Injuries along the offensive line and at receiver have significantly hampered a Buccaneers offense that's gone from finishing second in scoring in 2021 to ranking 27th. 
Brady definitely deserves some criticism for that disappointing mark. After all, he bypassed opportunities to train with the team in the offseason, and his well-publicized divorce undoubtedly caused a distraction and increased stress. Still, even with his commitment to football legitimately in question for the first time in his legendary career, Brady hasn't experienced a drop-off that would suggest he should call it quits. 
With a stellar 16:3 touchdown-to-interception ratio and rock-solid 66.2% completion rate, he's still a high-level starter who excels when given time to throw. But given his age, family situation, and state of the Buccaneers' roster, it's entirely possible that Brady will turn the page on a chapter of his life that's generated a ton of notoriety, scrutiny, and financial security. 
If the Buccaneers struggle down the stretch or get eliminated in the playoffs, will the 45-year-old want to come back for another physically taxing campaign? Or would a second straight fruitless season convince Brady that it's time to hang up his helmet and shoulder pads for good?
The seven-time Super Bowl champion may have an opportunity to make his childhood dream come true'
Retirement may have its perks, but the possibility of wrapping up his career as the starting quarterback for his childhood team has to entice Brady to at least consider committing to another year of playing football. 
After all, even with Trey Lance on the roster, the San Francisco 49ers remain one of the most intriguing potential landing spots for the GOAT. 
Ironically, Brady could go from forcing Jimmy Garoppolo out of New England to replacing him in San Francisco. Even though Kyle Shanahan and John Lynch went all-in to secure Lance with the third overall pick of the 2021 NFL Draft, they have a ton of pressure on their shoulders to bring the Lombardi Trophy back to the Bay Area.
Offering Brady the chance to take over a championship roster that includes established stars like Deebo Samuel, Christian McCaffrey, George Kittle, and Nick Bosa would be a wise move for a head coach-general manager combo that has yet to deliver a Super Bowl title to a loyal fan base. 
Meanwhile, why should Tom Brady retire if he could return home to finish his career? Signing a one-year deal with the 49ers would provide a pathway for him to not only win an eighth Super Bowl ring but also do so playing in his native state of California. Plus, you have to imagine Brady would be highly tempted to try and go out on top by following in the footsteps of his idol, Joe Montana. 
Lance may not like having to wait longer to showcase his skills, but the 49ers need a known commodity at the most important position in sports. And going all-in on Brady for one season would certainly be a win-win for everyone involved (except Lance, of course).
Which NFL teams could entice Brady to continue his career?
If a Tom Brady retirement announcement isn't coming this spring, where will he play next season? The Buccaneers could attempt to convince him to run things back with Mike Evans, Chris Godwin, and Co., but it's fair to question whether the coaching staff and offensive personnel give Brady the best chance to win. 
Of course, the 49ers must be considered one of the favorites to secure the aging signal-caller's services. But that doesn't necessarily mean San Fran fans should expect to see TB12 throwing passes to Samuel and Kittle.
After all, several other franchises present exciting potential, too. 
How would the Las Vegas Raiders look with Brady leading a huddle that includes Davante Adams, Hunter Renfrow, and Darren Waller? Reuniting the legendary quarterback with longtime offensive coordinator Josh McDaniels could help both men unlock their full potential in 2023. 
Could the Titans finally throw in the towel on the Ryan Tannehill experiment? Former teammate Mike Vrabel has maintained a strong friendship with Brady over the years, which makes the idea of TB12 in Tennessee intriguing. 
Shockingly, even the New England Patriots suddenly seem like a potential landing spot. With Mac Jones doing nothing to cement his status as a franchise quarterback, could Tom Brady retire with the organization that made him the 199th overall pick in the 2000 NFL Draft? 
Bill Belichick has a well-documented history of making stunning personnel moves, but bringing back the quarterback he shoved out the door would certainly raise more eyebrows around Foxborough than when he traded Jimmy Garoppolo for just a second-round pick.
Have thoughts on this topic? Keep the conversation rolling in our comments section below.