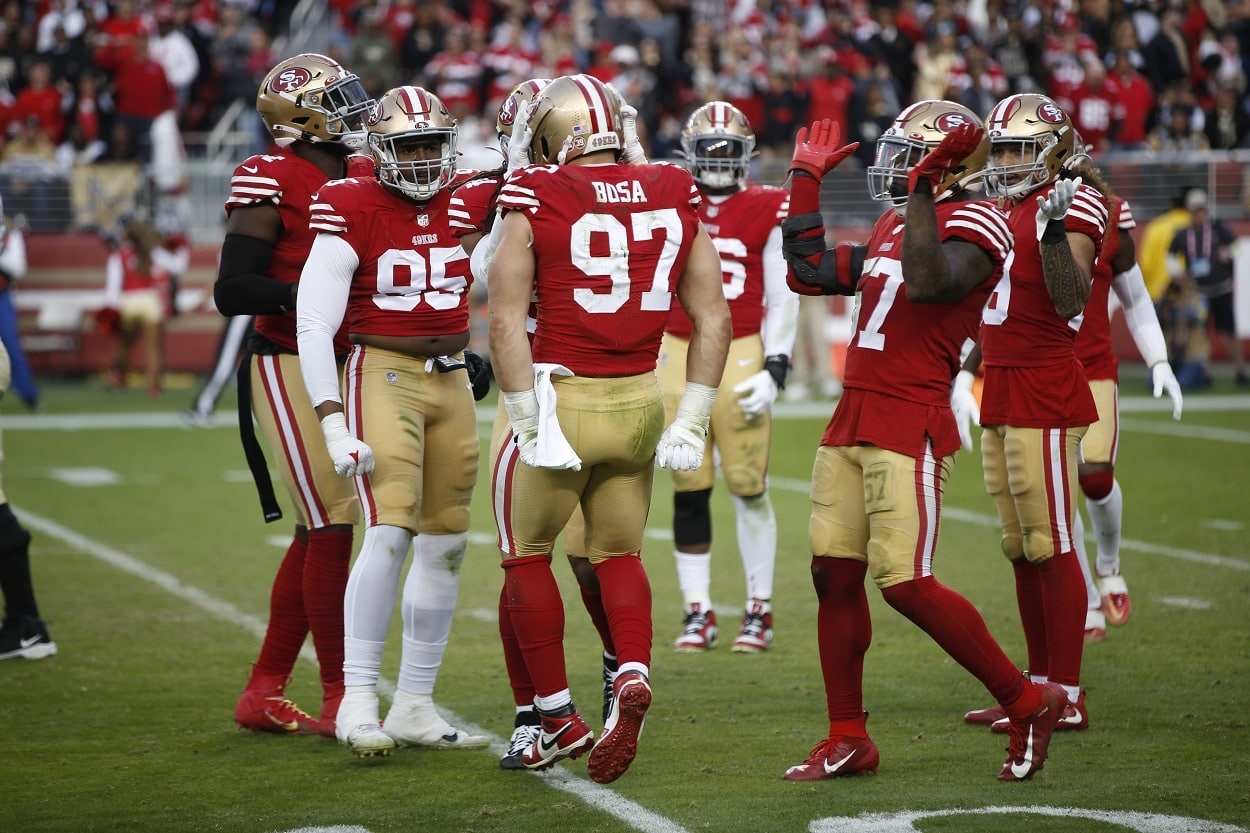 A Stunning Stat Shows Why the 49ers Should Be Considered the Favorites in the NFC
The San Francisco 49ers' defense has been dominating opponents at a historic rate.
Sometimes, stats don't tell the whole story. However, in some cases, they say everything. 
And when it comes to the first-place San Francisco 49ers, a single number shows exactly why they should be considered the team to beat in the NFC.
Kyle Shanahan's squad has much more than a flashy offense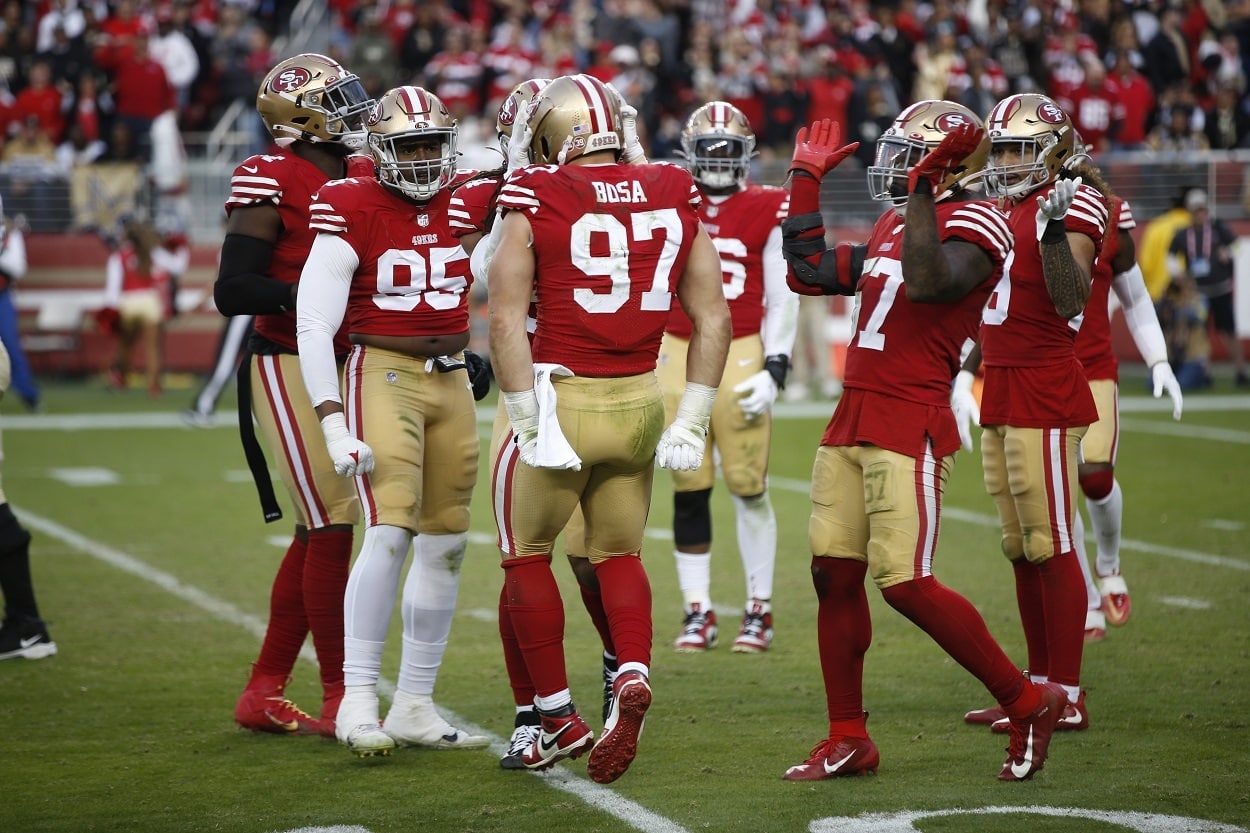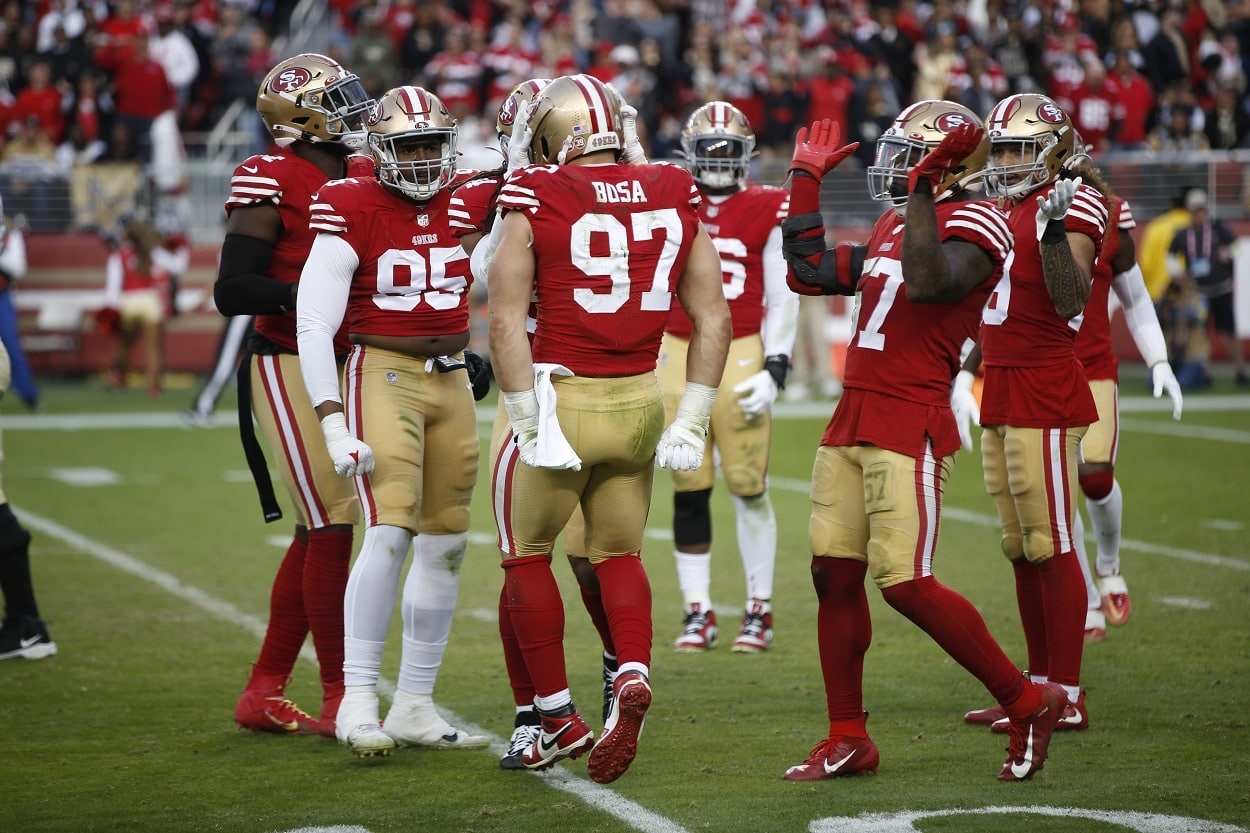 Would every NFL franchise love to have San Fran's star power on offense? 
Absolutely. 
After all, it's hard not to get excited by a unit that features do-it-all running back Christian McCaffrey, versatile wideout Deebo Samuel, and a complete tight end in George Kittle. But as much buzz as that group generates, that's not why NFC foes should fear facing the 49ers in the NFL Playoffs. 
Instead, it's their collection of talent on the other side of the ball that makes them a legitimate threat to take home the Lombardi Trophy. 
Of course, it takes more than physical skill to execute at a high level. Luckily for the 49ers, they possess not only elite starters like Defensive Player of the Year candidate Nick Bosa (11.5 sacks, 30 quarterback hits), Pro Bowl linebacker Fred Warner (82 tackles, eight passes defended), and breakout safety Talanoa Hufanga (65 tackles, four interceptions), but also a future NFL head coach in defensive coordinator DeMeco Ryans. 
By marrying strong fundamentals with savvy play calling and high-end talent, the 49ers have held opponents to the fewest points per game (15.7) in the NFL. According to Football Outsiders, they rank fifth in Defensive DVOA–one spot ahead of the 10-1 Philadelphia Eagles. 
But one number shows just how special they've truly been.
Second-half dominance should make San Francisco the favorite in the NFC
Zero. 
No, that's not only the number of Super Bowl rings Jimmy Garoppolo and Kyle Shanahan have won together. (A number that could soon change.) 
It's also the number of second-half points San Francisco has allowed in its last four games. 
Since suffering a 44-23 defeat to the Kansas City Chiefs in Week 7, the 49ers have held opponents out of the end zone with relative ease. During their four-game winning streak, they've surrendered a mere 10 points per game, including none in Sunday's 13-point victory over a struggling Saints team. 
However, what's most impressive about the 49ers' recent run is that they've been impenetrable after halftime. To hold four consecutive opponents scoreless in the second half shows that the players and coaching staff are completely in sync. It shows toughness and resolve to adjust and execute after the break. And it reflects an attitude and desire to finish strong no matter how fast or slow a start. 
As long as they stay healthy, the 49ers should continue to make life difficult for opposing quarterbacks. Not only can San Francisco run the ball effectively behind an offensive line headlined by future Pro Football Hall of Famer Trent Williams, but it can move the ball through the air via Samuel, Kittle, McCaffrey, and Brandon Aiyuk.  
When you combine that with an offense that should only improve as McCaffrey grows comfortable in Shanahan's system, you have the makings of a complete team that can contend with anyone. 
The 49ers' top-ranked defense faces perhaps its biggest test this week
After pitching a shutout against the Andy Dalton-led Saints, the 49ers will be put to the test Sunday against one of the most dangerous offenses in the NFL. 
The highly anticipated battle between the teacher (Kyle Shanahan) and the student (Mike McDaniel) doesn't just feature an intriguing matchup of two brilliant offensive coaches. Both the 49ers (7-4) and the Miami Dolphins possess plenty of top-end players on both sides of the ball.
But after holding New Orleans' undermanned offense in check last week, can Bosa, Warner, and the rest of San Francisco's No. 1 defense prevent Tua Tagovailoa and Tyreek Hill from extending their team's winning streak to six games? 
Despite dealing with injury issues all season, the Dolphins remain in the driver's seat in the crowded AFC East. Much of that has to do with their rookie head coach, who's taken little time to transform Tua into a top-10 quarterback. Can McDaniel, Shanahan's longtime trusted assistant, utilize his knowledge of the 49ers' system to expose his mentor? 
Miami's offense has looked unstoppable over the last four games, averaging an eye-opening 421 total yards and nearly 34 points. However, after racking up big yardage and point totals against the Detroit Lions (4-7), Chicago Bears (3-9), Cleveland Browns (4-7), and Houston Texans (1-9-1), Tua and Co. face a sizable step up in competition this week. 
Will the league's stingiest defense slow down the speedy duo of Hill and Jaylen Waddle? Or will that tandem prove too difficult to stop over the course of four quarters? 
Then again, that's assuming Tua has time to throw. 
With three-time Pro Bowler Terron Armstead out with a pectoral injury, protection problems remain a possibility for a Dolphins offensive line that ranks 12th in Adjusted Sack Rate, according to Football Outsiders. Meanwhile, the 49ers boast the eighth-best pass rush in the league, with an Adjusted Sack Rate of 8.1%. 
There'll be no shortage of blue-chip talent in what's easily the most exciting matchup of Week 13. Ultimately, though, the 49ers' complete defense, versatile offense, and more experienced head coach give them the advantage heading into what's easily their biggest test since they gave up 44 points to Patrick Mahomes back in October.
Have thoughts on this topic? Keep the conversation rolling in our comments section below.