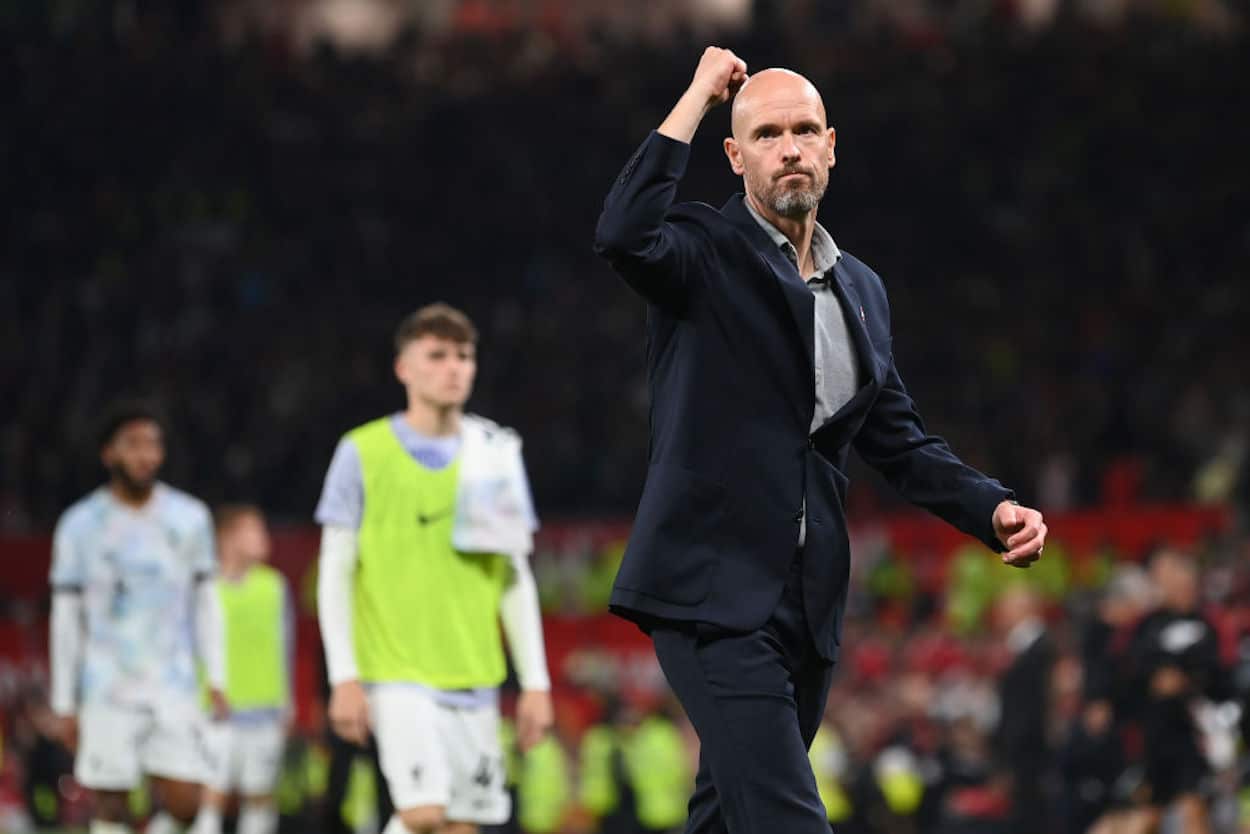 Erik ten Hag May Have Turned Manchester United Around With a Brutal 8.5-Mile Run
If Erik ten Hag revives Manchester United, we can look back on his choice to suffer alongside his players as a potential turning point.
Ever since Sir Alex Ferguson left Old Trafford, Manchester United have been trapped in the soccer version of Groundhog Day. The club will bring in a new manager, he'll try to get things moving in the right direction, and inevitably fail. Then, he gets the sack, and someone new arrives to try again. Erik ten Hag is the latest one to step into the home dugout at Old Trafford.
After a tough start to the season, the Dutch manager scored a massive win over Liverpool. United weren't perfect, but they actually looked like a team capable of playing with hunger and cohesion. That, it seems, started behind the scenes.
While it's not unusual for a manager to give an impassioned speech, ten Hag did something different. He reportedly won his troops over by participating in a brutal, 8.5-mile run with them.
Erik ten Hag made his Manchester United players run but took part in the punishment, too
After United suffered an embarrassing 4-1 loss to Brentford, rumors began swirling that Erik ten Hag canceled the team's day off. To make matters worse, the squad had to run 8.5 miles, the difference in the distance that the Red Devils and their opposition covered, in roughly 91-degree temperatures.
According to a report from the Mirror, though, there was a wrinkle to that plan. When it came time to run, ten Hag joined the players.
"The players were raging when they discovered their punishment for the no-show at Brentford would be an 8.5-mile run. But the moans ceased when it became clear that the manager was planning to do the same as them," a source told Simon Mullock. "He didn't have to tell anyone why. It was clear that he wasn't going to let his players take all the blame for the performance. Ten Hag also felt he had to show that he also felt culpable. It was a tough run for the players – but it was even more grueling for Erik – and they were impressed."
While it's tricky to draw a straight line between that show of solidarity and the performance over Liverpool, United's squad did look hungry and up for the fight on Monday. While ETH's choice to drop Cristiano Ronaldo and Harry Maguire could have lost the dressing room, it seems like the squad responded properly.
After the victory, the manager spoke about his team's attitude and cited it as a key factor in the win.
"We can talk about tactics, but it's all about attitude," ten Hag explained. "There was communication, fight, spirit – and then you can see what they can achieve. Of course, we are happy. I know the rivalry against Liverpool – but don't just bring it against Liverpool. Bring this organization and intensity in every game."
1 win doesn't matter in isolation, but getting player buy-in is a vital step for ten Hag
Before going any further, I want to get some caveats out of the way. First off, it's unlikely that ten Hag's run was the sole reason why Manchester United beat Liverpool. There were also some tactics, individual errors, and other factors at play. Secondly, this win won't matter if things don't change on a larger scale. You don't receive a Champions League berth for beating your rival on Matchday 3.
With all of that couching out of the way, though, ten Hag receiving some buy-in could be an important step in his quest to return United to former glory. If we use Arsenal's rebuild as a reference point, a central part of the process is establishing a new culture and filling the squad with players who reflect those values.
By making his team run and taking part in the punishment, ETH could have set down an important marker. Not only is hard work an expectation, but everyone, even the manager, is held to the same standard. The fact that the players responded rather than revolting is certainly encouraging.
At the same time, though, there are still some larger questions that will have to be answered:
Will ten Hag have the organizational support to build a roster in his image? If we continue the comparisons to Arsenal's efforts, the club had to buy out plenty of contracts and spend big sizable sums in the transfer market. While United have the money to spend, their scouting and decision-making have seemed lacking in recent years.
Can the players stay engaged with the manager's plans? It's easy to get an emotional response ahead of a big home game, but things will be tougher down the road. Erik ten Hag can't win his players over by running with them every other week. When things fall flat, will he be able to keep the squad on his side and have them willing to put in the work?
At this point, only time will provide the answer to those questions. Should things work out, though, we'll be able to look back at the 8.5-mile run and the victory over Liverpool as a key step in the process.
Like Sportscasting on Facebook. Follow us on Twitter @sportscasting19 and subscribe to our YouTube channel.