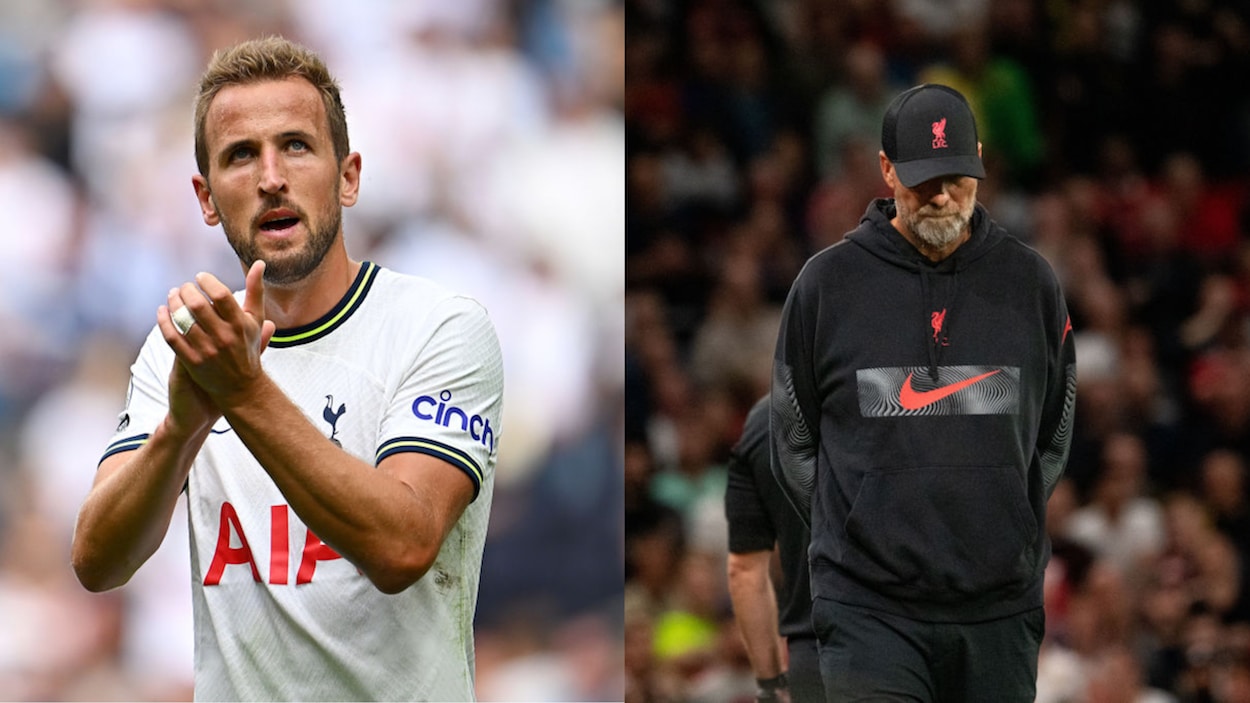 Harry Kane, Liverpool, and the Winners and Losers of Premier League Matchday 3
With another week of Premier League action in the books, let's check out the winners and losers of Matchday 3.
Just like that, another week of Premier League soccer is in the books. While your club's fortunes will obviously affect how you view this round of games, it was a pretty good matchday for the neutral. We say an aesthetically pleasing Arsenal performance, an end-to-end affair in Newcastle, and, to cap it all off, an unexpected Manchester United win on Monday.
With all of that action unfolding, let's break things down a bit further. Beyond the pure results, who were the winners and losers of Premier League Matchday 3?
Winner: Erik ten Hag
This is Erik ten Hag and Manchester United's third-straight week making the cut, but it's the first time landing on the positive side of the ledger. After Monday's performance, though, the Dutch manager has to receive some plaudits.
Heading into a date with Liverpool, ETH could have played it safe. Instead, he stuck his neck out and made some changes. Harry Maguire and Cristiano Ronaldo headed to the bench, and a younger, quicker United team took the field. The starting 11 actually played like a cohesive unit, and they seized the opportunity.
While things still weren't perfect — David de Gea almost exclusively went long, and it will be tough for the Red Devils to play with that intensity every match across an entire campaign — we did get a bit of a glimpse of how ten Hag wants his team to play. That reality, combined with the fact that his big calls led to a positive result, suggests that all is not lost at Old Trafford.
Is there still work to be done? Of course, but Monday's win helped make the blueprint even clearer.
Loser: Liverpool
To be clear, this is less about losing a single match. Liverpool, on the whole, will be fine. Their start to the season, however, suggests that the club could be reaching a crossroads.
While the majority of the names on the team sheet are the same, Liverpool's lack of depth was exposed on Monday. Roberto Firmino had to start at striker, and he showed why he's slipped down the depth chart. Jordan Henderson and James Milner both showed their age in the midfield, and the former's shift away from the right-hand side left Trent Alexander-Arnold exposed. Joe Gomez also seemed to lack any cohesion with Trent and Virgil van Dijk, weakening the defensive structure.
Although you could argue that injuries and suspensions forced Jurgen Klopp's hand, no team is going to field its best lineup every single match. If you have an injury-prone midfield, for example, and fail to strengthen it, then it's your own fault when you have to start a 36-year-old at Old Trafford.
Are Liverpool in danger of collapsing? Probably not, but they are reaching the point where their window could start to close if the roster doesn't turnover.
Winners: Mikel Arteta and Edu Gaspar
Although you could argue that dispatching Bournemouth isn't anything to write home about, Arsenal currently sit atop the table with three wins. The mood around the club is more positive than at any point in recent memory, the squad seems to have plenty of upside, and there appears to be a firm plan in place. That's all due to the duo of manager Mikel Arteta and technical director Edu Gaspar.
When the Gunners bit the bullet and swapped Unai Emery for Arteta, there was an acceptance that improvement would be a marathon rather than a sprint. Although there were some trying moments — the manager's first full season in charge saw an awful run of form during which the Gunners only took two points from seven matches — nobody wavered. Now, things have clicked.
Arteta and Edu have worked together to rebuild the squad, and it's paying off. While there will be stiffer tests than Bournemouth, Arsenal look capable in attack and solid in defense. There are still some questions about midfield depth and young players stepping up, but, on the whole, it's easy to see how the plan is coming together.
Patience is rarely seen in professional sports, but Arsenal are currently reaping the rewards of trusting the process.
Loser: Brendan Rodgers
Earlier in this post, I mentioned how Erik ten Hag gambled and saw his decisions pay off. Brendan Rodgers, however, experienced the opposite reality.
Ahead of Leicester's match against Southampton, Rodgers removed Wesley Fofana from the squad and shifted Youri Tielemans to the bench, saying they weren't in the right mindset to play. While that was understandable, as both players have been linked to larger clubs, the manager didn't get the result he was after.
Leicester lost 2-1 and currently sit in 19th place. To make things worse, the club hasn't brought in a single outfield player during the transfer window, and it doesn't seem like that will change before the end of the month.
Add the upcoming schedule — Leicester face Chelsea, Manchester United, and Brighton after an EFL Cup tie — and things could get ugly.
Winner: Harry Kane
Tottenham didn't exactly play beautiful football against Wolves, but they won't care one bit. Spurs ground out a win to finish the weekend in fourth place, and Harry Kane made Premier League history by scoring the winning goal.
Say what you will about the striker and his lack of individual trophies, but Kane simply scores goals. Putting the ball in the back of the net one time is hard enough in the Premier League; doing it 185 times for the same club is incredible. Anytime you're alongside Sergio Aguero, Wayne Rooney, and Thierry Henry, you've done something right.
Losers: Frank Lampard and Steven Gerrard
While it was tempting to give this final spot to Chelsea (with Leeds also being a winner), it was tough to overlook the two England midfielders-turned managers.
Last season, Frank Lampard and Everton managed to avoid relegation. Despite that reality, they sold Richarlison and haven't brought in any real offensive reinforcements. Instead, the Toffees have bought a promising midfielder and three defenders. You could argue that Dwight McNeil will strengthen Everton's attack, but his numbers won't exactly blow anyone away.
Add Anthony Gordon potentially leaving (and, to be fair, if Chelsea are offering stupid money, Everton can't not take the deal), it's unclear who's going to score goals. If the plan is to wait for Dominic Calvert-Lewin to return and let him put the team on his back, Frank Lampard's squad is in serious trouble.
Jumping to Steven Gerrard's Aston Villa, there doesn't seem to be much to be excited about. The club's one win came against Everton; they've lost their other two matches, dropping points to Bournemouth and Crystal Palace.
When you consider the transfer business Villa have done — remember them targeting Emile Smith-Rowe last summer and landing Boubacar Kamara and Diego Carlos this window — it's clear that they're viewing themselves as a club capable of pushing for European football. Beyond the tactical issues, like a leaky defense, a lack of attacking creativity, and an unclear style of play, Gerrard has also been talking about his players needing to act like a real team, which is never a good sign.
Given the squad that Villa have on paper, the finger will have to ultimately point at Gerrard if things don't improve.
Like Sportscasting on Facebook. Follow us on Twitter @sportscasting19 and subscribe to our YouTube channel.