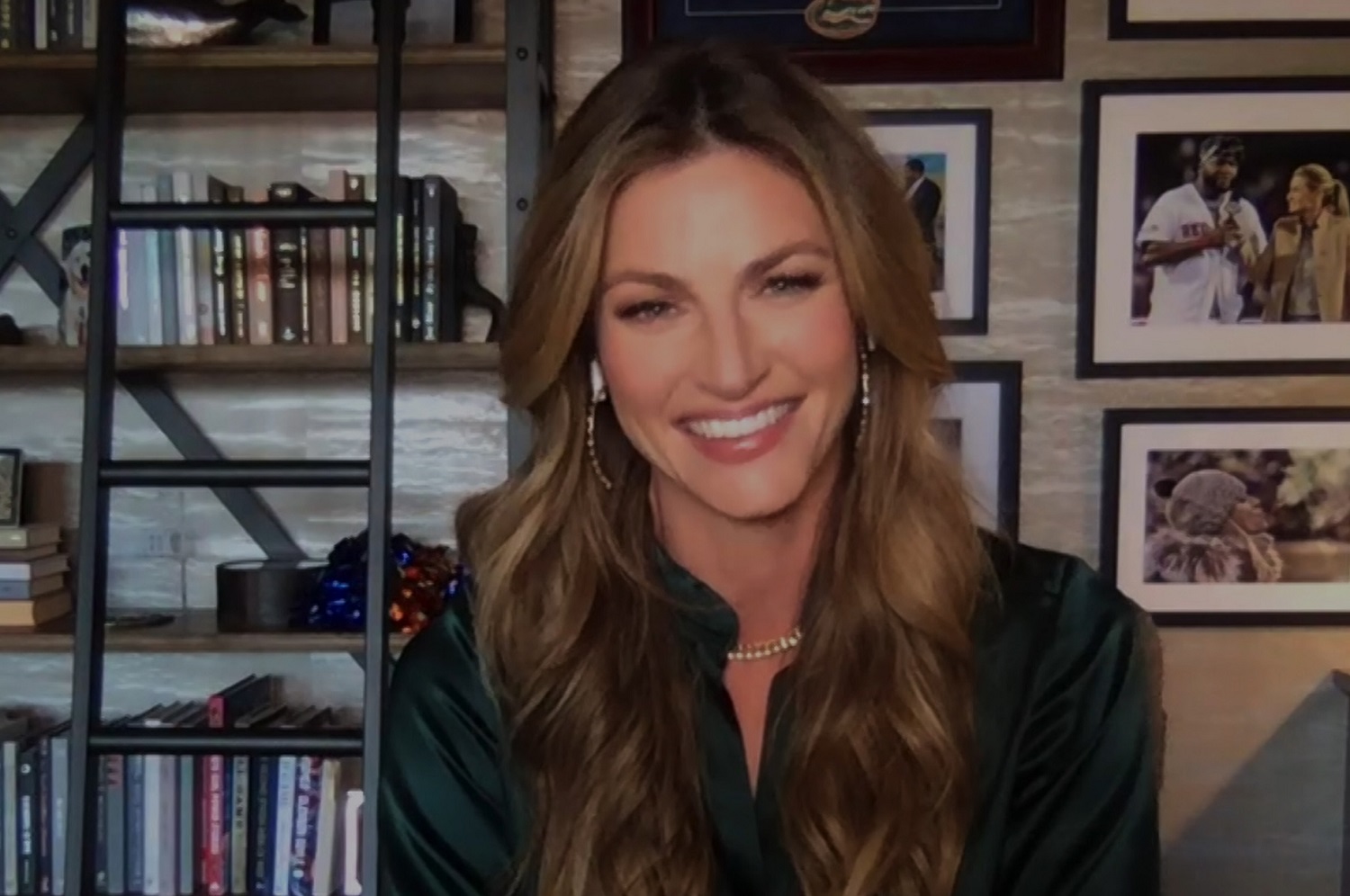 Alert 50 Cent! Erin Andrews Is the NASCAR Grand Marshal in Atlanta
Fox Sports personality Erin Andrews, who had an awkward 2013 encounter with 50 Cent at a race, has been named the grand marshal of a NASCAR Cup Series race in Atlanta.
Give Erin Andrews credit for being a brave soul. The Fox Sports sideline reporter has a NASCAR experience on her resume that was bad – not Maynard Troyer end-over-end crash bad, mind you, but still bad – and yet she's going to give it another shot on March 21 at the Folds of Honor QuikTrip 500.
Erin Andrews is this week's NASCAR Cup Series grand marshal
With the NFL having moved on from the regular season and playoffs to the start of the new league year and free agency, Erin Andrews has time on her hands. That gives the Fox Sports football sideline reporter the chance to be the grand marshal of the Folds of Honor QuikTrip 500 in Atlanta as the NASCAR Cup Series comes back to the southeast.
With that, of course, comes the honor of telling the drivers to start their engines, kicking off the sixth points race of the season. It will mark a milestone of sorts for NASCAR since the Atlanta race was the first event to be KO'd by the COVID-19 pandemic in 2020. The drivers did eventually make their way to Atlanta on June 7, and Kevin Harvick picked up his second victory of the season.
It's all part of one large marketing effort
There is no sport that does a better job than auto racing when it comes to integrating sponsor marketing into its events. NASCAR couldn't exist without the companies that sponsor races, drivers, and teams. The relationships can get complicated, like when a car sponsored by one of the major players in the auto aftermarket industry wins a race whose naming rights belong to a rival business.
In that situation, everyone finds a way to roll with it and move on; there's always another race in another city in the week ahead. However, the promotional pieces sometimes come together naturally, which helps explain Erin Andrews' role this weekend in Atlanta.
Andrews works for Fox, which owns Tubi, a free content streaming service that describes her as an ambassador for the product. Atlanta is one of the races for which Tubi is sponsoring the No. 42 Chevy Camaro of Ross Chastain. And with Fox televising the first half of the NASCAR Cup Series season schedule, as it traditionally does, tying Andrews into the equation makes it a tidy little bundle.
Alert 50 Cent! Erin Andrews is the NASCAR Grand Marshal
As noted previously, Erin Andrews has dabbled in the NASCAR Cup Series before on behalf of Fox Sports. It didn't work out particularly well for her.
Andrews' big break in the business came when she landed at ESPN in 2004. She became one of the cable network's best-known personalities before leaving for Fox Sports in 2012, where she quickly ascended to the No. 1 sideline reporter role for NFL telecasts.
In February 2013, she was helping with coverage of the Daytona 500. The traditional NASCAR season-opener is always a big production for Fox, and the fact that Danica Patrick was starting on the pole made race day an even bigger event. Andrews' assignment minutes before the start of the race was to do one of those innocuous driver interviews, during which almost nothing profound or newsworthy is ever uttered, with Patrick.
Andrews was working her way through the crowd on her way to Patrick's car when she ran into rapper 50 Cent. All things considered, that shouldn't have been a bad development; she could sneak in a few on-camera words with him and still get to Patrick.
She extended an arm to 50 Cent, trying to pull him close for the interview – trackside with a race about to begin is noisy, so guests need to be in close proximity to the interviewer – but 50 Cent had other ideas, hugging Andrews and leaning in for a kiss. It seemed to startle Andrews, who shifted awkwardly a bit before stopping long enough for him to kiss her cheek.
She asked a quick, meaningless question to get in and out of the encounter as gracefully as possible and still make it over to Patrick. However, the unexpected detour delayed her just enough to miss connections with the driver.
Patrick went on to an eighth-place finish that day, by far her best showing in seven cracks at the Daytona 500.
Like Sportscasting on Facebook. Follow us on Twitter @sportscasting19.