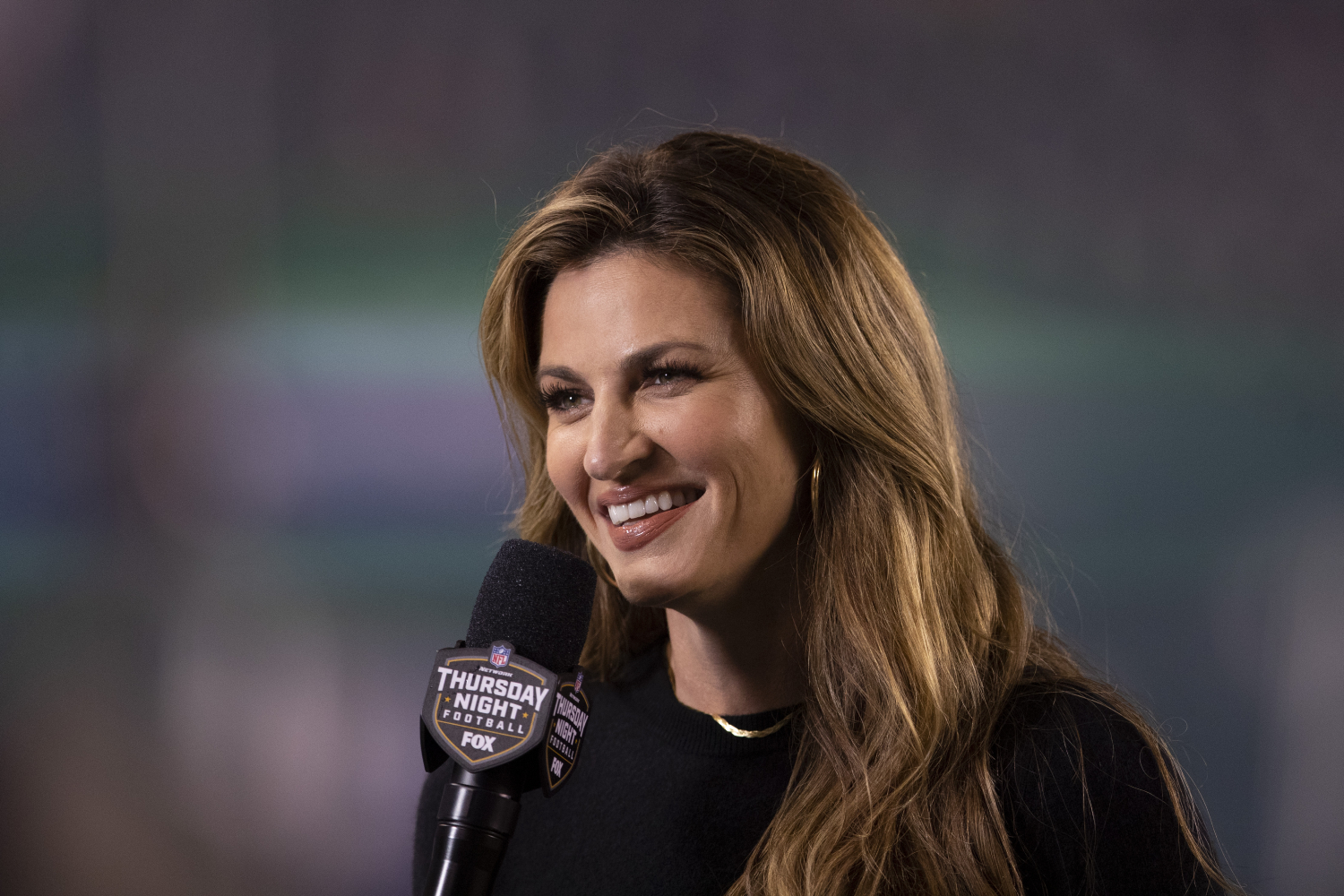 Erin Andrews Reveals Her Freakish Childhood Nickname
Fox NFL sideline reporter Erin Andrews was a dancer while growing up. A massive growth spurt triggered an unlikely nickname.
Erin Andrews has it all. She's got the talent, sports knowledge, and good looks. She's been a true professional in the sports media world. Recently, on a podcast hosted by Seattle Seahawks quarterback Russell Wilson, Andrews revealed a nickname she had while growing up, and it just doesn't seem to fit.
Erin Andrews grew up a Green Bay Packers fan
Erin Andrews was born in Lewiston, Maine, but moved to San Antonio, Texas, when she was 5. Despite living in New England, Andrews said she remained a diehard Boston Celtics fan and Boston Red Sox fan. She, however, was never a fan of the New England Patriots. That happened because of her father.
"My dad, obviously, is the one who got me into loving sports," Andrews said recently on the DangerTalk podcast. "He claims that the Patriots were so bad growing up for him that they were always blacked out in the area. The Packers were always on and Bart Starr was always on so my dad just became a diehard."
Andrews' father, Steven Andrews, was a broadcast journalist, who won six Emmy Awards. "He's so good at what he does," she said. Andrews did say now she is more of a fan of the players. She's become a fan of several different players and teams, especially the ones who treat her well.
Andrews has quickly climbed the sports media ladder
With her father being a journalist and a sports enthusiast, it wasn't surprising that it would rub off on Erin Andrews. Andrews enjoyed sports as a child and it continued to grow with her throughout her professional career.
Andrews attended the University of Florida and graduated in 2000 with a degree in telecommunications. While a student at Florida, she was a member of the Gators' basketball dance team. After graduating, Andrews began working at Fox Sports Florida as a freelance reporter before moving on to cover the Tampa Bay Lightning for The Sunshine Network.
She then worked for Turner South from 2002-2004, covering the Atlanta Thrashers, Atlanta Braves, and Atlanta Hawks. She began working for ESPN in 2004. In 2012, Andrews left ESPN to work for Fox Sports, where she has developed into one of the best sideline reporters in the game.
Andrews reveals the nickname she had growing up
Despite admittedly growing up as a tomboy, Andrews said she never played any sports while growing up. When Russell Wilson asked her on his DangerTalk podcast if she ever played any sports, she was quick to answer. "Nothing," she said.
She said she was a dancer and her early growth spurt had her sticking out like a sore thumb. "I was a dancer, which was awkward for everyone because I hit a massive growth spurt in about third or fourth grade," said Andrews, who is 5-10. "These legs went probably to about 5-4, 5-3. I was the girl that was hunched over – still am. That's one of my biggest problems is I don't stand up straight just because of my little insecurities of being so tall.
"So I was put in the back of every dancer team, in the middle, and was nicknamed 'Manute Bol' because I was so tall, and taller than all the boys. I was super skinny, wore elastic jeans – there's a fun fact for you." Not too many people would've likened the 7-7 Sudanese-born Bol to Erin Andrews, but there you have it.