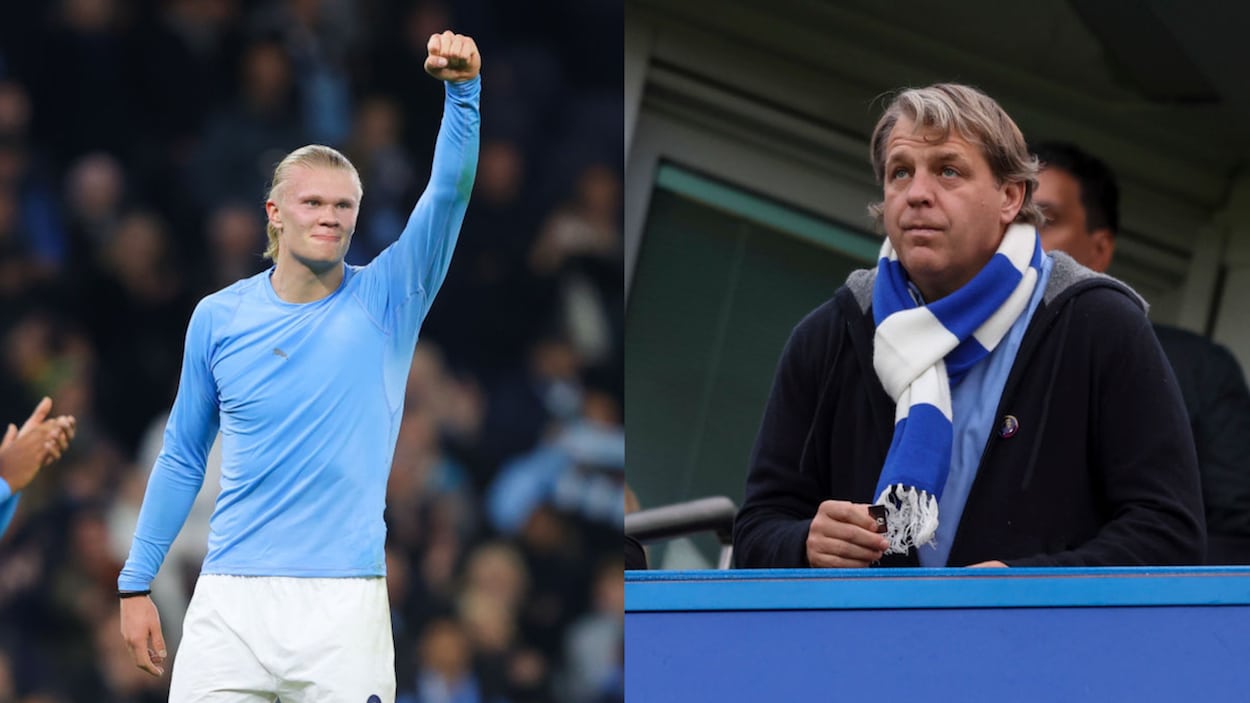 Erling Haaland, Chelsea's Brass, and the Biggest Winner and Losers of Premier League Matchday 15
After a Premier League matchday featuring a couple of big games, let's see whose stock is rising and who's slipping down the charts.
While eyes and minds are collectively turning toward the 2022 Qatar World Cup, Premier League soccer was still alive and well this weekend. We saw a full slate of 10 matches, including two Big-6 showdowns, and a good amount of goals. Even games that could have been little more than a walk-over — like Manchester City vs. Fulham — got a dose of drama.
So, with all that action now in the rearview mirror, let's circle back and sort through everything that happened. Here are your biggest Premier League winners and losers from matchday 15.
Winner: Arsenal
Stop me if you've heard this before, but the Gunners passed a significant test on Sunday. Not only did they win away to Chelsea and reclaim first place, but Mikel Arteta's men put in a mature, controlled performance.
Even under Arsene Wenger, big matches weren't Arsenal's bread and butter. It seemed like there was always a mistake ready to happen or an Achilles heel available for the opposition to target. At Stamford Bridge, though, things were different. It seemed like Arteta knew exactly what Graham Potter wanted to do and had his team ready to counter those adjustments.
Would the red side of North London have liked to see a few more goals to underscore the dominance of their performance? Of course. But winning away to Chelsea and seeing Manchester United and Tottenham both drop points makes for a pretty happy weekend.
Loser: Todd Boehly and Chelsea's brass
Sticking within the Arsenal-Chelsea match, I'm not quite ready to point the finger at Graham Potter. He's new to the job and working with a Frankenstein squad during an incredibly frantic part of the schedule. At the same time, though, the current circumstances seem to be less than ideal for owner Todd Boehly.
During the summer, Boehly acted as the club's sporting director and brought in the likes of Raheem Sterling, Marc Cucurella, and Pierre-Emerick Aubameyang. Then, shortly after the transfer window closed, the American owner sacked manager Thomas Tuchel and brought in Potter.
Now, Chelsea have a manager who didn't have a say in constructing the current side and expensive players on the books who aren't producing. If anything, things have become more toxic since the managerial change. As Tuchel suggested during the preseason, maybe the real issue is the same core of players rather than the man at the helm.
While there's room for differing perspectives here — Did Boehly make a mistake by firing Tuchel? Can Chelsea spend their way out of trouble in January? Will the Blues need to tear things down and embark on a multi-season rebuilding process? If they rebuild, will Potter survive that choice? — one thing is clear. The owner and whoever takes over as full-time sporting director will have their hands full.
Winner: Dejan Kulusevski
Spurs lost and, once again, looked either unable or unwilling to play a full 90 minutes, but there was a bright spot during the loss to Liverpool. Dejan Kulusevski returned from his spell on the sidelines and immediately changed that game.
At their best, Tottenham sit back in defense and then flow forward in transition to exploit the opposition's spacing. The Swede plays a key part in doing that. He's a better ball-carrier than Harry Kane or Heung-min Son and can cut in to curl a dangerous ball into the box. Having him in the lineup instantly makes Spurs better, as we saw on Sunday.
And, on a personal level, that cameo is a nice boost for Kulusevski. While he isn't competing for a World Cup place, it's always good to immediately return from an absence with a statement of intent. If the Swede is fully fit, there's no way he won't feature heavily in Tottenham's final matches before the break.
Loser: The definition of violent conduct
Usually, violent conduct is a "You know it when you see it" situation. On Sunday, however, that definition collapsed.
During Manchester United's match against Aston Villa, Lisandro Martinez tried to shield the ball out of play for a goal kick. Leon Bailey, however, applied some pressure, which forced the defender to intervene.
While it initially seemed like the Argentine didn't do anything wrong, replays showed he elbowed Bailey at least once — we can argue over whether there were two or three blows to the winger's ribs, but that's beside the point — and no one intervened. It would be one thing if the on-field officials didn't see the incident and VAR stepped in, but nothing happened.
As I've written before, there's no good outcome here. Either someone missed the call completely, or there was some conversation between the VAR and referee in which they essentially said, "Elbowing someone is OK." A similar event happened a few weeks back when Arsenal traveled to Southampton, and Lyanco appeared to hit Gabriel Jesus in the back.
I'm not advocating for a card there because I wanted to see United drop points. Instead, I'm in favor of skill and entertainment. That's what I turn on matches to watch, not cynical fouls.
Winner: Erling Haaland
You know how an injured player's reputation can improve once fans see what the team looks like without them? Wellm Erling Haaland had his cake and ate it, too, on Saturday.
Although a red card admittedly changed things, Manchester City weren't exactly putting Fulham to the sword despite dominating the match. Things seemed desperate for Haaland, and once he arrived, things changed. As I observed in the live blog at the time, the Norwegian striker affects how City plays, how the opposition defends, and how the entire Ethiad feels.
And, by the way, the striker also did his job. He seemed to have scored the go-ahead goal, only to have it ruled out for offside, but eventually buried the game-winning penalty in stoppage time. Should Bernd Leno have saved it? Probably, but that's irrelevant now.
So, Haaland got the benefit of everyone seeing how City play without him, then came onto the pitch, made the difference, and scored the game-winning goal. That's not too shabby for less than 45 minutes of work.
Loser: The Bottom 4 of the Big 6
While there's room to debate the entire concept of the Big 6, I'm using that as a shorthand for Arsenal, Tottenham, Chelsea, Liverpool, Manchester United, and Manchester City. And, as of now, things aren't looking great for four of those clubs.
Arsenal and City are the outliers. Could an injury or post-World Cup fatigue cause a problem? Of course, but we don't know what the future holds. Right now, they're looking good.
As for the others:
Tottenham are in fairly good shape, but their recent form hasn't been inspiring. The presence of Newcastle also threatens their status as "the best of the rest" and narrows the margin for claiming a Champions League place. They should be fine, but losing to Liverpool has seen them slip a bit closer to the pack.
Chelsea are clearly in need of some changes. While they could buy their way out of trouble, it's always tricky doing business in January; it could be even tougher after a World Cup. And even if the reinforcements arrive this winter, the Blues have dug themselves into a bit of a hole, currently sitting five points off the Champions League places and 13 points behind first-place Arsenal.
Manchester United have looked better as of late, but the loss to Aston Villa was a reminder that the Red Devils aren't the finished article. Bruno Fernandes was sorely missed, and without many opportunities to play on the break, the attack largely fell flat. And, as with Spurs, Newcastle seem like a complicating factor. It's harder to back into a top-four place with another contender entering the fray.
Liverpool may have won on Sunday, but there's still a great deal of work to do. Even with those three points, the Reds sit in ninth place, seven away from fourth. Does the squad have the talent to make a push for the top four, especially when Luis Diaz returns? Probably. Have we seen anything this season that indicates the club can rattle off 10-straight wins and close the gap? Not really.
Have thoughts on this topic? Keep the conversation rolling in our comments section below.