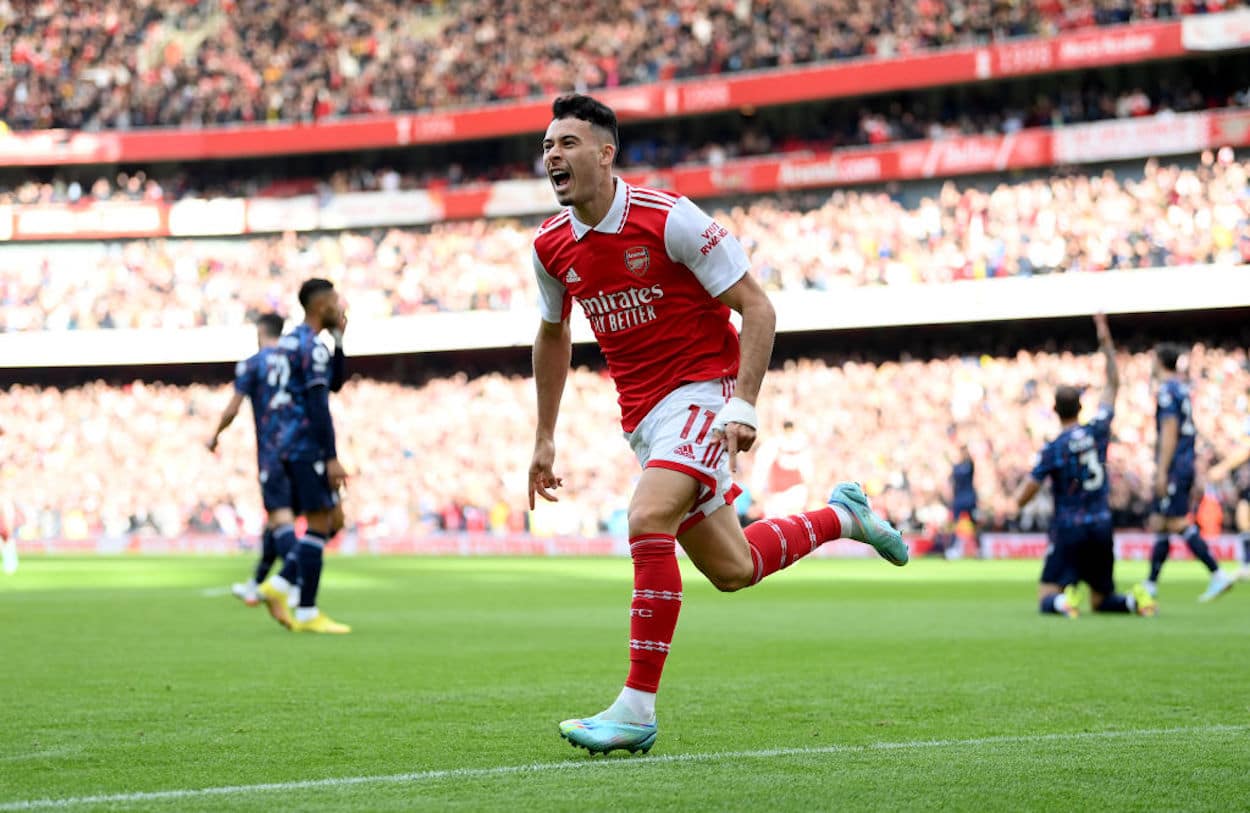 Arsenal News: Gabriel Martinelli Gave an Incredibly Positive Update About His Future
While there's still a long way to go during the 2022-23 campaign, Gabriel Martinelli should be a part of the Gunners' attack for years to come.
Barring a couple of wobbles, Arsenal have had a pretty positive to the 2022-23 soccer season. While there's still a long way to go, not to mention an unprecedented winter World Cup, the Gunners are sitting atop the Premier League table, advancing out of the Europa League group stage, and, on the whole, looking pretty good. Now, there's also some good news away from the pitch, courtesy of Gabriel Martinelli.
Although he arrived from Brazil as something of a low-risk, high-reward prospect, the forward has emerged as a key part of Mikel Arteta's plans. And if we take Martinelli at his word, that won't be changing anytime soon.
Gabriel Martinelli sounds ready to extend his Arsenal contract ASAP
One of the recent developments carrying Arsenal in the right direction has been their willingness to build around a promising young core of players. That strategy can be a double-edged sword, though. Prospects may start off on smaller contracts, but if they shine, other clubs will be waiting in the wings to offer them big-money moves away from the Emirates.
Based on past experiences, the Gunners know that scenario all too well. And while there's still more work to be done on the contractual front, it appears that the brass and supporters alike won't really have to stress about Gabriel Martinelli's future.
Ahead of Arsenal's final Europa League group match, the Brazilian winger met with the media and made it abundantly clear that he has no desire to leave North London.
"I'm very happy at Arsenal. I've said it many times, Martinelli explained (h/t Kate Burlaga of The Athletic). "This is my club. I love to be here, I love the city, I love the club. I love everything about Arsenal so I want to stay."
As if that wasn't definitive enough, the winger offered one final line to make it 100% clear where he stood.
"I'm very happy," he added. "Yeah, I just need to get a pen!"
Martinelli represents an important piece of the puzzle, but Arsenal still have bigger (contractual) fish to fry
To be clear, having Martinelli ready to sign a new contract is great news for Arsenal. The winger has developed into a key piece of the Gunners' attack under Mikel Arteta and still has plenty of room to grow. His presence in the lineup also means that the club's brass can allocate funds to different areas. If you know that the left wing is under control, it's easier to spend money on a top-notch midfielder, for example.
With all of that being said, though, Martinelli was the easy part of Arsenal's current contractual work. He still had plenty of time left on his current deal, giving the club plenty of leverage. Now, it's time for Arteta, Edu, and the rest of the hierarchy to finish the job elsewhere.
The other outstanding extensions are for Bukayo Saka and William Saliba. While there's some disagreement over when the Frenchman's current deal actually expires, both players seem like they'll be out of contract after the 2023-24 campaign.
While there are some encouraging signs around Saka — both the winger and Mikel Arteta have publicly expressed confidence about working something out, and Burlaga wrote that "Arsenal prioritised Saka's contract during the summer and [are] understood to have made significant headway" — things are more cloudy when it comes to Saliba. David Ornstein of The Athletic has reported that the club has opened formal negotiations and made an offer. It remains to be seen how Saliba's camp responds, although common wisdom dictates he'll wait until after the World Cup to take advantage of his rising stock.
Keeping the young defender in the fold will be a key part of Arsenal's current project, but keeping Martinelli (and, presumably, Saka) under contract shouldn't be overlooked. Beyond the obvious on-pitch impact, the club's brass knows that both wing positions are accounted for and won't require more than a backup. That reality, combined with the money that would presumably arrive from hypothetically selling Saliba, should allow the Gunners to strengthen their back line or midfield.
Will there be some bumps in the road? Of course, but the Arsenal project seems to be all systems go at this point