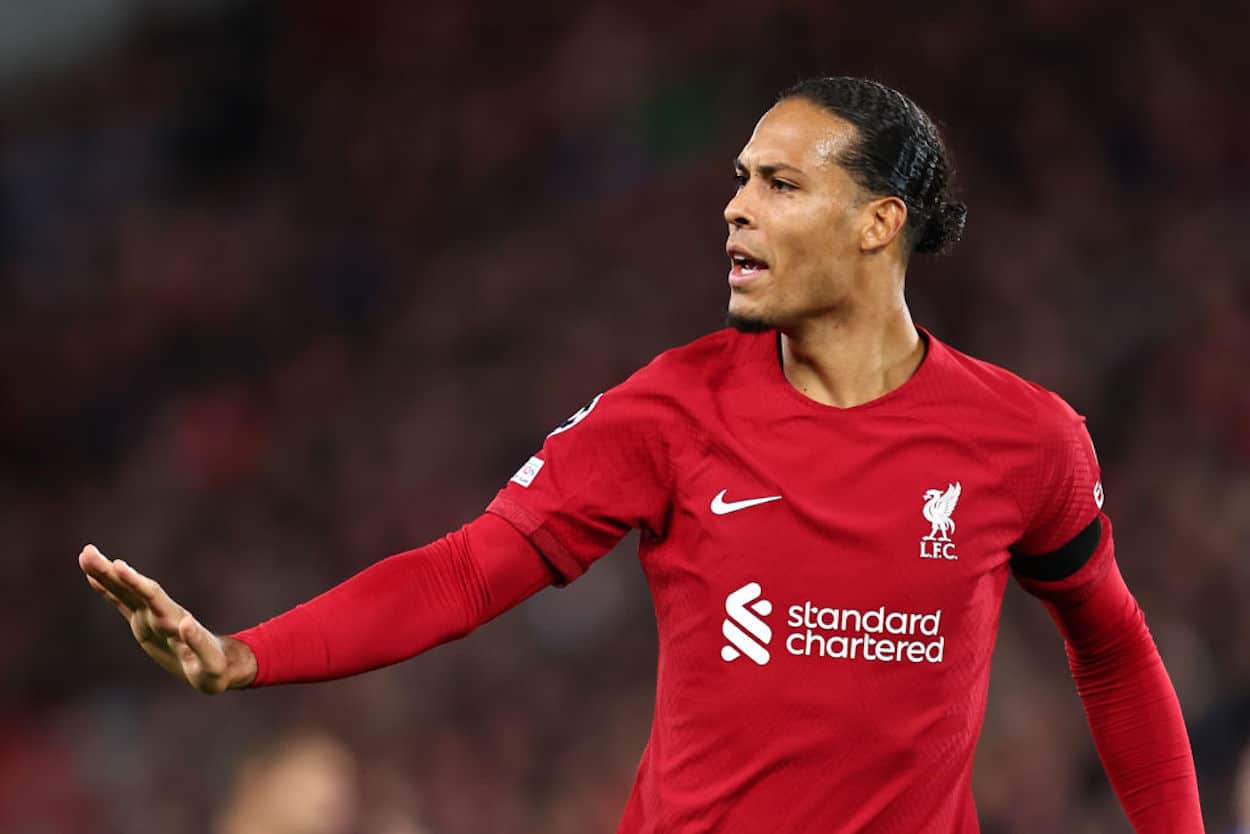 Virgil van Dijk Makes $13 Million per Season but Started Out Washing Dishes for Pocket Money
Before Virgil van Dijk emerged as a world-class defender, he was doing some humble work in order to afford the occasional McDonald's meal.
While it can be tricky trying to assess an individual defender in soccer — Is it better, for example, to make five tackles a game or be so well-positioned that you never have to make a single one? — just about everyone can agree that Virgil van Dijk is one of the best around. The Dutchman might be currently caught up in an overall Liverpool malaise, but when he's on his day, the center-back looks unbeatable. As you might assume, that reality has translated into some serious financial rewards, with VVD taking home roughly $13 million per season.
With that being said, though, van Dijk wasn't always rolling in dough. In fact, he had to spend a couple of days a week washing dishes as a teenager to secure a bit of pocket money.
Virgil van Dijk worked as a dishwasher before signing his first professional contract
When you look at a top-notch professional athlete, it's easy to imagine that they've always resided on Easy Street. For Virgil van Dijk, however, that wasn't the case.
During an Overlap Xtra interview with Gary Neville, the Dutch defender was asked about his first job. VVD then explained how, as a teenager, he had to literally get his hands dirty twice a week.
"I was a dishwasher," he remembered. "In a restaurant, yeah. So, when I was 16, 17, I didn't have a contract at the time. And, obviously, I wanted to also, you know, sometimes go for a drink or get McDonald's … so you need to get a little bit of money. Because my mom didn't have enough money to just give it to me."
That reality left van Dijk trying to balance his time between playing football and earning his petty cash.
"So, I got a job at one of our local restaurants and started to work as a dishwasher," he continued. "So I trained Monday, Tuesday. Wednesday, I was a dishwasher. Thursday, Friday, I trained. Saturday, I played. Sunday, I was a dishwasher as well. I kept that doing for just over a year, and luckily after that, I went to FC Groningen and got my contract. And then dishwasher was over."
Since then, van Dijk has been on a fairytale ride to the top of the football world
When taken in isolation, working as a dishwasher while trying to earn a professional contract sounds like a plot point in a cheesy sports movie. For Virgil van Dijk, however, his life has followed something of a storybook trajectory.
After signing that aforementioned contract with Groningen, the defender spent three seasons in the Dutch Eredivisie. He then earned a move to Celtic, where he continued to grow in stature and began playing European football. In the fall of 2015, the defender was on the move again, heading down to England and joining Southampton. VVD was a Saint for two full seasons before inking a big-money move to Liverpool.
At Anfield, van Dijk became the final piece of Jurgen Klopp's puzzle. The defender's combination of speed, composure, and ability on the ball allowed Liverpool to push their full-backs high up the pitch — he could mop up anything in behind — and invite opposition pressure before clipping a long ball over the press. He helped the Reds claim the 2019-20 Premier League title, the 2018-19 Champions League crown, and some domestic trophies. On an individual level, he's also earned a boatload of honors since moving to Merseyside.
As you might expect, he's also been paid handsomely for his work. According to Spotrac's contract data, the center-back has a four-year contract worth £45,760,000. That breaks down to £11,440,000 annually, or $13,243,744 (as of 10/26/2022 rates).
It's safe to say he could afford plenty of drinks or McDonald's meals with that salary. No dishwashing required.
Have thoughts on this topic? Keep the conversation rolling in our comments section below.