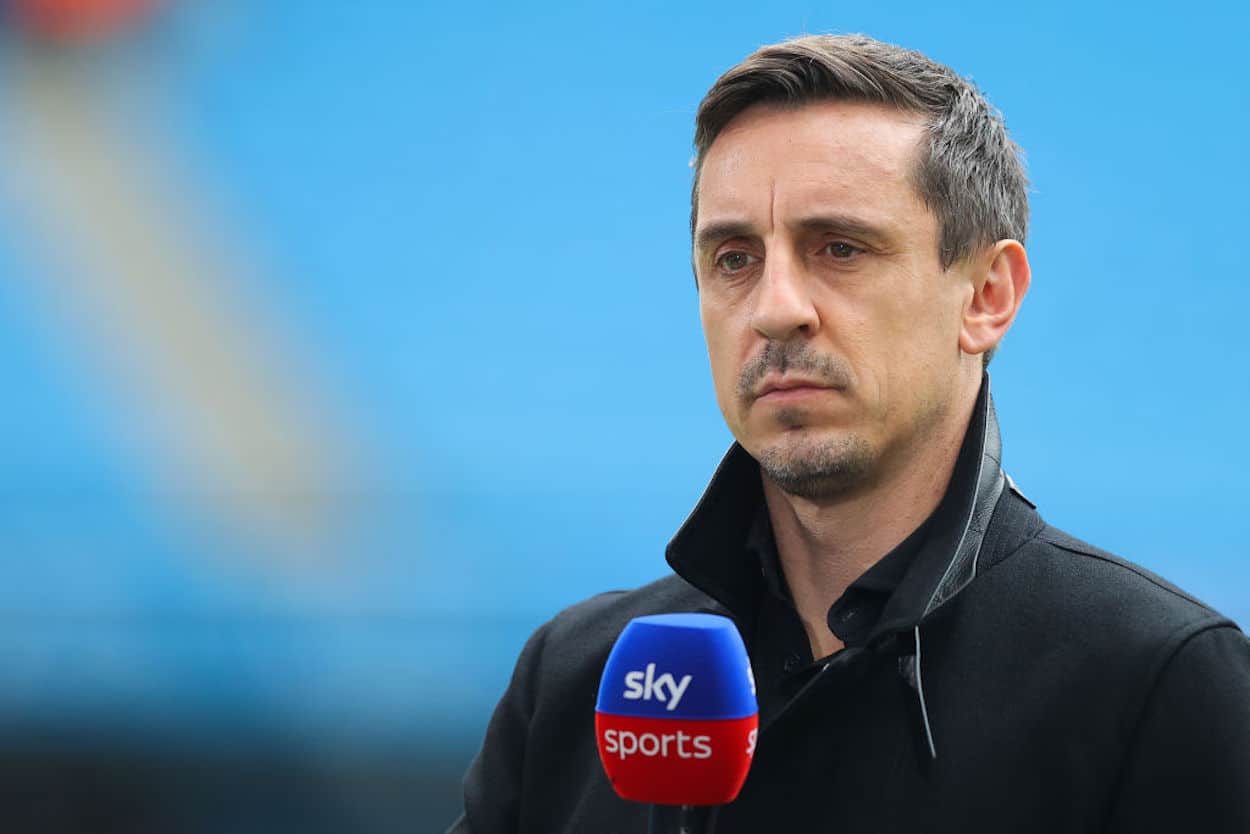 Manchester United Legend Gary Neville Sounds Like a Hypocrite Criticizing American Investment in English Soccer
If you're an English soccer fan, you have to know Gary Neville. The defender was a Premier League fixture with Manchester United, shining as part of the famous "Class of '92," and appeared 85 times for England's national team. In retirement, he's stepped behind the microphone and become a part of Sky Sports' football coverage. …
If you're an English soccer fan, you have to know Gary Neville. The defender was a Premier League fixture with Manchester United, shining as part of the famous "Class of '92," and appeared 85 times for England's national team. In retirement, he's stepped behind the microphone and become a part of Sky Sports' football coverage.
While that body of work would suggest that Neville should know a great deal about the Beautiful Game, that reality didn't come across in a recent tweet. Whether he was being willfully naive or simply overlooking some important context, the Manchester United legend's call to reconsider American ownership from the Premier League seems incredibly cynical.
Gary Neville spoke out against American ownership in the Premier League, presumably in response to Todd Boehly's questionable ideas
On Tuesday, September 13, Todd Boehly, the American owner of Chelsea, made headlines by suggesting that the "Premier League can take a bit of a lesson from American sports" and floating the idea of a North vs. South All-Star Game. That proposal baffled Liverpool manager Jurgen Klopp and also seems to have irked Gary Neville.
On the morning of September 14, the Sky Sports pundit took to Twitter to speak out against American ownership within England's top flight.
"I keep saying it but the quicker we get the Regulator in the better," Neville wrote. "US investment into English football is a clear and present danger to the pyramid and fabric of the game. They just don't get it and think differently. They also don't stop till they get what they want!"
While it's not 100% clear that the tweet was inspired by Boehly's recent comments, the dots do seem fairly easy to connect. Beyond the logical timeline, Neville has previously fired off some critical tweets about the Chelsea boss' summer spending (h/t the Daily Mail.)
Beyond that, though, there's probably a bit of a personal element at play. Neville made his name with Manchester United and hasn't been shy about criticizing the club's American ownership — the Glazer family — for allowing standards to slip at Old Trafford.
But, regardless of the immediate motivations, there's no mistaking Neville's message.
Given Neville's ties to Peter Lim and stake in Salford City, his claims about protecting the fabric of football ring hollow
Even if his tweet does feel like an easy way to court populist sentiment — this is our game, and they can't take that away from us — protecting the fabric of football does sound like a noble big-picture goal. Unfortunately for Neville, his actions aren't completely in-sync with his tweet.
Over the years, the United legend has been tied to Peter Lim, the current owner of Valencia, even going as far as briefly managing the club. While it's easy to take shots at ownership when things don't go well, Lim hasn't exactly covered himself in glory in Spain.
Although he was hailed as a savior when he arrived, Lim didn't prove to be the sort of deep-pocketed billionaire who could lift a club to glory. While there was a 2019 Copa del Rey victory during his reign, Valencia has cycled through coaches, gutted its roster, and slipped down the table. The club's new stadium, which started to take shape in 2007, sits unfinished more than a decade after it's planned completion.
"The feeling among fans is Peter Lim doesn't understand where he is," said Paco Polit, a journalist and contributor to a book about Lim's stewardship of Valencia, explained in a 2021 New York Times story. "He never understood how big Valencia was before he came, and now it feels he has left Valencia to die."
That isn't the end of Lim's football business, though. He, along with several Manchester United legends, including Neville, took control of Salford City F.C., a lower league team from Manchester, in 2014. The new ownership changed the club's uniforms and badge and has poured plenty of money into Salford. As you might expect, the Ammies have climbed up the football pyramid, currently playing in League Two.
While you could argue those changes — few things are more central to a club's identity than the kit and badge — Neville has spoken about his investment in Salford City as something for the public good.
"We could spend our money on other things," he was quoted as saying in a 2022 Daily Mirror story. "If we were driving fancy cars and doing all sorts of things with our money, people might complain as well. But we've put it into our local football club, and it's significant capital from ourselves, the class of '92."
So, why are Lim's ownership of Valencia, which has left a historic club mired in mediocrity, and the current reality at Salford City, which you could contend has disrupted the meritocracy of promotion and relegation, acceptable, but an American taking over Chelsea is a problem? Your guess is as good as mine.
Wanting to protect football and keep it a positive fixture in the lives of fans is a noble aim. Unfortunately, given Neville's own track record, his comments feel more like an attempt to fire off a hot take rather than a legitimate effort to change anything.
Like Sportscasting on Facebook. Follow us on Twitter @sportscasting19 and subscribe to our YouTube channel.