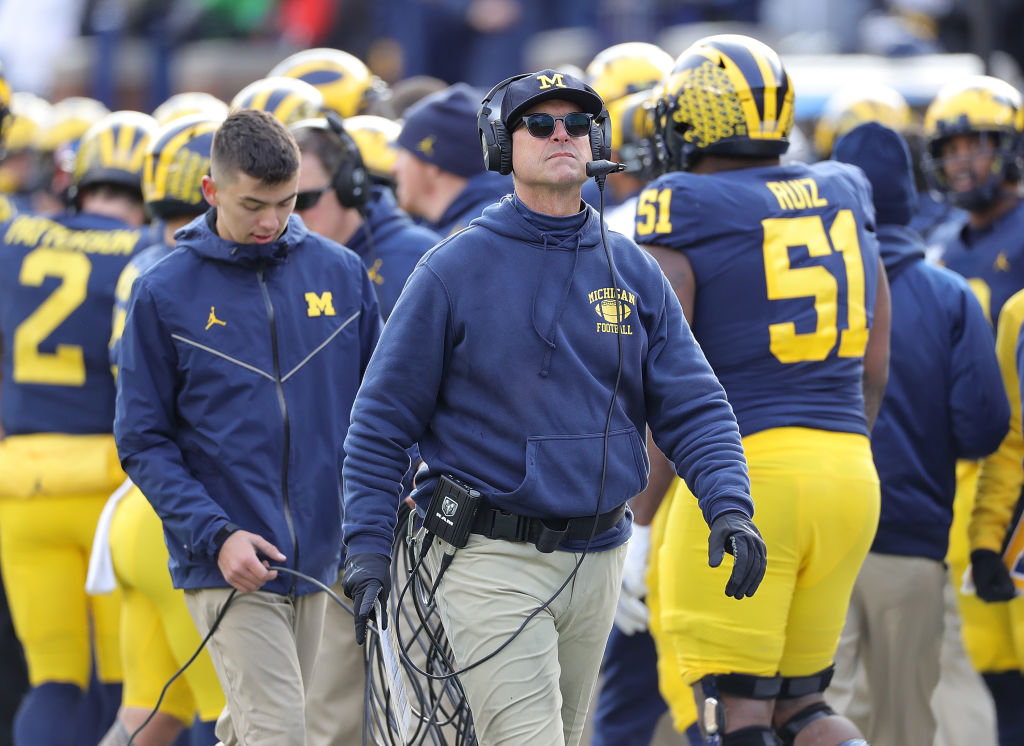 ESPN Analyst Can't Take Jim Harbaugh's 'Abuse' Any Longer
Paul Finebaum of ESPN continues to believe that Jim Harbaugh is an overrated coach.
ESPN college football analyst Paul Finebaum tried to be different this time when the question of the most overrated coach in the country was raised. But just as the swallows must return to San Juan Capistrano, Finebaum had to return to Ann Arbor and throw Jim Harbaugh under the bus again.
But can you really blame him?
Paul Finebaum and Jim Harbaugh have a history
Paul Finebaum has long been an authoritative college football analyst, first as a writer and more recently as a radio and television personality. He made his reputation via his thorough coverage of the Southeastern Conference, but he's well-connected with sources around the country. His work deservedly attracts a lot of attention.
As such, he's in demand for radio and TV interviews, even in the offseason. One of those interviews was with 247 Sports, where Finebaum lit into University of Michigan coach Jim Harbaugh again despite initially trying to take his answer in a different direction.
Finebaum and Harbaugh have a bit of history, beginning with the analyst calling the coach an "evil genius" in 2017. Harbaugh's response was to label Finebaum "the unabashed SEC water carrier," getting his name wrong in the process.
Later that year, Finebaum became the king of social media for the week for his take on the Wolverines' loss to Michigan State:
" Nobody is the champion of April more than Jim Harbaugh with the IMG Academy, going to see the Pope. He's going to Normandy. That's great, good for him. You can win the offseason but you have to win during the season and he has not. He has choked away opportunity after opportunity. You don't lose to Michigan State at home."
The ESPN analyst tried to be different this time
When Paul Finebaum was asked about overrated coaches during his interview, he acknowledged that his thoughts on Jim Harbaugh were already well known and that perhaps he should go in a different direction.
That direction was southeast of Ann Arbor, in the general vicinity of State College, Pennsylvania. Finebaum began talking about how some of James Franklin's Penn State teams "could have done better." Finebaum acknowledged that the Nittany Lions are always good, but they've been "maybe just a little bit below" where they should be.
At that point, Finebaum just couldn't resist saying what he wanted to say in the first place.
"Harbaugh is the most overrated coach in the country," he said. "I'll just go ahead and un-do what I said. There's no getting around it. For what he makes, for that program, he wins the crown." 
Keep in mind that Harbaugh is 47-18 in five seasons at Michigan, including 32-12 in the Big Ten. Most coaches at other schools, as well as fans of the team, would happily take that record. But when you're the coach at Michigan and your record against Ohio State is 0-5 – including a couple of horrendous blowouts – that's not really good enough.
'I have been abused by Jim Harbaugh …'
Michigan's past two losses under Jim Harbaugh to Ohio State have been by scores of 62-39 and 56-27, which doesn't look good for a coach who is being paid $7.5 million a season.
"For what he makes, for that program, he wins the (overrated) crown," Paul Finebaum said. "I've believed in them a couple of times. Maybe they'll win at home. And I'm not a hater. I just have been abused by Jim Harbaugh in believing too often that he could get it done.
"He can't get it done."
In fairness, Ohio State was beating Michigan since before Harbaugh's arrival. The Wolverines haven't defeated the Buckeyes since 2011.
"We've got to beat Ohio State," Harbaugh said last month. "Nothing makes us angrier than that, or me. That's what we're working toward every day. We've beaten everybody else but we haven't beaten them.
"That's what we have to do — beat them, win a championship, get ourselves into the playoff, win a national championship."