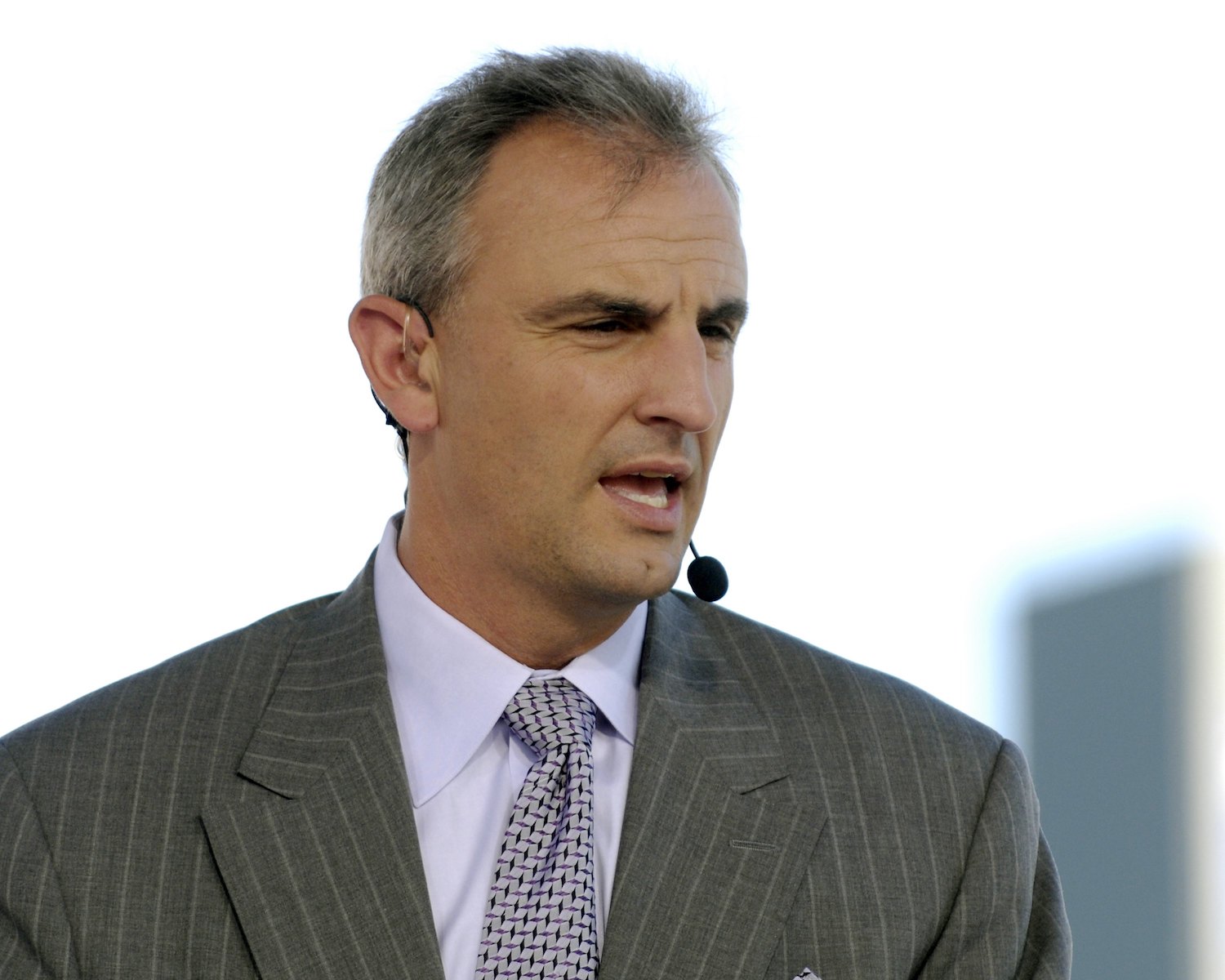 ESPN Parted Ways with Trey Wingo After 23 Years Without Offering an Explanation
For two-plus decades Trey Wingo was a regular on ESPN. He surprisingly left last week and doesn't know why ESPN let him go after so many years.
Since 1997, Trey Wingo has been a familiar face on ESPN. He's covered a variety of sports but was seen most often as a part of the network's NFL coverage. He's hosted the NFL Draft, the Pro Football Hall of Fame enshrinement ceremony, and other studio shows. Now, after more than two decades at the Worldwide Leader, Wingo is out. What happened? Where did he go?
Trey Wingo becomes ESPN's face of NFL coverage
When ESPN hired Trey Wingo back in 1997, he started by covering a variety of sports. Through his two-plus decades, he's contributed to the network's grand slam tennis coverage at Wimbledon and the U.S. Open. He's worked golf and the U.S. Open and The Open Championship. 
He's also anchored ESPN's NCAA Women's Basketball Tournament coverage, as well as handled play-by-play for arena football games. In addition to his television responsibilities, Wingo has worked for ESPN Radio. In his early days, he hosted the NFL on ESPN Radio. 
In 2003, Trey Wingo was the first host of NFL Live, ESPN's daily, year-round show on football. Serving in that role until 2018, he became the face of the network's NFL coverage. He added other NFL work to his resume, including hosting the Pro Football Enshrinement Ceremony since 2004, hosting all seven rounds of the NFL Draft since 2017, as well as working on NFL PrimeTime from 2007-2019.  
Trey Wingo's unceremonious departure from ESPN
In July, Trey Wingo's run on radio with Mike Golic came to an end. That move was a portend of things to come. Just a few months later, the New York Post reported ESPN and Wingo would part ways after two-plus decades together. 
Last week, it became official when ESPN vice president Seth Markman rather unceremoniously announced Wingo's departure on Twitter. 
"I can barely remember a day which didn't involve working side by side with this guy. Trey Wingo has been an incredible teammate & friend for more than 2 decades. On today, his last day at ESPN, I along with many others, salute him and wish him all the best in his next chapter," he tweeted."
Less than a week after his departure, The Athletic interviewed Trey Wingo. When asked why he was no longer at ESPN, Wingo didn't have a clear answer.
"The first story that came out (in New York Post), that I might be the odd man out, came three days after the NFL Draft this year, which I thought was quite curious timing. I think you and other people have noted quite nicely — and thank you for that — that everybody I worked with, we seemed to get along. So I really can't answer that question for you. That's a question for them and not for me." 
Launches new NFL podcast
While Trey Wingo is no longer on ESPN, it was just a matter of time before he resurfaced offering his takes on the world of sports. On Wednesday, the first episode of Wingo's podcast Half-Forgotten History debuted, featuring an interview with Hall of Famer Kurt Warner.
The premise of the podcast is based on conversations Wingo had in the past with some of the greats in NFL history.  
"It's basically just conversations with Hall of Famers and some of the greatest players in NFL history about some of the greatest moments, the dumbest moments, and the most incredible moments that you think you know," Wingo told The Athletic.
The podcast, which is sponsored by State Farm, McDonald's and Maker's Mark, is available on YouTube, Facebook, with parts also shared on Twitter and Instagram.