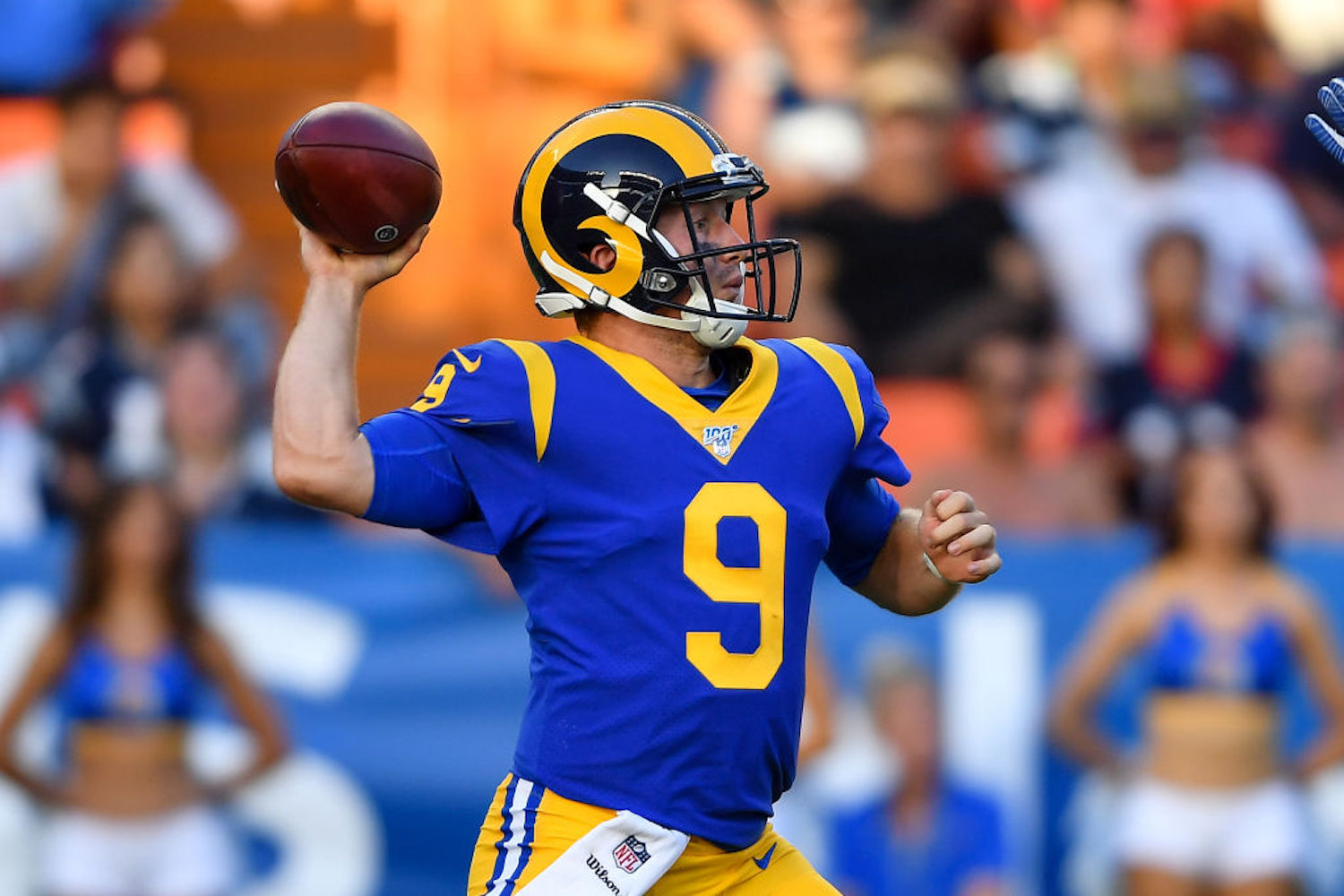 Everything You Need to Know About John Wolford, the LA Rams' New Starting Quarterback
With Jared Goff out for the LA Rams' season finale, John Wolford will step in to replace him. So, who is Wolford and what can we expect from him?
The Los Angeles Rams will be fighting for their playoff lives in their regular-season finale this weekend, and they'll be forced to do so without their starting quarterback. Jared Goff will miss the Rams' Week 17 game against the Arizona Cardinals after having surgery to repair his broken thumb. The next man up? John Wolford.
Here's everything you need to know about Wolford, the Rams' last hope in their quest to make the 2020 postseason.
John Wolford is an athletic upgrade from Jared Goff
John Wolford isn't as talented as Jared Goff. That much is obvious. But the 25-year-old quarterback is actually an athletic upgrade from the former No. 1 overall pick. The 6-foot-1, 200-pound QB is much more mobile than Goff, and he'll give the Rams offense an extra dimension this Sunday.
During his college career at Wake Forest, Wolford rushed for 1,120 yards and 19 touchdowns. Wolford really showed off his running ability in his last two seasons at Wake Forest. He rushed for 521 yards and six touchdowns as a junior and 683 yards and 10 touchdowns as a senior.
Wolford improved exponentially as a passer from his junior to senior year. After three straight seasons of throwing more interceptions than touchdowns, he totaled 29 passing touchdowns and a college career-low six interceptions in 2017.
He won't slice up opposing defenses with precise deep balls and seam routes like Goff can, but Wolford can extend plays and find hidden yards the way Goff can't.
Wolford last played quarterback in the AAF
Wolford might be an unknown name to NFL fans, but he was a starting quarterback as recently as last year.
Wolford served as the starting QB for the Arizona Hotshots in the Alliance of American Football in 2019. He threw for 1,616 yards and a league-leading 14 touchdowns, and he added 160 yards and a touchdown on the ground in eight games. The Hotshots went 5-3 in Wolford's eight starts.
The AAF canceled its season in April of 2019, and Wolford signed with the Rams a few days later. He spent the 2019 season on the Rams practice squad. Little did he know he would get the start in LA's most important game of the season a year later.
The Rams have plenty of confidence in John Wolford
Wolford might be making his first NFL appearance in a pressure-packed situation this Sunday, but the Rams' coaching staff seems to have all the confidence in the world in the unproven QB.
"John's done a great job preparing himself all year," Rams head coach Sean McVay said Monday. "If you watch the way that he's worked at it, I know there's confidence from coaches and from his teammates and guys will need to rally around him, but we're excited about the opportunity that John will have to lead the offense this week."
McVay even compared Wolford's ability to extend plays to that of Doug Flutie.
Offensive coordinator and quarterbacks coach Kevin O'Connell echoed McVay's thoughts.
"Although he hasn't gotten any live action in games, I do have a lot of confidence in John and his preparation level," O'Connell said last week. "The consistency at which he approaches his role, both obviously backing up Jared, but also servicing one of the best defenses in the league every day."
The Rams need a win over the Cardinals or a Packers win over the Bears this Sunday to make the playoffs. No pressure, right John?
All stats courtesy of Sports Reference