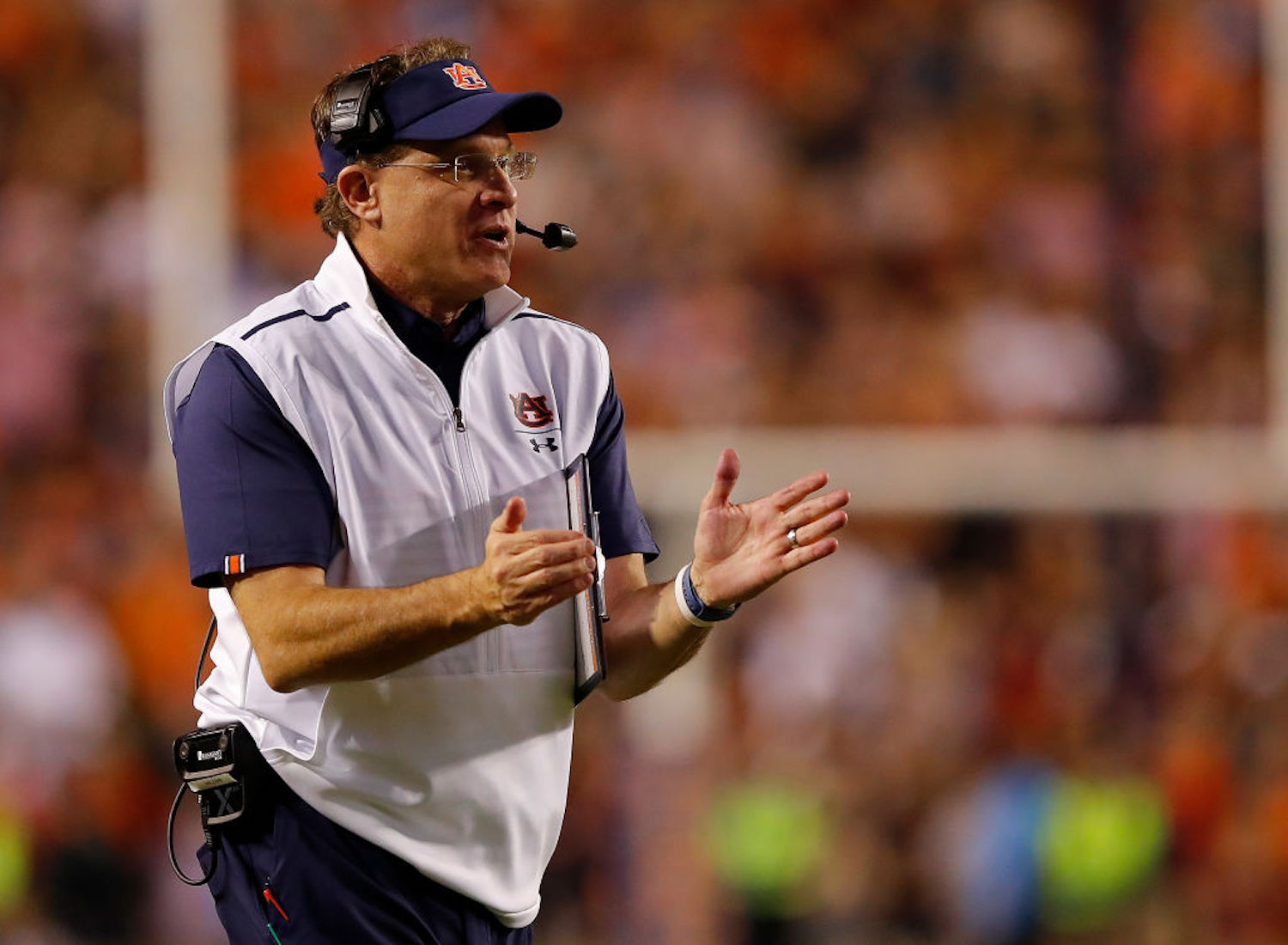 Ex-Auburn Head Coach Gus Malzahn Earned a $21.45 Million Payday for Getting Fired
Gus Malzahn was fired this week after eight years at Auburn, but it's not all bad for the head coach. Malzahn actually made $21.45 million from a buyout.
Gus Malzahn was fired Monday after eight seasons with the Auburn Tigers, but it's not all bad for the former head coach. Malzahn had a massive buyout attached to the seven-year contract he signed in 2018, so the firing actually brought with it a $21.45 million payday.
Gus Malzahn spent eight years as Auburn's head coach
Gus Malzahn has been a staple in the SEC football world for nearly a decade. He took over as Auburn's head coach in 2013 after a successful season at Arkansas State, and he wasted no time bringing the Tigers back to national prominence.
Malzahn led Auburn to a 12-2 record in his first season at the helm. The Tigers finished the year ranked No. 2 in the final AP Poll, which earned them a date with Florida State in the BCS Championship. Jameis Winston and the Seminoles triumphed over Malzahn that day, but the head coach made it clear Auburn would be a championship contender for years to come.
Well, that's what we thought, at least. Malzahn led Auburn to six consecutive winning seasons after the 2013 title run, but the Tigers failed to reach the College Football Playoff every year. Auburn went 2-5 in bowl games under Malzahn.
Auburn fired Malzahn on Monday
Over the course of Malzahn's tenure at Auburn, he never finished a season with a losing record. The Tigers went 6-4 in the regular season in 2020, but mediocrity apparently doesn't cut it at Auburn.
Less than 48 hours after its 24-10 win against Mississippi State on Saturday, the school announced Malzahn will not continue as the head coach.
"I'm incredibly thankful to have had the opportunity to coach at Auburn for 11 years, including the last eight as head coach," Malzahn wrote in a statement posted on Twitter Monday. "It was a true honor to lead our program… I want to thank every player I've been fortunate to coach during my tenure. It was a true blessing, and I'm incredibly appreciative of how you represented the program and most importantly, yourselves. We shared a lot of special memories together."
Gus Malzahn earned a $21.45 million payday for getting fired
Usually, the day you get fired from your job is the worst day of your life. For Malzahn though, that's not exactly the case. Malzahn signed a seven-year, $49 million contract with Auburn in 2018, and the deal included a massive buyout were he to be fired.
When Malzahn was let go on Monday, he earned a $21.45 million payday thanks to his buyout. Half of the buyout will be paid out within the first 30 days following his termination. The other half will be paid out in increments over the next four years.
Malzahn is still a top-tier college coach with a proven track record, so he won't be out of a job for long. But if he isn't in a rush to get back to the sideline, at least he has a steady cashflow hitting his bank account for the next few years.