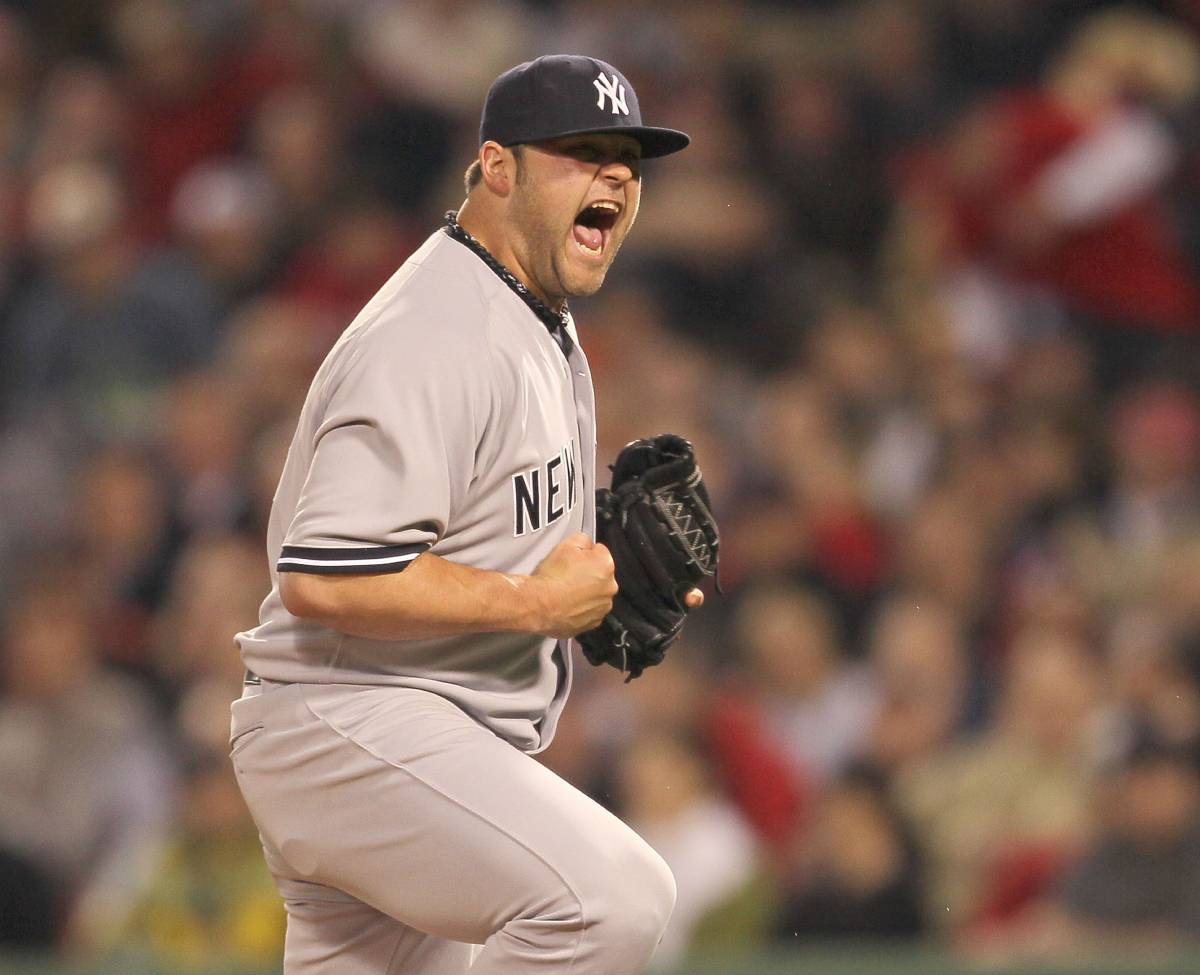 Ex-Yankees Phenom Joba Chamberlain Earned $13 Million in the Majors but Lost Everything
Ex-Yankees phenom Joba Chamberlain dazzled and earned good money in the majors. The fist-pumping reliever just lost everything in an auction.
By 2020, Joba Chamberlain should have either been putting the finishing touches on his career or moving into his final few years in MLB. Instead, the pitcher lost everything.
How did Chamberlain go from potentially the next New York Yankees ace starter (or shutdown reliever) to watching his prized belongings wind up at an auction?
Joba Chamberlain had a long MLB career
Although Joba Chamberlain pitched seven seasons, he is best known for the seven seasons he spent with the New York Yankees. But of those seven, there were really only three where Chamberlain was both relevant and essential.
Considering how dominant the 6-foot-3, 245-pound Chamberlain was when he entered the league, it's strange to think he only had three relevant seasons.
Part of an impressive pitching crop that included Phil Hughes, Chamberlain totaled 34 strikeouts and allowed just one run in 24 innings as a rookie, amounting to a 0.38 ERA in 19 games.
Famously, Chamberlain blew the Yankees' Game 2 loss to the Cleveland Indians in that year's ALCS when small flies attacked him.
Chamberlain recorded a 2.60 ERA in 2008, a year he began in the bullpen but closed with 12 starts. New York kept Chamberlain in the rotation for most of the 2009 season, although he moved to the bullpen for the postseason and won his first World Series ring.
Chamberlain returned to the bullpen for good in 2010. He never started another game.
Chamberlain had a forgettable end to his career
Joba Chamberlain totaled 6.3 Wins Above Replacement in his first three seasons but only totaled 1.4 WAR in the next seven years.
Injuries played a role in Chamberlain's fall. He missed most of 2011 when he had Tommy John surgery, and then he suffered an open dislocation of his right ankle from a trampoline incident in April 2012.
Chamberlain recorded a 3.57 ERA in 69 games for the Detroit Tigers in 2010 but was out of Major League Baseball by 2016. The Kansas City Royals cut him on the eve of the 2015 World Series starting.
Joba Chamberlain lost everything in an auction
Joba Chamberlain made at least $10 million in the majors. Baseball-Reference measured his earnings at $10.7 million, while Spotrac said he made $13 million in 10 seasons.
However much Chamberlain made in the majors, it didn't mean much in the end. According to the Lincoln Journal Star (Neb.), many of Chamberlain's belongings, both memorabilia and general household items, were listed at an auction.
Among the items were bobbleheads, locker room nameplates, six televisions, over 20 pairs of Adidas sneakers, and a Jagermeister shot machine.
According to the paper, Chamberlain bought a house in 2014 through a trust. The bank filed a notice of default on the loan in October 2019 when Chamberlain still owned over $900,000. In January, the bank took ownership of the house and forced Chamberlain to leave a month later.
According to someone who attended the auction but spoke anonymously, "hundreds of people" attended the auction. The source said Chamberlain took "high-value items," including his World Series ring.
A flyer for the auction included pictures of jerseys from numerous ex-teammates, including Miguel Cabrera and Victor Marinez. The source said the jerseys could be purchased online. Chamberlain had not publicly commented on the auction as of publication.
Stats courtesy of Baseball-Reference