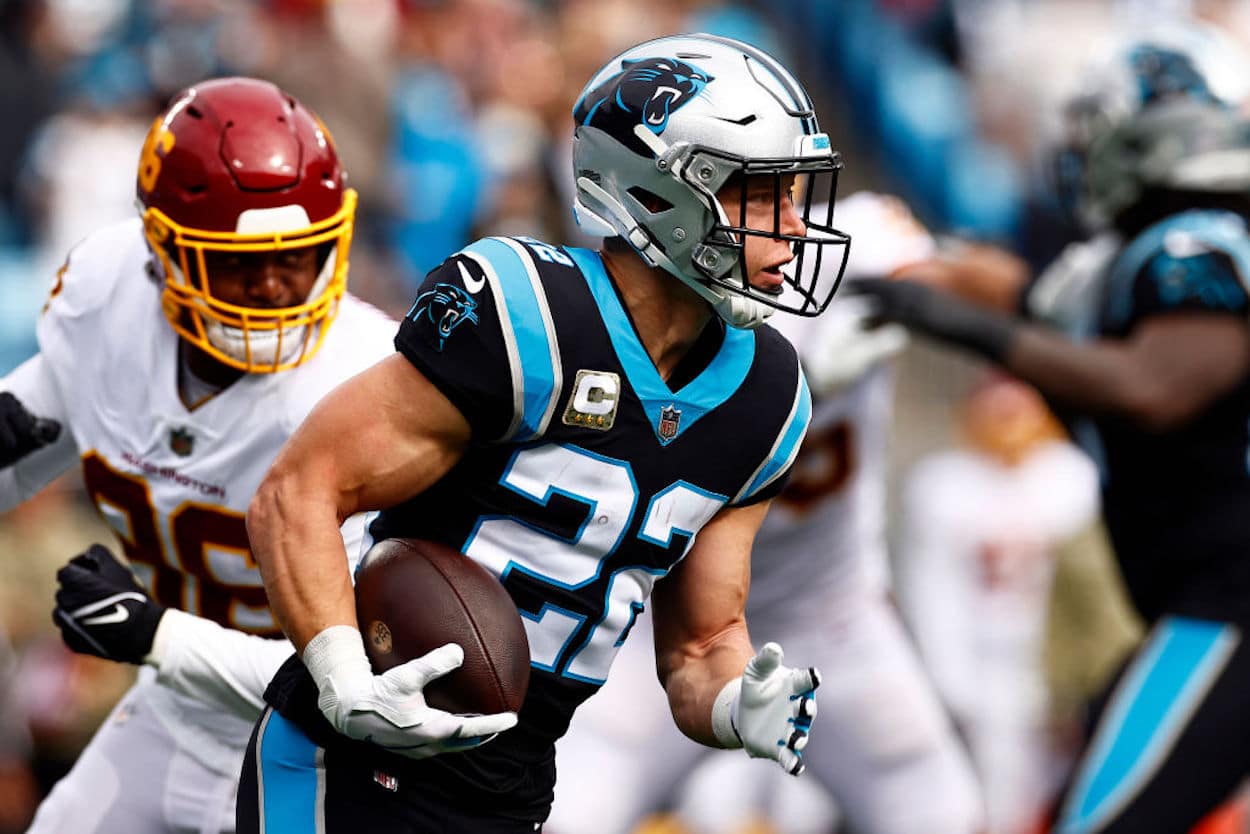 Fantasy Football 2022: Christian McCaffrey Is the Biggest Gamble of the First Round
No one can doubt Christian McCaffrey's talent. That reality, however, doesn't mean he's a safe addition to your fantasy football team.
Carolina Panthers running back Christian McCaffrey is, once again, one of the most sought-after players in nearly every fantasy football league. He has plenty of potential in an offense that is centered around him. But that upside has ultimately been his downfall and why fantasy football players have been burned the past two seasons by picking him so early.
On one hand, it's easy to look past the caution tape and simply take McCaffrey in the first round and move on to the next. After all, he was the first player since 1999 to have 1,000 rushing and 1,000 receiving yards in a single season, and he hasn't shown any signs of slowing down when he's active.
On the other, though, the running back has played 10 games across the last two campaigns. Wasting draft capital is a tough pill to swallow, especially when we're talking about the sort of difference-makers you can snag in the first round.
With those conflicting viewpoints running through everyone's mind ahead of their fantasy football drafts, let's take a closer look at the risks involved in adding CMC to your roster.
There are obvious pros and cons to drafting Christian McCaffrey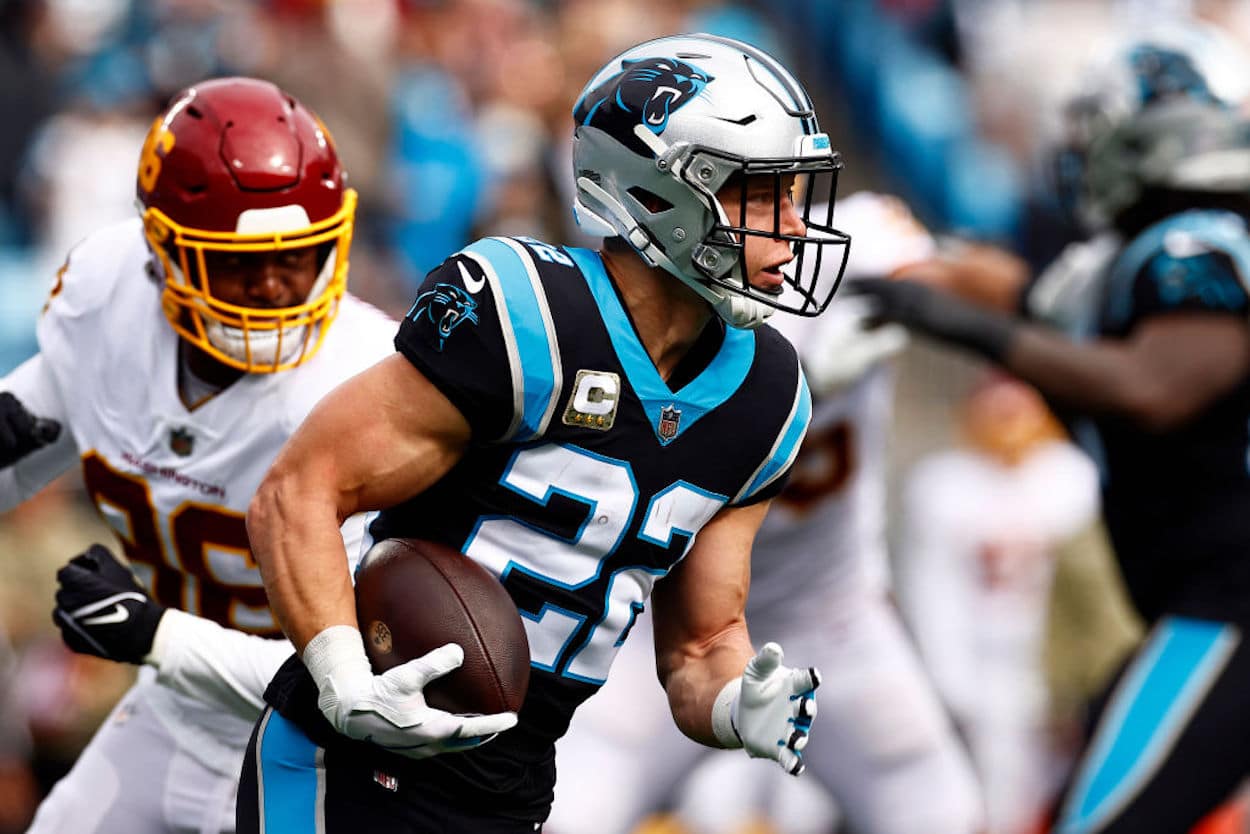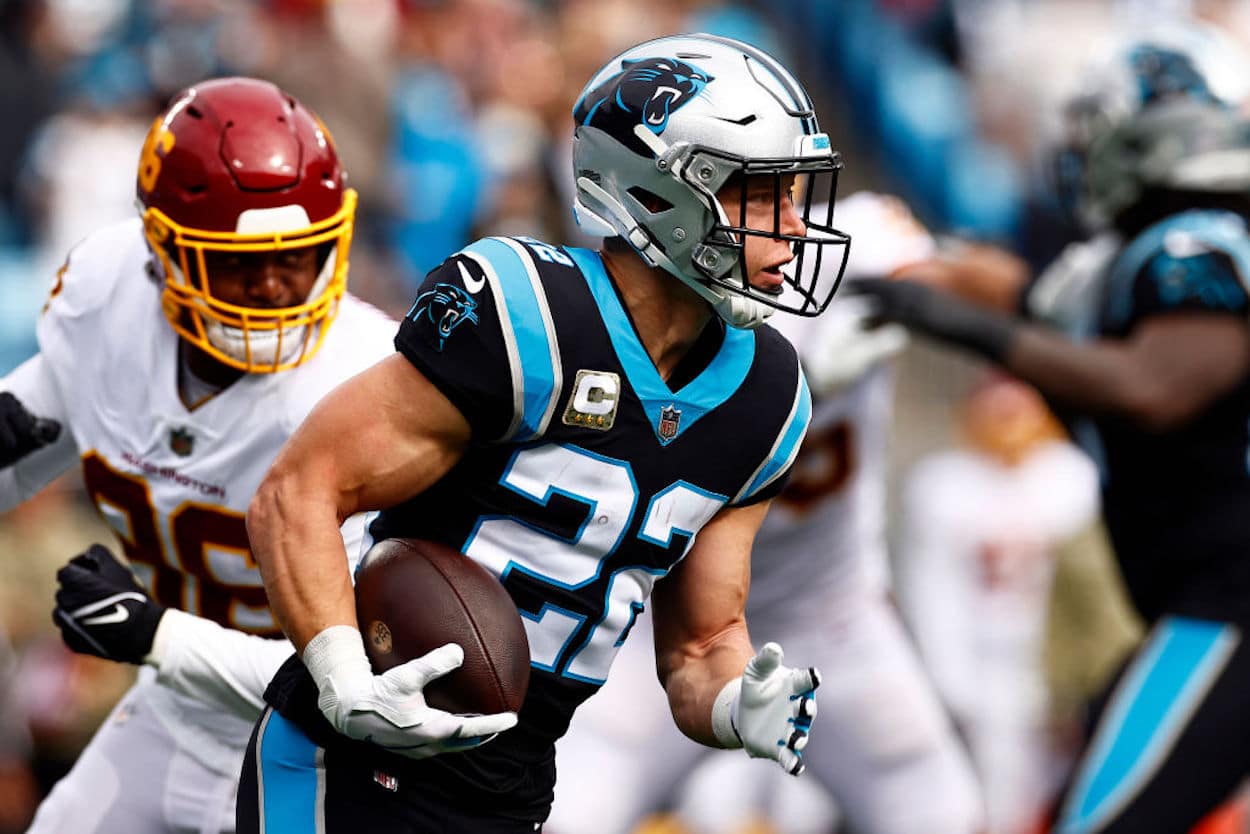 McCaffrey is a bona fide stud when healthy, but therein lies the problem. He hasn't been on the field enough to justify taking him with a top pick in the first round. It's hard to look past his injury history, which has kept CMC sidelined for 23 total games. The 26-year-old running back has only suited up for 10 contests since 2021, none of which have come in December or January when the fantasy playoffs take place.
Following his record-setting season in 2020, McCaffrey was a popular top pick in fantasy drafts due to his unmatched dual-threat ability. Now, two years later, McCaffrey is still one of the most highly coveted players in fantasy football, as he ranks second in the NFL.com's player rankings, sitting only behind running back Jonathan Taylor.
If he plays every game this season, he'll likely reclaim the title of being the best running back in the game. But that is a big if.
In his last healthy season, McCaffrey scored 19 touchdowns while leading all running backs in receptions (116) and receiving yards (1,005). He scored the most fantasy points among running backs (471.2) by a long shot while averaging 8.6 more points per game than the next best option (Dalvin Cook, 314.8), according to FantasyPros.
Those numbers, however, happened three years ago, and he's not as young or robust as he once was.
D'Onta Foreman added a new wrinkle to Carolina's backfield
There's competition in the backfield now, as well. Carolina signed D'Onta Foreman to a one-year deal this offseason after his mini breakout stint with the Tennessee Titans.
Foreman received the bulk of the carries for the Titans during the second half of the season once their star running back Derrick Henry suffered a Jones fracture in Week 8 of last year. The Texas product handled the pressure with ease, racking up three games with 100-plus rushing yards and at least 14 points in PPR leagues.
The Panthers didn't just sign Foreman to be of service when their All-Pro running back goes down. He was brought to Carolina to make sure that doesn't happen for the third consecutive year, which could limit McCaffrey's total touches.
Foreman is a bigger back. He's two inches taller and roughly 30 pounds heavier than McCaffrey, meaning he could be the go-to back in tight, between-the-tackles situations. Panthers head coach Matt Rhule hasn't stated how he plans on working Foreman into the backfield rotation, but it's fair to assume he could be especially useful in goal-line situations.
Carolina has struggled the past two seasons when breaching the opponent's 20-yard line. Last year, they scored a touchdown on just 53.2% of their red-zone appearances, and in 2020, it was 50.9%. Both percentiles ranked among the bottom-10 teams in the league.
The bright side for those willing to gamble on McCaffrey in the first round is that no one else in the Carolina backfield will contend with him to be the third-down back. Foreman was mostly used in early downs last year, while Chuba Hubbard played sparingly in passing situations for the Panthers and never eclipsed more than five receptions or 33 receiving yards in a single game.
The early rounds are meant to be the safe and obvious choices; the later portion of the draft is when you can be bolder and more rambunctious with your selections. It's hard to rationalize taking an injury-riddled running back over the likes of Justin Jefferson, Cooper Kupp, Ja'Marr Chase, or Austin Ekeler, players who have stepped up in big moments late in the season and are on better teams that will be in scoring positions more consistently than the Panthers.
Either way, taking McCaffrey in the top half of the first-round draft is a substantial risk. But it could be a league winner-type gamble that will likely pay off if he remains healthy for all 17 games.
Like Sportscasting on Facebook. Follow us on Twitter @sportscasting19 and subscribe to our YouTube channel.