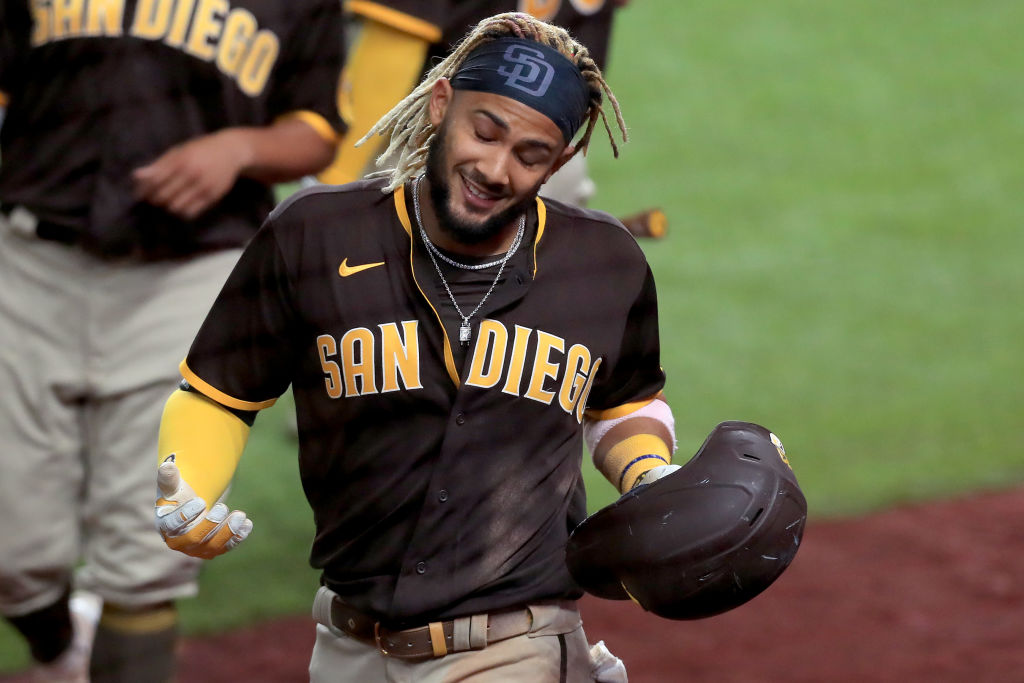 Fernando Tatis Jr. Grand Slammed His Way Into a Ridiculous Controversy
Fernando Tatis Jr. is at the center of a ridiculous controversy after he simply hit a grand slam during a game against the Texas Rangers.
The unwritten rules of baseball are sacred in Major League Baseball. Don't bunt to break up a no-hitter. Don't steal bases or send runners home in a blowout. When an opposing pitcher throws at one of your players, throw at one of theirs. But when Fernando Tatis Jr. hit a grand slam against the Texas Rangers Monday, Rangers manager Chris Woodward might've taken baseball's unwritten rules a bit too far.
Fernando Tatis Jr. hit a grand slam on a 3-0 pitch with his team up seven runs
In the Padres' most recent game against the Rangers, San Diego built up a seven-run lead by the eighth inning. With the Padres up 10-3, Fernando Tatis Jr. stepped to the plate with the bases loaded.
Tatis Jr. worked his way to a 3-0 count against Juan Nicasio. As one of the best young hitters in the MLB already, Tatis Jr. gave himself the green light to swing away, and swing away he did. Tatis Jr. got a fastball right down the middle and belted it into the right field seats for a grand slam.
It seemed harmless at first, but Woodward wasn't happy with Tatis Jr. running up the score.
Chris Woodward ripped Tatis Jr. for breaking an unwritten rule
After Tatis Jr.'s grand slam, Texas threw the next pitch behind Manny Machado in what looked to be an intentional move. The pitch narrowly missed Machado, but it was clear Woodward didn't appreciate Tatis Jr. swinging on a 3-0 pitch with a big lead.
Woodward addressed the situation in his postgame press conference.
I think there's a lot of unwritten rules that are constantly being challenged in today's game. I didn't like it, personally. You're up by seven in the eighth inning; it's typically not a good time to swing 3-0. It's kind of the way we were all raised in the game. But, like I said, the norms are being challenged on a daily basis, so — just because I don't like it doesn't mean it's not right.

Chris Woodward
Tatis Jr. was forced to apologize for hitting a grand slam
After the game, Padres' manager Jayce Tingler seemed to take Woodward's side in the matter.
He's young, a free spirit and focused and all those things. That's the last thing that we'll ever take away. It's a learning opportunity and that's it. He'll grow from it. Just so you know, a lot of our guys have green light 3-0. But in this game in particular, we had a little bit of a comfortable lead. We're not trying to run up the score or anything like that.

Jayce Tingler
Even Tatis Jr. was forced to apologize… for hitting a grand slam. Cincinnati Reds' pitcher Trevor Bauer came to Tatis Jr.'s side on Twitter after the game.
"Hey [Tatis Jr.] listen up: 1) Keep swinging 3-0 if you want to, no matter what the game situation is 2) Keep hitting homers, no matter what the situation is 3) Keep bringing energy and flash to baseball and making it fun 4) The only thing you did wrong was apologize. Stop that," Bauer tweeted Tuesday morning.
Some unwritten rules in baseball can be gray areas, and this one definitely applies. So, who's right, Tatis Jr. or Woodward?