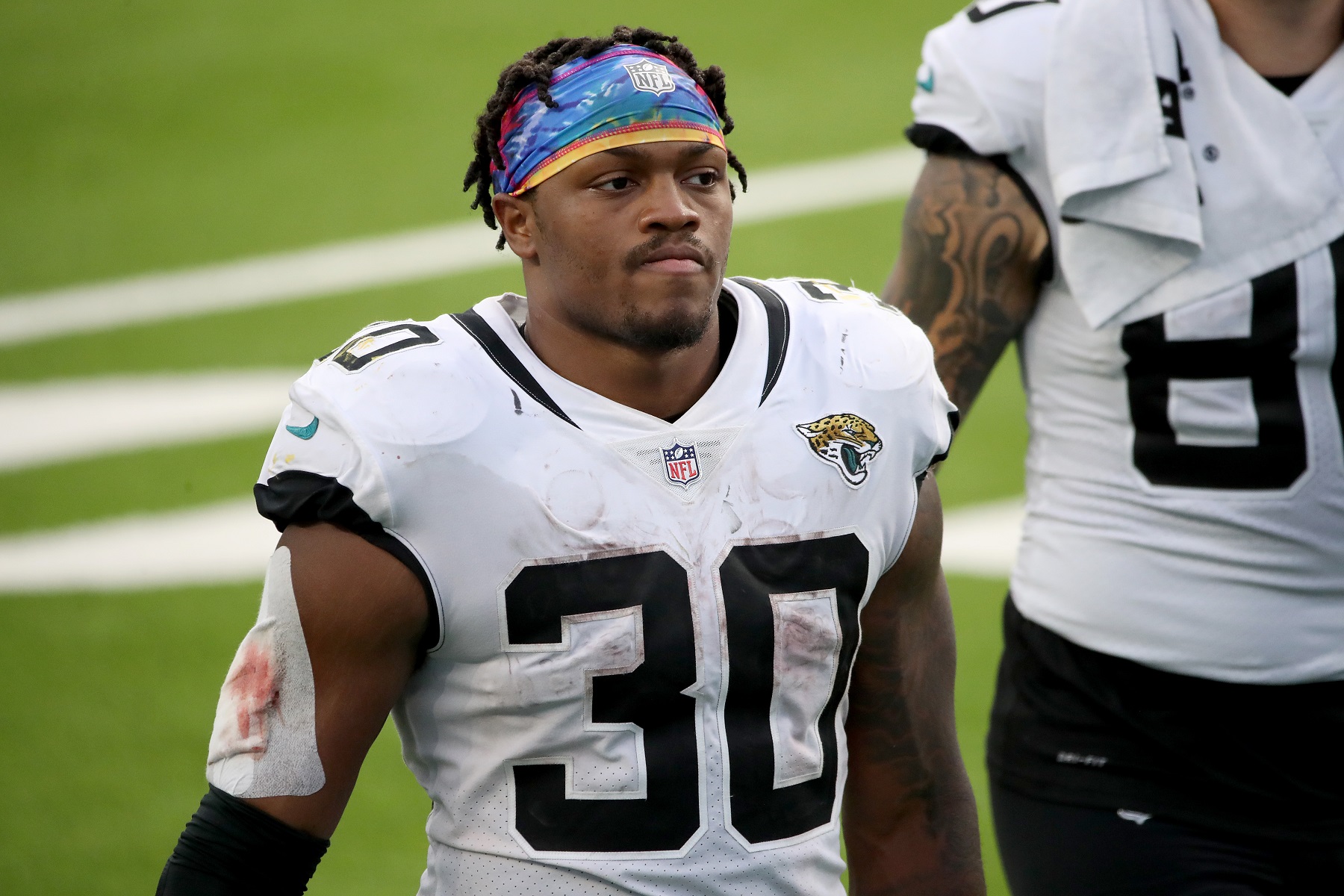 Finding the Next James Robinson Just Got More Difficult for NFL Teams
James Robinson of the Jacksonville Jaguars raised his profile in the East-West Shrine Bowl, but organizers said the all-star game will not be held at the conclusion of this season.
The Indianapolis Colts traded Marshall Faulk in 1999 but didn't miss a beat because rookie running back Edgerrin James stepped up. Given that James was the fourth pick of the draft, that wasn't a stunner. The Jacksonville Jaguars took a bigger risk by cutting Leonard Fournette loose a week before their 2020 opener and handing his job to James Robinson.
Robinson has blossomed into one of the stars of the rookie class, but Jacksonville may have lucked out more than anyone realized. Had Robinson turned pro in 2021 instead of this season, he might have escaped the attention of potential NFL suitors.
James Robinson is running through and around defenses
Jacksonville running back James Robinson is tearing up the NFL as the season approaches its midpoint. Robinson already has a pair of 100-yard rushing games and ranks seventh in the league with 481 yards. The rookie from Illinois State also has run for four touchdowns and caught two scoring passes.
Robinson isn't a one-for-one replacement for Leonard Fournette, who rushed for 1,152 yards and caught 76 passes last year. On the other hand, the undrafted free agent cost the Jaguars considerably less than the nearly $18 million signing bonus that Leonard Fournette commanded as the No. 4 pick of the 2017 draft.
Robinson's signing bonus was $5,000 – that's not a typo – and the total value of his three-year contract is $2.29 million. That's the difference between starring at LSU, where scouts saw Fournette take on SEC defenses every Saturday, and playing at Illinois State, which competes n the Football Championship Subdivision.
James Robinson put up huge college numbers
James Robinson had a spectacular high school career in Rockford, Illinois, where he ran for 2,461 yards as a senior and 9,045 yards for his career. He played his college football two hours away at Illinois State and continued his exploits on the field.
Robinson ran for 1,290 yards and 12 touchdowns as a junior, then put up 1,899 yards and 18 TDs last fall to finish his career with 4,444 yards and 44 scores. The asterisk associated with those numbers is that they were accomplished in the FCS, a notch below major-college football. That meant that NFL talent evaluators weren't seeing him play and practice against the Football Bowl Subdivision talent that dominates the annual draft.
However, the scouts did get to see him practice ahead of the East-West Shrine Bowl against a mix of top prospects, and then Robinson rolled up 80 yards on the ground and 56 on catches in the all-star game.
That didn't result in Robinson being selected in the seven rounds of the NFL draft, but it did earn him a look from teams that otherwise might have discounted him entirely.
The next under-the-radar player could be tougher to find
Seniors from FCS and Division II schools aspiring to make a James Robinson-like impression ahead of the 2021 draft received a blow on Oct. 27 when organizers of the East-West Shrine Bowl announced that the game is being mothballed for a year due to challenges created by the COVID-19 pandemic.
The event, which began in 1925, had been scheduled for Jan. 23, 2021, in St. Petersburg, Florida.  
"It's terribly disappointing to have to cancel this year's game, but there are so many issues involved with bringing in approximately 130 players and 25 NFL coaches from every corner of the United States and Canada," executive director Bob Roller said in a statement. "It's difficult enough currently for these college teams to provide some sort of a bubble during the regular season, but our game occurs after all players have gone home for the holidays. It presented too many potential issues for this one year."
Organizers said 98 athletes who played in the 2020 East-West Shrine Bowl are currently on NFL rosters.
Like Sportscasting on Facebook. Follow us on Twitter @sportscasting19.