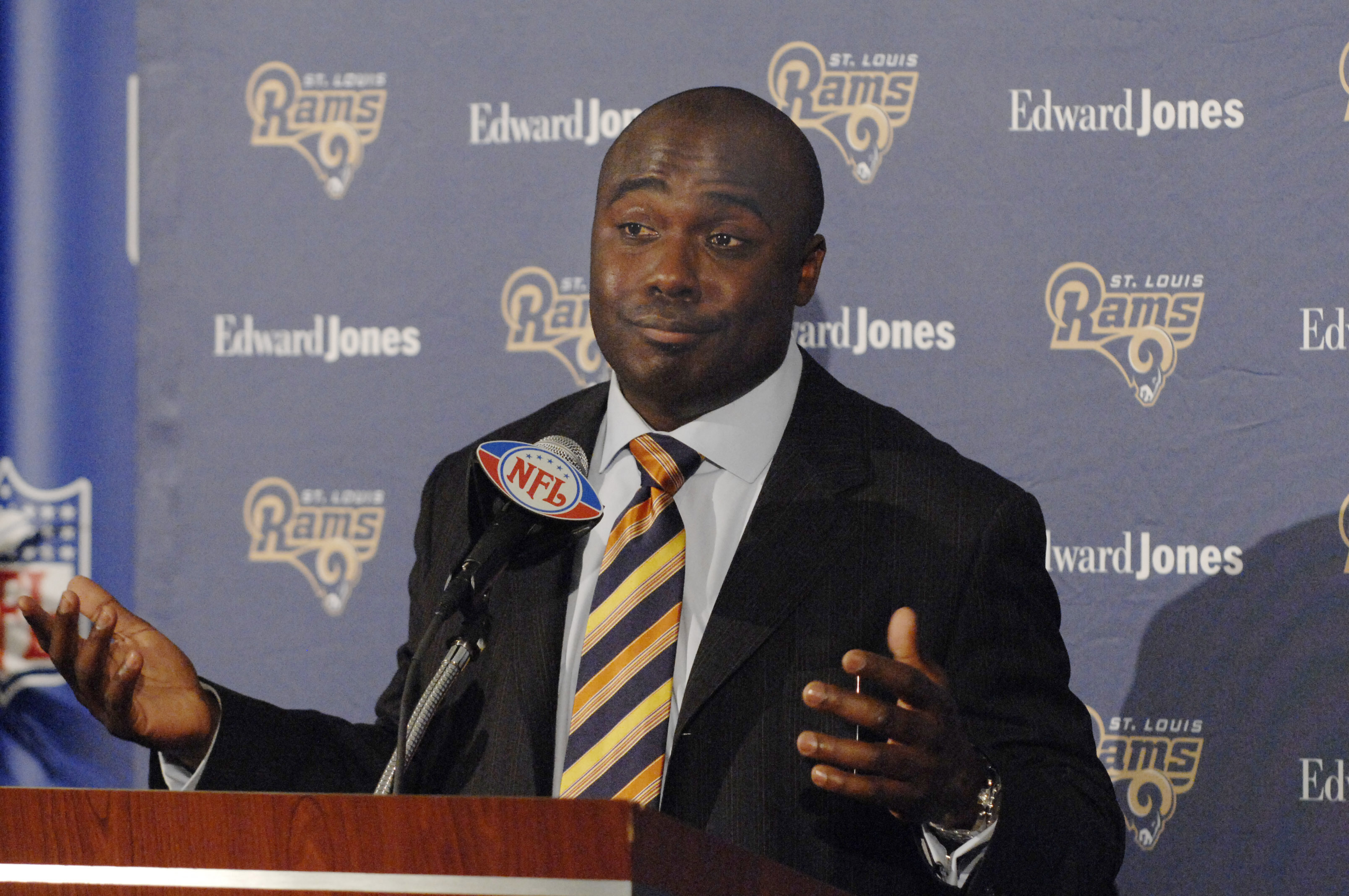 You Won't Believe How Many Kids Marshall Faulk Has Fathered
Marshall Faulk was the electric running back for the "Greatest Show on Turf," but he also had a busy personal life that led to a slew of kids.
Marshall Faulk was the running back who powered the "Greatest Show on Turf" St. Louis Rams. Faulk was such a dominant force for the Rams in the early 2000s that he won an NFL MVP award. He also made seven Pro Bowls and three First-Team All-Pro lists. Faulk's on-field success is well-known among NFL fans, but his personal life has largely been kept a secret. He has a complicated history with women and more than a few children to show for it.
Marshall Faulk's Hall-of-Fame NFL Career
Marshall Faulk was a revelation in the NFL from the moment he stepped on the field. As a rookie in 1994, Faulk rushed for 1,282 yards and 11 touchdowns for the Indianapolis Colts. He made the Pro Bowl in each of his first two years in the league.
After five years in Indianapolis, Faulk was traded to the Rams in 1999. Many players take a step back after being traded unexpectedly, but the move might've been the best thing for Faulk's career.
The Rams went on to win the Super Bowl in 1999, the first season for Faulk with the team. He rushed for over 1,300 yards in each of his first three seasons in St. Louis and won the NFL MVP award in 2000. Faulk scored 26 total touchdowns during his MVP season.
Faulk received three straight First-Team All-Pro nods with the Rams. He spent his final seven NFL seasons with the team and retired in 2007.
Marshall Faulk has six known children from four different women
Most NFL fans know of Faulk's success on the football field, but not many know much about his family life. Faulk actually has six known children with four different women dating back to the beginning of his career.
In 1995, Faulk had his first child with his girlfriend at the time, Candace Patton. The couple named their child Marshall Jr., and he went on to play college football at Central Washington University.
Faulk ended up getting married to a woman named Lindsay Stoudt in 2006. The couple had three children together — Presley, Farrah, and Brooklyn. Faulk and Stoudt got divorced in 2014.
Faulk also has a child with both his ex-girlfriend Helen Dunne and another unknown ex-girlfriend.
Marshall Faulk started a foundation in 1994 to help underprivileged youths
In 1994, Faulk started the Marshall Faulk Foundation to help underprivileged children achieve their dreams. The foundation is aimed toward providing a brighter future for children in Southern California who don't have the same opportunities privileged children do. The Marshall Faulk Foundation is still active today.
Since 1994, the Marshall Faulk Foundation has been dedicated to building brighter futures for today's underprivileged youth. Through our supporters we have been able to help young people tackle the challenges they face that often prevent them from achieving their dreams. True to our mission, we have given rays of hope and have brightened the smiles of so many young children.

Marshall Faulk Foundation
Faulk might have a complicated history with women, but he's a present father to all of his children and he has a passion for helping other youths.
All stats courtesy of Pro Football Reference