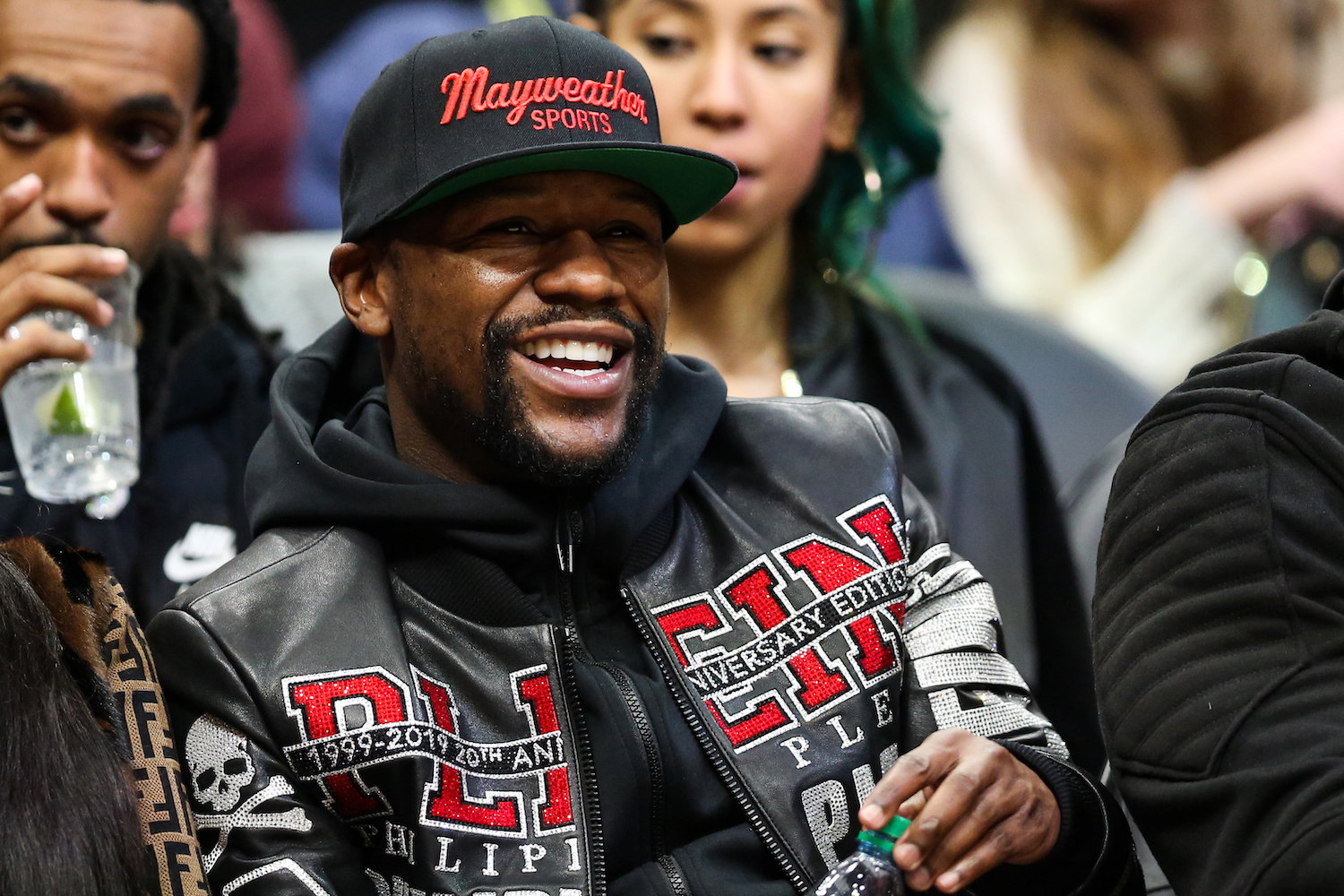 Floyd Mayweather Jr. and His Much-Anticipated NASCAR Debut May Finally Be Here
Floyd Mayweather Jr. has been linked to NASCAR as a potential owner for years. It appears now that it might actually happen at the 2022 Daytona 500.
It's been years now — late 2019 to be exact — when rumors first popped up about Floyd Mayweather Jr. owning a NASCAR Cup Series team. There hasn't been much news about it since, with the exception of a random social media post. Recently, there has been movement, and according to various reports, it appears that the former boxer's race team could makes its debut at the 2022 Daytona 500.  
Floyd Mayweather reveals plans for NASCAR Cup Series team
It all began in October 2019 with the first hints that Floyd Mayweather Jr. would be fielding a NASCAR Cup Series team called The Money Team Racing. 
The team's website provided some details, including a photograph of a No. 50 Chevrolet, which made sense because it matched Mayweather's 50-0 career record in the squared circle.
After those initial details, there wasn't anything substantive. In March 2020, the team's website and social media accounts posted a video that began with the ringing of a bell followed by a flashy logo accompanied by the sound of thunder.
Some speculated the bell ringing suggested that it was the start of something new. However, like the rest of the sports world at the start of the pandemic, the social media accounts and website went dormant. 
The Money Racing Team sporadically active in 2020
A couple of months later, in early June and after the death of George Floyd, the team's social media accounts ended their silence and participated on #blackouttuesday. A little over a week later, the accounts presented a unified message following NASCAR's decision to ban the confederate flag.
"We at TMT Racing fully embrace the efforts by NASCAR to recognize the injustices faced by people of color and the need to listen, learn and act," the message read. 
The Sport Business Journal's Adam Stern reported that The Money Racing Team still intended to race in several races later that year. It never happened. 
Could 2022 finally be the year that Floyd Mayweather Jr. joins NASCAR?
In all of 2021, there weren't any rumblings about Floyd Mayweather Jr. and The Money Racing Team. However, in the first month of 2022, things have started to heat up once again.   
Stern reported, unlike the past, how Mayweather's team appears to be much further along in the process with a car, sponsor, and driver. 
"@TMTRacing50, the long-aspiring NASCAR team affiliated with @FloydMayweather, is working to try to finalize a deal to enter next month's Daytona 500 as its first race, per sources," Stern tweeted. "The team has secured a car, sponsor and @KazGrala so it appears close to an announcement."
Fox's Bob Pockrass also confirmed that he had heard similar things. 
"Could be five open cars at Daytona with Gragson, THill, Villeneuve and then possibly NY Racing (driver tba as team being put together) and The Money Team with Kaz Grala as they work on assembling a car," he tweeted.
After years of speculation, it sounds like this time around Mayweather might actually pull it off and field a NASCAR team. Or, will it be like the past couple of years and end even before the start of the first round?
Like Sportscasting on Facebook. Follow us on Twitter @sportscasting19.