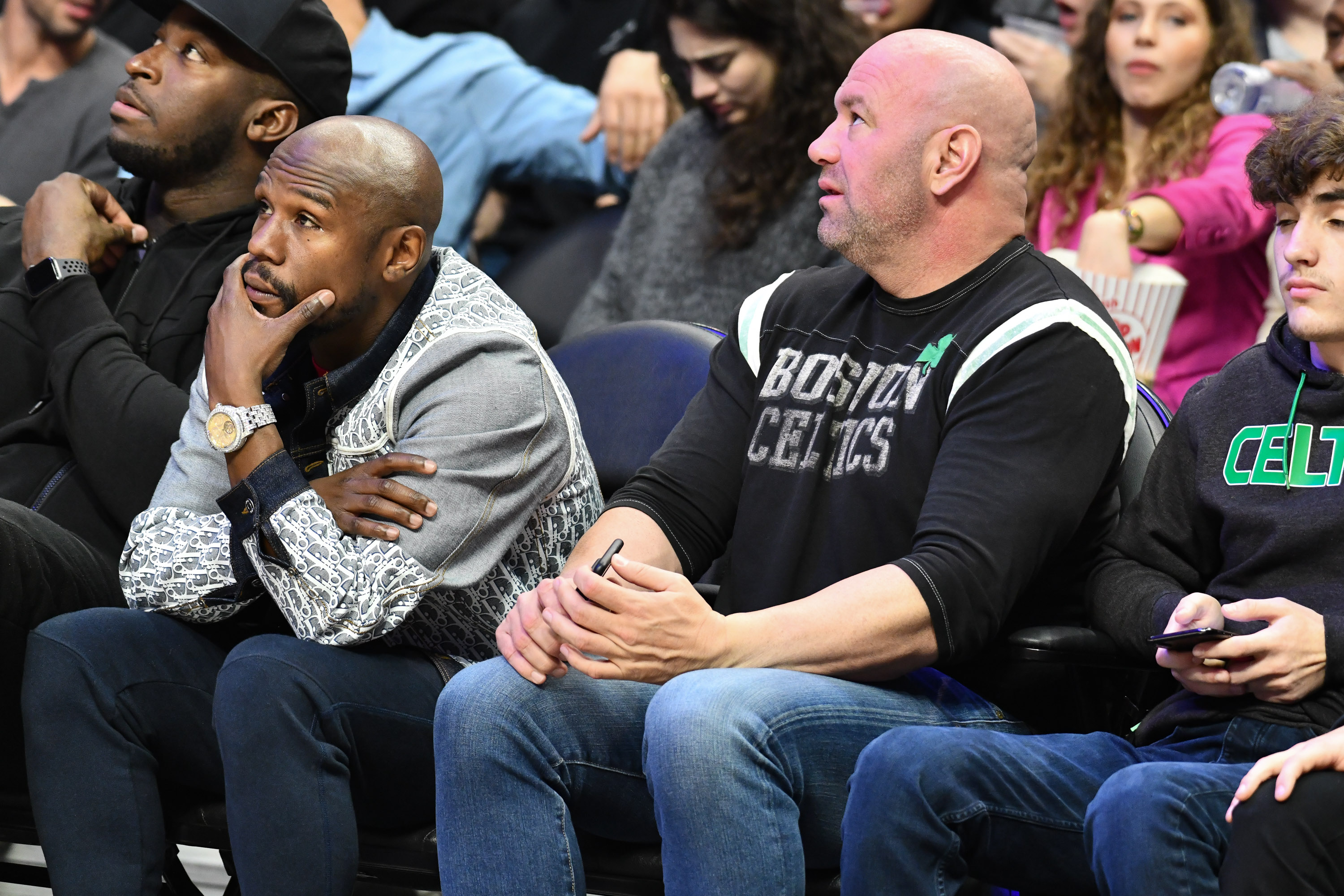 Floyd Mayweather Says He, Not Muhammad Ali nor Mike Tyson, Is the Face of Boxing
Floyd Mayweather insists he, not Mike Tyson nor Muhammad Ali, is the face of boxing because of everything he accomplished.
As a professional boxer, Floyd Mayweather stepped into the ring 50 times and left a winner every single time. Usually, when the topic of boxing's greatest boxer of all time comes up, however, Mayweather's name isn't above the likes of Muhammad Ali, Sugar Ray Robinson, Joe Louis, and Rocky Marciano. Mayweather recently said that has a lot to do with jealousy, and he considers himself the face of boxing.
Floyd Mayweather was perfect in the ring
There's no debating his record. Floyd Mayweather went 50-0 in the boxing ring. He made millions while doing so and he quit while he was ahead. He made his professional debut on Oct. 11, 1996, with a second-round knockout of Roberto Apodaca and ended his career with his 50th straight win over Conor McGregor in August of 2017.
The Boxing Writers Association of America named Mayweather the Fighter of the Decade (2010). In March of 2016, ESPN named Mayweather the top pound-for-pound fighter in the last 25 years. During his career, Mayweather won 11 titles and had signature victories over Diego Corrales, Oscar De La Hoya, and Manny Pacquiao.
When naming Mayweather the top pound-for-pound fighter in the last 25 years, ESPN wrote, "Mayweather will go down as one of the best boxers in history. In his era, he had no peer defensively and is perhaps the greatest defensive fighter in history. But he also beat a who's who of his era and usually did so with ease. His sublime skill and polarizing personality made him the face of boxing and the highest-paid athlete in the world as "Money" broke every boxing box office record with one mega fight after another."
Mayweather names his own top 5 boxers
Other than money and a perfect record, Floyd Mayweather also had a lot of confidence in himself. He still does. During an Instagram live session with rapper Fat Joe, Mayweather was asked to rattle off his top five boxers of all-time. He put himself first, followed by Pernell Whitaker, Roberto Duran, Larry Holmes, and Aaron Pryor.
Mayweather left quite a few big names off the list and was questioned about the omissions of those names, including Muhammad Ali and Mike Tyson. Mayweather gave his reasons. "Larry Holmes beat everybody in his era, when Larry Holmes got beat by Mike Tyson, he got beat by a young hungry champion and he came out of a year's retirement and got beat by Tyson," Mayweather said.
Aaron Pryor at No. 5? "Aaron Pryor, the only reason why Aaron Pryor lost a fight was because of drugs. He lost only one fight because of drugs," Mayweather said. Mayweather has his reasons. They might not be convincing reasons, but he's sticking to them.
Mayweather says he is the face of boxing
During a recent Club Shay Shay podcast hosted by Shannon Sharpe, Floyd Mayweather came right out and said he is the face of boxing. He said no other boxer has accomplished more than he has and people don't always give him the credit because they are jealous. "We will go on the record and say this: Out of all these guys, in the history of boxing, I've accomplished more than every fighter in the history of boxing," Mayweather said.
Sharpe interjected and asked what the criteria was, and Mayweather told Sharpe to ask him anything and he would give a reason why he's the best. Sharpe wanted to know if it was based on wins because Rocky Marciano (49-0) hadn't lost either. "How many world champions has Rocky Marciano beat?" Mayweather asked. "I beat more champions that's going into the Hall of Fame. Go to another guy."
Sharpe than asked about Ali. "Is Ali the same fighter that got beat by a fighter with seven fights? Leon Spinks beat Muhammad Ali when he only had seven fights. If we're really telling the truth, Ken Norton really beat Ali three times. Go back and look at the fights. And I love Ali. Next? You brought up Sugar Ray Robinson? What did he have 182 fights? And I still beat more world champions than him. Talk to me."