Floyd Mayweather Wasn't Joking About His Fight With Logan Paul Being 'Legalized Bank Robbery'
Floyd Mayweather is more than just one of the best boxers ever. He's an incredible businessman. Before his exhibition fight with Logan Paul on Sunday, he dubbed the bout as a "legalized bank robbery." He was proven right, and social media confirmed it.
Floyd Mayweather told the world he'd be making some easy money in a 'legalized bank robbery'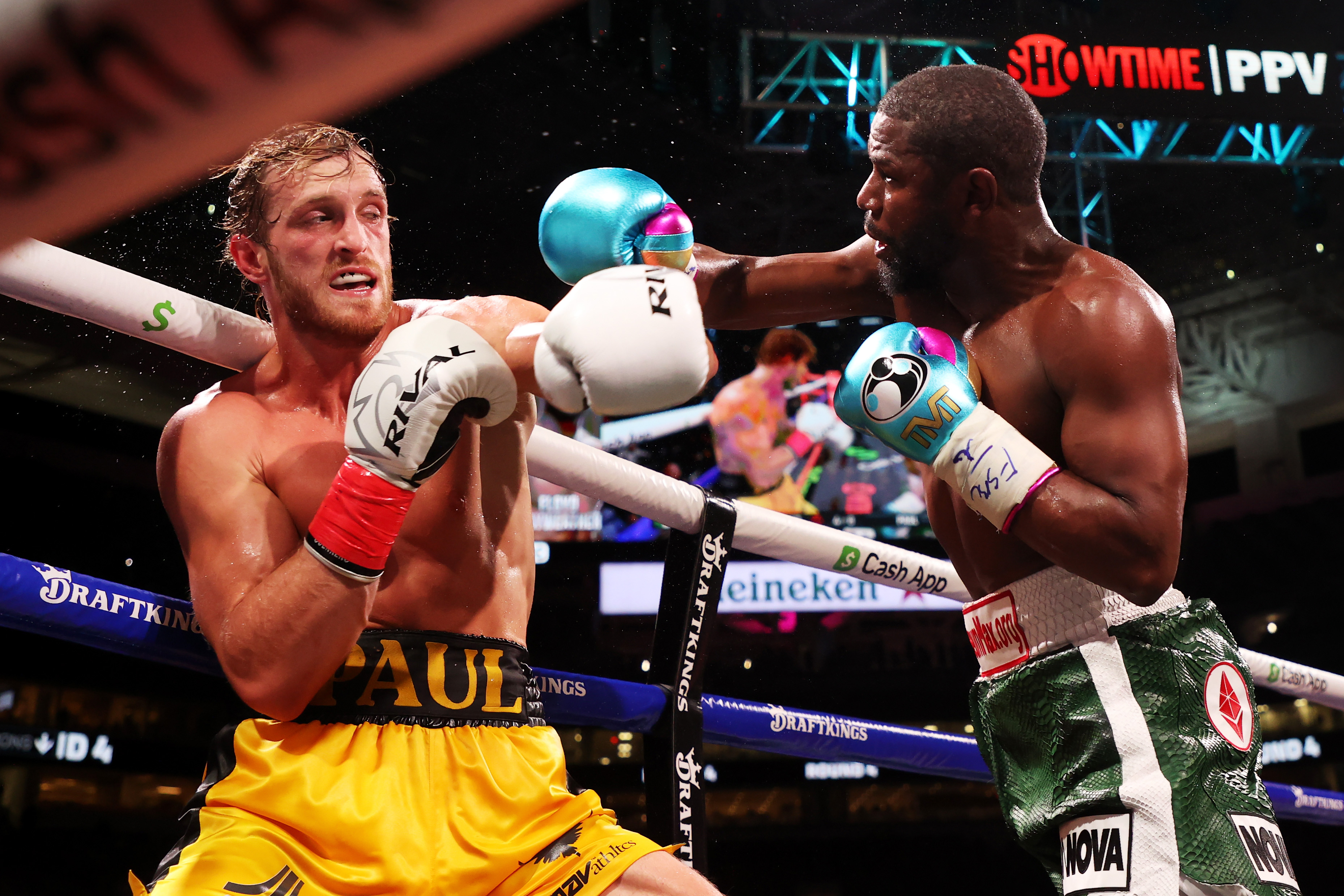 It's apparent why his nickname is 'Money.' Mayweather knows what it takes to get it, and he usually follows through. There was no reason for him to be in the boxing ring with Paul, a YouTuber, Sunday night. Promoters came calling, and Mayweather always listens.
Before the fight took place, he explained why he entertained the thought of fighting again. "I believe in working smarter, not harder," Mayweather said, according to The New York Post. "So if it's something easy like (the Paul fight), a legalized bank robbery, I gotta do it. I have to do it." 
Mayweather is 50-0 in his boxing career with 27 knockouts. Paul had one pro fight in his career heading into Sunday's match with the boxing legend. He lost that fight. "My nickname is 'Money' for a reason," Mayweather said. 'I worked extremely hard for years and years to get to a certain level. A level where we can start calling everything an event." 
Logan Paul went the distance with Floyd Mayweather
The fight was billed as an exhibition, so there was no winner declared. Paul went all eight rounds with the boxing champion, surprising most, including Mayweather.
"He's better than I thought he was," Mayweather said of Paul, according to ESPN. "I was surprised by him tonight. Good work. Good little guy."
ESPN scored the bout in favor of Mayweather, 78-74. Paul exhausted himself with an array of punches, but not many of them were effective. According to Compubox, Paul threw more than twice as many punches (217) as Mayweather (107), but only landed 28 of them.
Paul tired around the sixth round and spent much of the last two rounds holding on to Mayweather. He entered the ring at 6-foot-2, 189.5 pounds, while Mayweather came in at 5-8, 155 pounds.
Paul called the fight the best night of his life. He was proud he was able to stand toe-to-toe with one of the best boxers in history. "I don't want anyone to tell me anything is impossible ever again," he said.
Fans didn't seem overly satisfied with the fight
Mayweather gave fans a warning when he said the fight was a legalized bank robbery. He knew he wouldn't have to be at his best. For Mayweather, it was just show up and put on a little act. It was entertainment, but there were several fans out there saying there were much better ways to spend their 50 bucks.
One site posted on Twitter that the two fighters set a record for most hugs in a minute. One user wrote that even though he watched the fight illegally, he wanted his money back. There were memes galore, making fun of the fight. While fans were laughing at the fight, it was Mayweather who got the last laugh.
"When the money comes, we'll see who is the real winner," he said. "At the end of the day, I'm going into the Hall of Fame for boxing. I have nothing to prove."