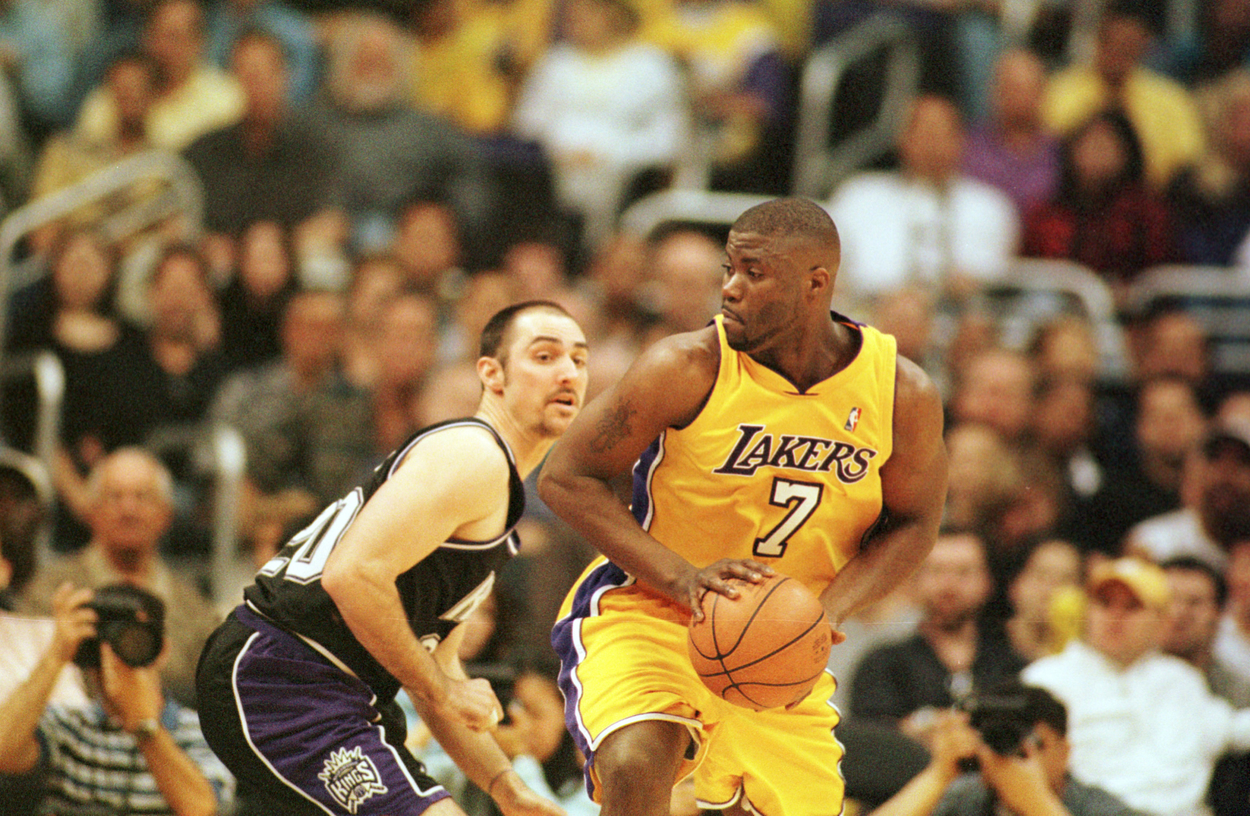 J.R. Rider, a Forgotten Champion on the Los Angeles Lakers, Has Never Put On His Ring
The talented but troubled Isaiah Rider managed to win a championship with the Los Angeles Lakers. But a lack of playing time and off-court trouble had him feeling undeserving.
On June 15, 2001, the Los Angeles Lakers captured their second straight NBA Finals win after defeating the Philadelphia 76ers. Shaquille O'Neal finished with 29 points and 13 rebounds, while Kobe Bryant added 26 points and 12 rebounds in the 108-96 victory.
Isaiah "J.R." Rider didn't appear in the series-clinching Game 5. Nor did he appear in the NBA Finals. In fact, Rider watched LA's entire postseason run from the bench wearing street clothes.
It's not like Rider was always on the bench. The veteran played in 67 of LA's 82 games during the regular season. But eventually, his playing time faded, his off-the-court problems persisted, and he received a championship ring he felt he didn't deserve to wear.
Isaiah Rider was a talented but troubled player
J.R. Rider was born and raised in the Bay Area. After a stellar career at Encinal High School in Alameda, California, the prep star moved to two different junior colleges before joining Jerry Tarkanian's UNLV Runnin' Rebels in 1991. He averaged 29.1 points during his senior year, the second-most in college basketball, and was named the Big West Conference Player of the Year.
The Minnesota Timberwolves, armed with the fifth overall pick, selected Rider in the 1993 NBA Draft. He averaged 16.6 points, immediately flashing his talent. The UNLV alum also made the All-Rookie First Team and won the All-Star Weekend Slam Dunk Contest with the now-famous "East Bay Funk" dunk.
But with the talent came the headaches as J.R. was consistently late for meetings, team functions, games, and even his first practice as a pro.
"The kid's got a great personality, but even in Minnesota, your pipes can only freeze and burst so many times," former Timberwolves coach Bill Blair told Sports Illustrated. "He had about nine broken pipes and about 42 flat tires."
Over the next couple of years in Minnesota, Rider's stat sheet and rap sheet both grew.
He averaged 20.4 and 19.6 points in back-to-back years but was arrested on multiple charges, including fifth-degree assault and possession of stolen phones. After three years, the T-Wolves dealt their headache to the Portland Trail Blazers, where he averaged 16.9 points in three seasons, including a team-high 19.7 points in 1997-98.
Once again, though, the trouble outweighed the talent. Kerry Eggers, author of Jail Blazers: How the Portland Trail Blazers Became the Bad Boys of Basketball, recalled one of Rider's worst incidents:
"On March 5, Rider missed the team's charter flight to Phoenix by about 15 minutes. Blaming Flightcraft officials, he badgered them to supply him with another plane. When they refused, according to police reports, he became angry and abusive and challenged four employees. They said he screamed obsceneties at them, got in their faces, behaved in a threatening manner, and spit in one man's face from a distance of four to six inches away. He also spat at another employee, who turned to avoid being hit. Rider then grabbed a third employee's cell phone and smashed it to bits on the pavement."

Kerry Eggers
After three tumultuous seasons in Portland, Rider was again traded, this time to the Atlanta Hawks. He averaged over 19 points with his new team, but after he refused another suspension — the team issued several to him throughout the season — the Hawks released him after 60 games.
Rider had a career-worst year with the Los Angeles Lakers before not playing altogether
Rider signed with the defending champion Lakers following another up-and-down season. His time in LA was more of the same … except with less production on the court and more offers of fights during practice.
J.R. appeared in 67 games for the Lakers, starting six, while leading the bench with 7.6 points per game. But the 7.6 points were easily his career low, while his nightly minutes went from around 34 to 18. There were also plenty of the usual late arrivals, conflicts with teammates, and drug problems, one of which resulted in a five-game suspension.
Following a down year full of more problems than points, Rider was left off the Lakers' playoff roster. His final appearance in the Purple and Gold came on April 6, when in three minutes, he recorded no points and two turnovers.
In 2018, Rider spoke to Jeff Pearlman, author of Three Ring Circus: Kobe, Shaq, Phil, and the Crazy Years of the Lakers Dynasty, and recalled his feelings after the Lakers' title. After Game 5, he had walked into a room where head coach Phil Jackson and his assistant coaches were smoking cigars and enjoying the fruits of their labor.
"I congratulated Phil and left," said Rider. "A personal dream of mine had been to win a championship, and it wound up being the lowest moment of my career, maybe my life. The guys tried telling me I was a part of it, but I knew I wasn't. Kobe was huge. Shaq was huge. What did I do? I sat there like a loser."
"All these years later, has he worn the ring? 'Never,' he said. 'Never, never never. It's barely mine.'"

Jeff Pearlman
Rider moved on after the season, signing with the Denver Nuggets. He lasted just 10 games before the Nuggets waived him. At 30 years old, J.R.'s NBA career was finished.
After a shortened career, Isaiah Rider is trying to turn his life around
Being out of the NBA didn't stop J.R. Rider's legal troubles. In 2006, he was arrested after allegedly driving off with a former girlfriend against her will. The next year, he received a seven-month jail sentence for felony cocaine possession and evading an officer, serving half the time.
"I regret it," Rider told Marc Spears of Yahoo Sports. "I wish I could have it back. I had to face and go through all of that to just get to this point now."
Rider has since established the Sky Rider Foundation, personally training and mentoring youth basketball players in the Phoenix, Arizona, area. In a 2013 interview with Bleacher Report, he shared the goal of his organization.
"I just want to help kids," Rider said. "With today's economy, some parents cannot afford to send their kids to the extracurricular activities. It's very costly, there are registration fees, equipment, uniforms, and shoe costs. If a kid has dreams to be somebody, I want to help. I want to stress academics, so if your grades are up, you can get a $250-$500 scholarship to help with the costs."
Although the sting of a career cut short and ring unearned is still there, Rider appears to have found some joy.
How to get help: In the U.S., contact the Substance Abuse and Mental Health Services Administration helpline at 1-800-662-4357.