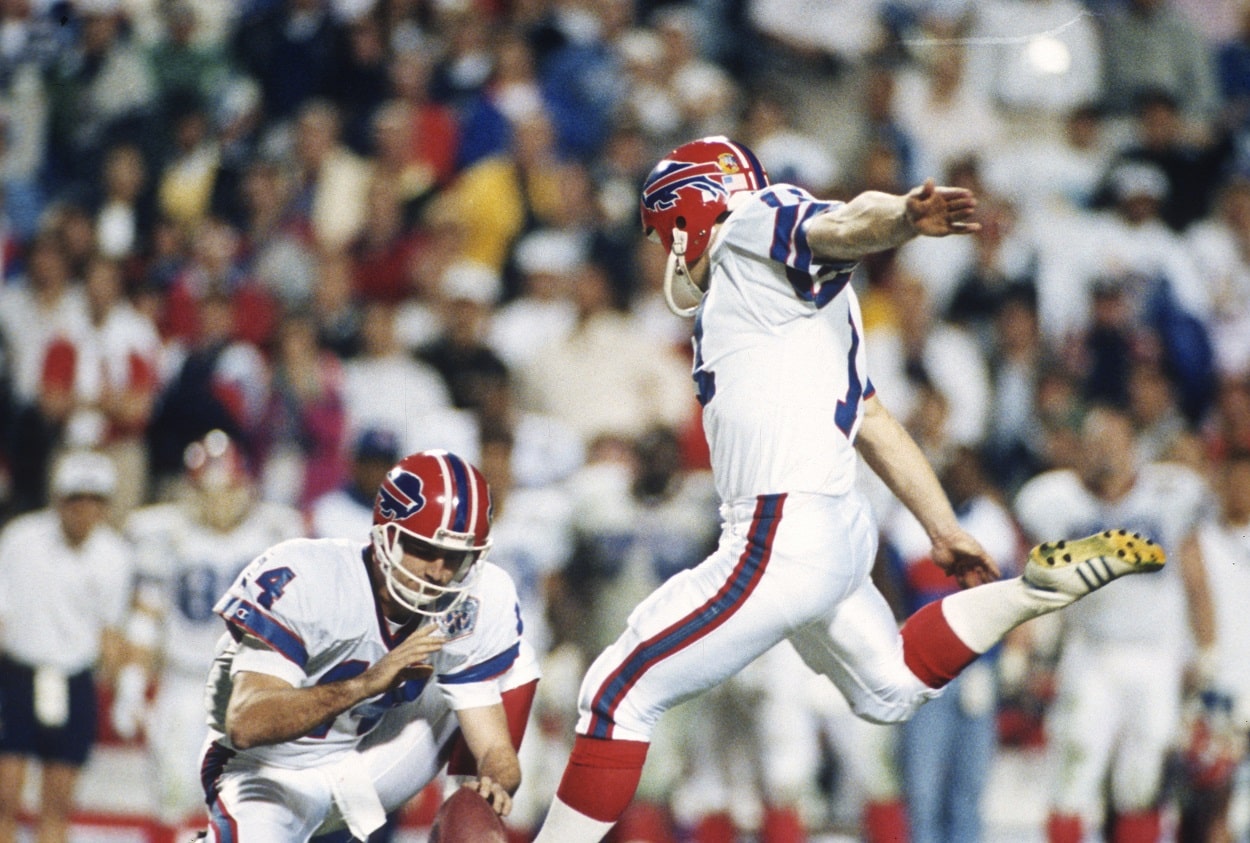 Former Bills Player Concocted a Wild Theory on Why Scott Norwood Went Wide Right in Super Bowl 25
Former Bills RB Kenneth Davis had an interesting theory on Scott Norwood's famous Super Bowl 25 miss.
It's no fun for any elite athlete to be remembered for their worst moment. Despite making 146 field goals during his seven-year career, once leading the league in scoring and earning a trip to the Pro Bowl, former Buffalo Bills kicker Scott Norwood will always best be remembered for one miss.
Granted, it was a big miss as Norwood famously (or infamously, depending on who you ask) pushed a 47-yard field goal to the right in the final seconds of Super Bowl 25, kicking off (total pun intended) the Bills' string of four consecutive title-game losses.
To his credit, Norwood, who played just one more season after the "wide right" kick heard 'round the world, never tried to offer up any sort of trite excuse. He owned up to the miss like a true professional, and while some Bills fans are likely still upset about it, it seems the vast majority of the Buffalo faithful have forgiven him.
But while Norwood never tried to make an excuse, that hasn't stopped others from dissecting the miss over the last three-plus decades. And one such person to do so was his former teammate, running back Kenneth Davis, who concocted a wild theory about what happened that night in Tampa.
Super Bowl 25 coincided with the Gulf War
If you recall, the silver-anniversary Super Bowl coincided with the Gulf War. Operation Desert Storm, the true combat phase of the conflict, began just 10 days before the Bills and Giants squared off, and security was tight at Tampa Stadium. More than 20 agencies, including the U.S. Army, Coast Guard, and FBI, combined to provide more than 500 security personnel.
Every car that entered the parking lot was searched for bombs. A perimeter with concrete barriers and a six-foot fence was established. In a pre-9/11 era, it was likely the most fortified sporting event in history.
Another measure taken to make the 73,813 people in attendance feel a bit safer was the use of a military-style helicopter, which essentially replaced a blimp in the air above Tampa Stadium and was armed with plenty of firepower to thwart a potential attack.
And it was that helicopter that Davis believes caused the Norwood miss.
Former Bills RB Kenneth Davis believed the helicopter caused Scott Norwood to miss the game-winning kick in Super Bowl 25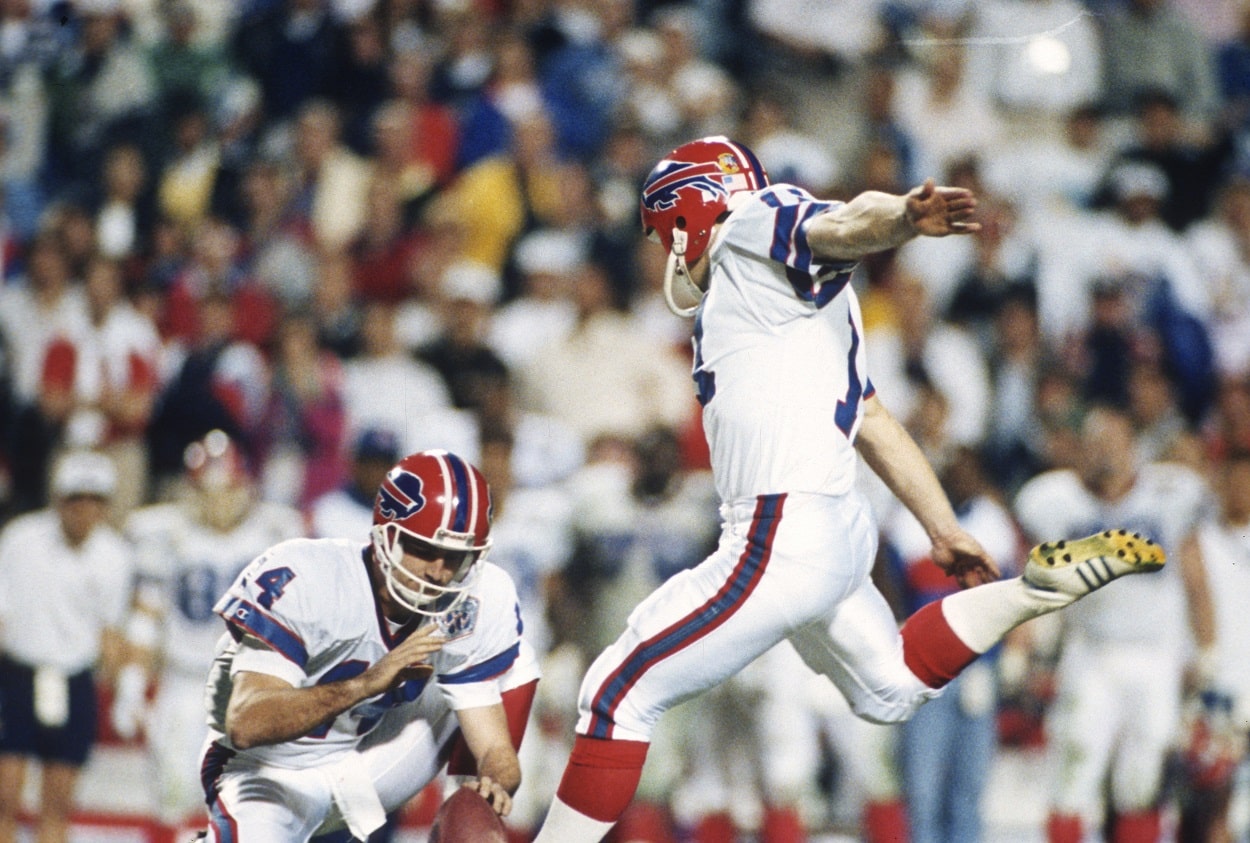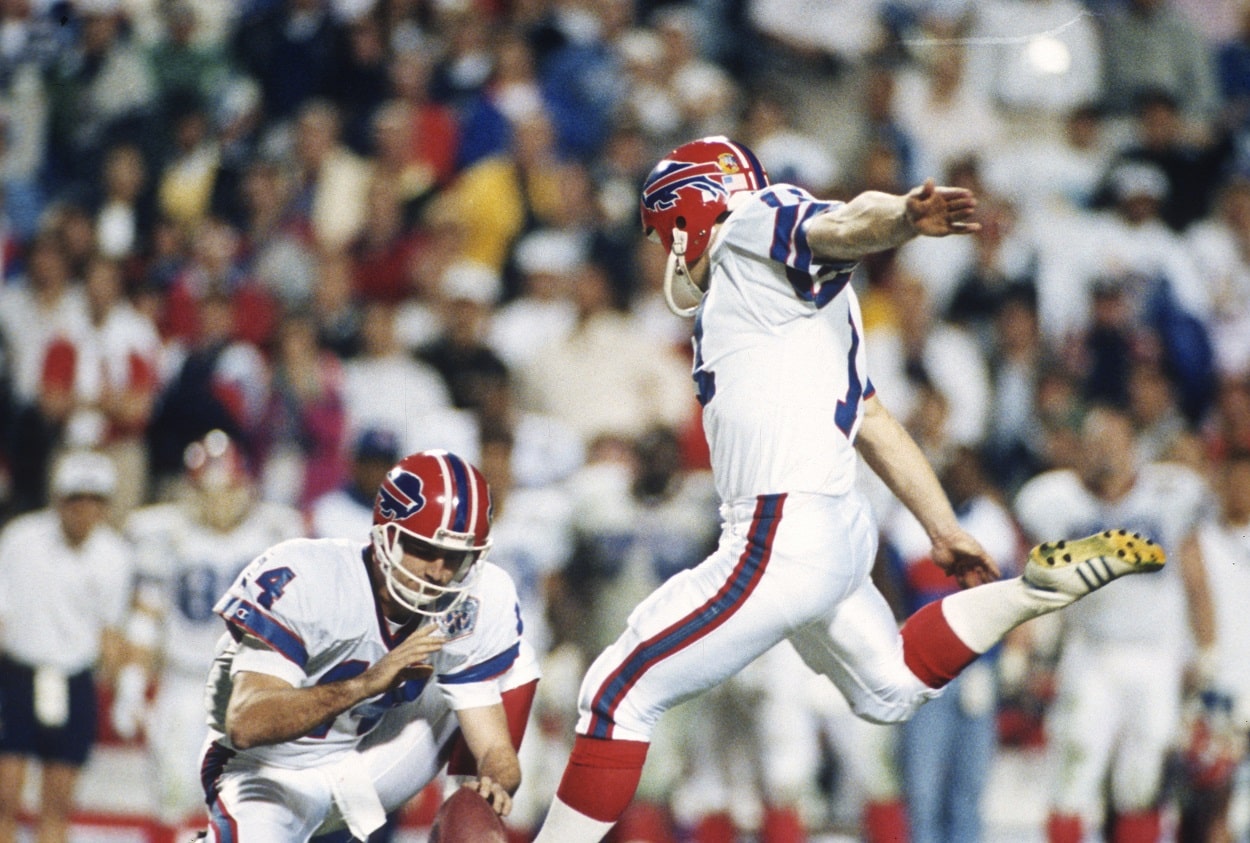 After Whitney Houston performed the most incredible rendition of the national anthem of all time (not even saying arguably there — that's a fact), the Bills and Giants engaged in one of the greatest title games in history.
After 59 minutes and 52 seconds of back-and-forth football, Norwood, with the Bills trailing 20-19, entered the game with a chance to give Buffalo its first-ever Super Bowl win. Sure the franchise had won an AFL title in the pre-Super Bowl era, but this was different.
For a split second, the 47-yarder looked good. But as the ball sailed through the Florida sky, it tailed right and missed. With his head down, Norwood walked off the field and had to watch with the rest of his Buffalo teammates as the Giants ran the final four seconds off the clock.
Nearly 25 years later, Kenneth Davis, who played six seasons for the Bills, offered his take on the Norwood miss during ESPN's highly-acclaimed Four Falls of Buffalo documentary. And it's a wild one, for sure.
"All of a sudden, around the 20-yard-line, maybe 30-yard line, you could start seeing the ball move. You can start seeing it move. And to this day, I tell people that I think it was the wind that was blowing from that Apache helicopter that was hovering over the stadium. I don't think nobody took it into consideration."

Kenneth Davis on Scott Norwood's Super Bowl 25 miss
Possible? Sure, why not? But likely? Not so much.
The fact is that Norwood didn't have incredible range. During his career, he made just two field goals of 50 yards or longer and was just 39 of 63 (61.9%) from 40-49 yards.
Had the kick gone in, it would have been his longest-ever make on grass. So while Davis' theory is certainly entertaining, the numbers tell the bigger story.
Stats courtesy of Pro Football Reference
Like Sportscasting on Facebook. Follow us on Twitter @sportscasting19 and subscribe to our YouTube channel.