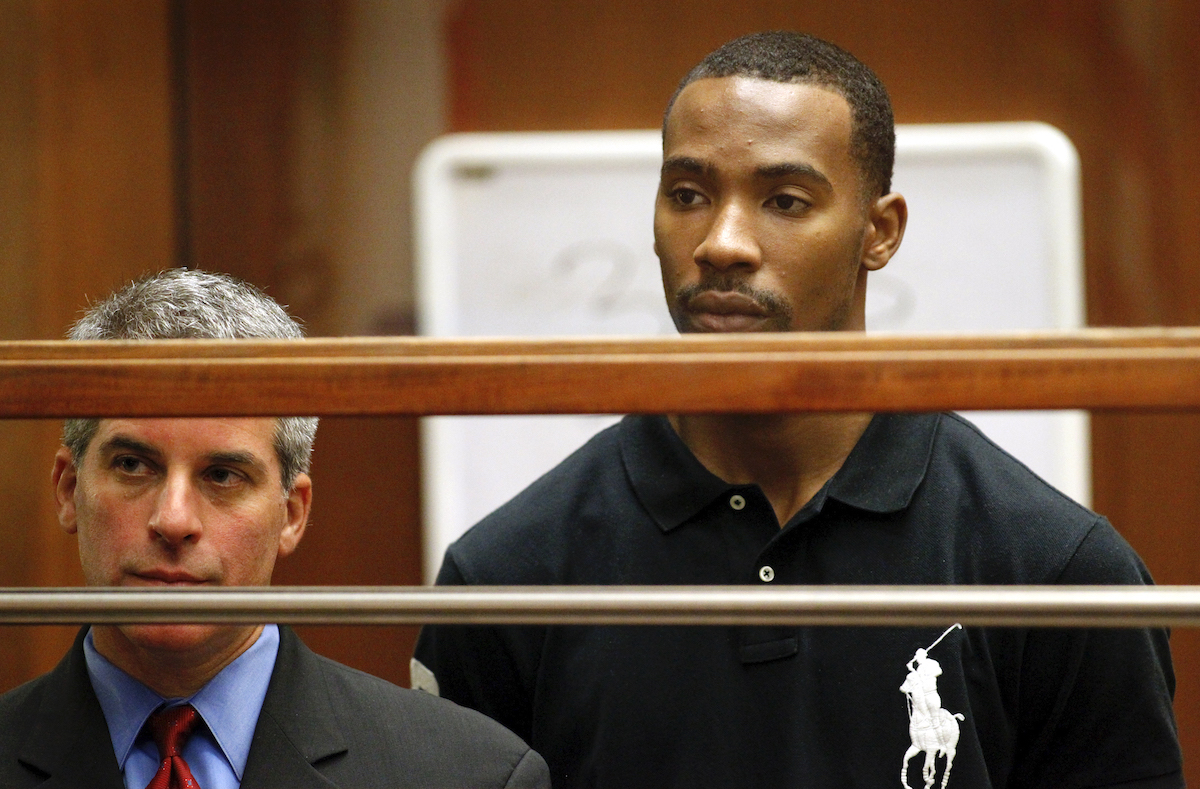 Former Lakers Top Pick Javaris Crittenton Joined LA Gang, Killed Woman, and Now in Prison
Former LA Lakers top pick Javaris Crittenton joined a gang soon after arriving in LA. That affiliation led to trouble and Crittenton shot and killed a 22-year-old woman. He's now serving 23 years in prison.
Javaris Crittenton had a promising career and life ahead of him in the Summer of 2007 when the LA Lakers drafted him as the No. 19 overall pick in the NBA draft. Things didn't go as planned and took a dark turn not long after Crittenton arrived in LA when he joined a gang. After flaming out in the NBA, he went astray and was involved in multiple shootings, including one where he killed a young woman. Today, Crittenton is in prison serving a 23-year sentence.
Javaris Crittenton's short NBA career
Javaris Crittenton would be considered your prototypical NBA draft bust. Prior to becoming a convicted criminal and sentenced to prison, Crittenton's numbers in the NBA were well below expectations and downright disappointing.
After signing a $2.6 million rookie contract with the Lakers in guaranteed money, Crittenton lasted just 22 games in LA before he was traded to the Memphis Grizzlies. He averaged a combined 5.6 points per game between the two teams his first season. 
In his second season, once again, Crittenton's season was split between two addresses. He started the 2008-09 season in Memphis and finished in Washington. In Crittenton's two years in the league, the point guard averaged 5.3 points per game, 2.4 rebounds, and 1.8 assists.  
Crittenton and Gilbert Arenas pull guns in locker room dispute
Javaris Crittenton's most notable headline during his two-year NBA career came during his time with the Washington Wizards when he and Gilbert Arenas got in a locker room dispute where both players had guns. Crittenton cocked his and pointed it at Arenas according to Wizards teammate Caron Butler in his book "Tuff Juice: My Journey from the Streets to the NBA." 
Butler described how the two players had been arguing over an $1,100 bet on the return flight home, but things came to a head a couple of days later in the locker room before practice. Arenas had four guns on display in his locker and challenged Crittenton.  
"Oh no, you don't need to shoot me with one of those," said Javaris, turning around slowly like a gunslinger in the Old West. "I've got one right here."
"He pulled out his own gun, already loaded, cocked it, and pointed it at Gilbert. Other players who had been casually arriving, laughing and joking with each other, came to a sudden halt, their eyes bugging out. It took them only a few seconds to realize this was for real, a shootaround of a whole different nature. They all looked at each other and then they ran, the last man out locking the door behind him."
Following the incident, Arenas and Crittenton were both suspended for the remainder of the season. Crittenton never played again. 
Javaris Crittenton shooting and prison  
In August 2011, Javaris Crittenton was involved in two Atlanta-area shootings, one which left a 22-year-old woman dead. When Crittenton appeared in court in 2015, he admitted to being a gang member. 
Prosecutors said Crittenton was targeting a rival gang member, who allegedly robbed him days earlier, when he killed the innocent bystander. In addition, prosecutors described how Crittenton had been in a gang for years, and it started when he joined the West LA street gang known as the Mansfield Gangster Crips not long after his arrival in LA. 
At trial, Crittenton also faced attempted murder charges for a second shooting in Atlanta, but those charges were dismissed as part of the plea agreement. Crittenton pleaded guilty to manslaughter and was sentenced to 23 years in prison.
Crittenton's story is a tragic one. What could have turned out to be a fairy-tale ending in Hollywood, turned into a gangster shooting that left an innocent woman dead. And left many more questions than answers.