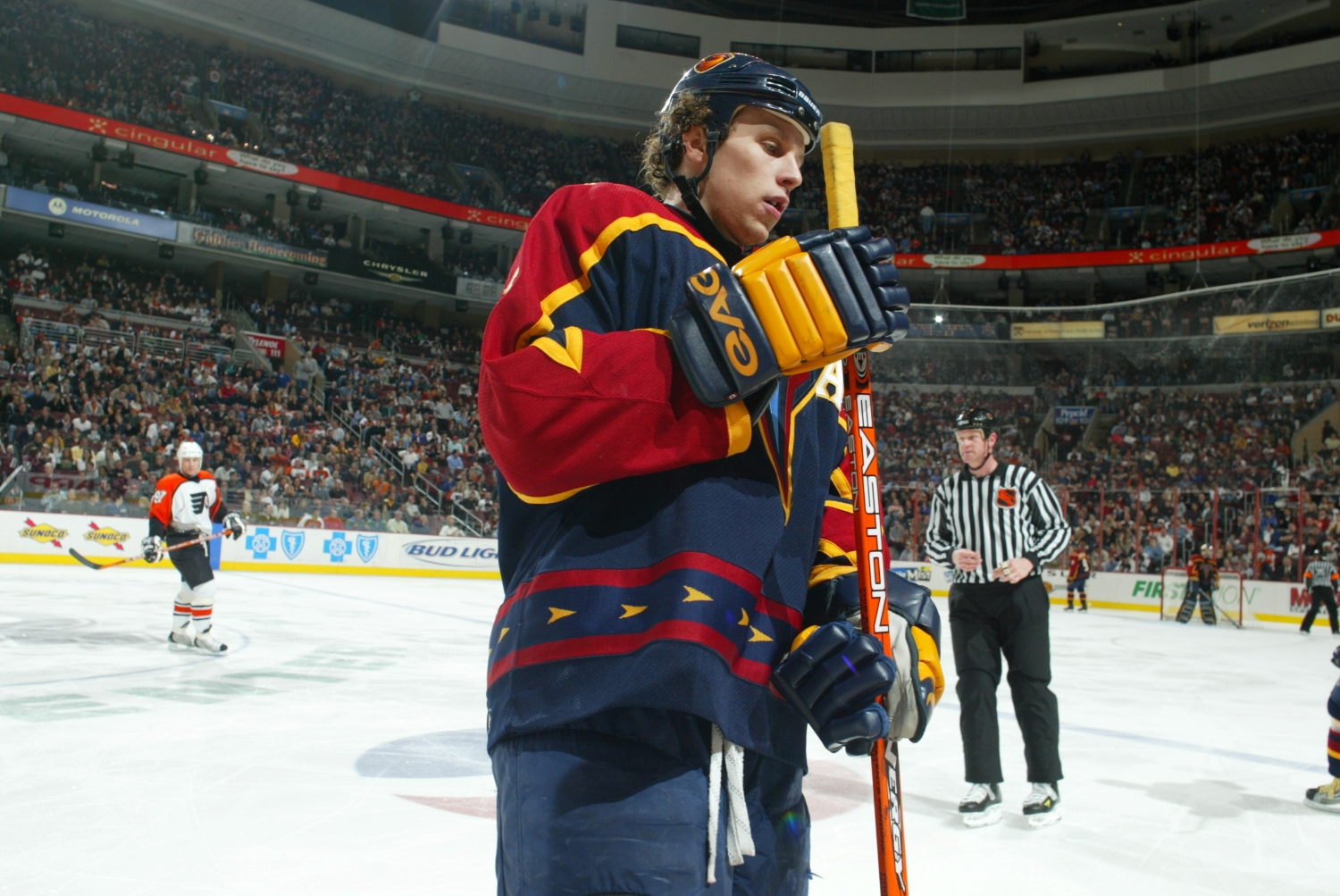 Former NHL Star Dany Heatley Tragically Killed His Teammate: 'This Mistake Will Stay With Me the Rest of My Life'
Former NHL star Dany Heatley watched his time with the Atlanta Thrashers come to an end not long after he accidentally killed one of his teammates.
It didn't take long for Dany Heatley to make his presence known once he became an NHL player. However, just a few years into his career, he put himself in a life-altering situation. And in doing so, he tragically killed one of his Atlanta Thrashers teammates.
Dany Heatley became an instant hit in Atlanta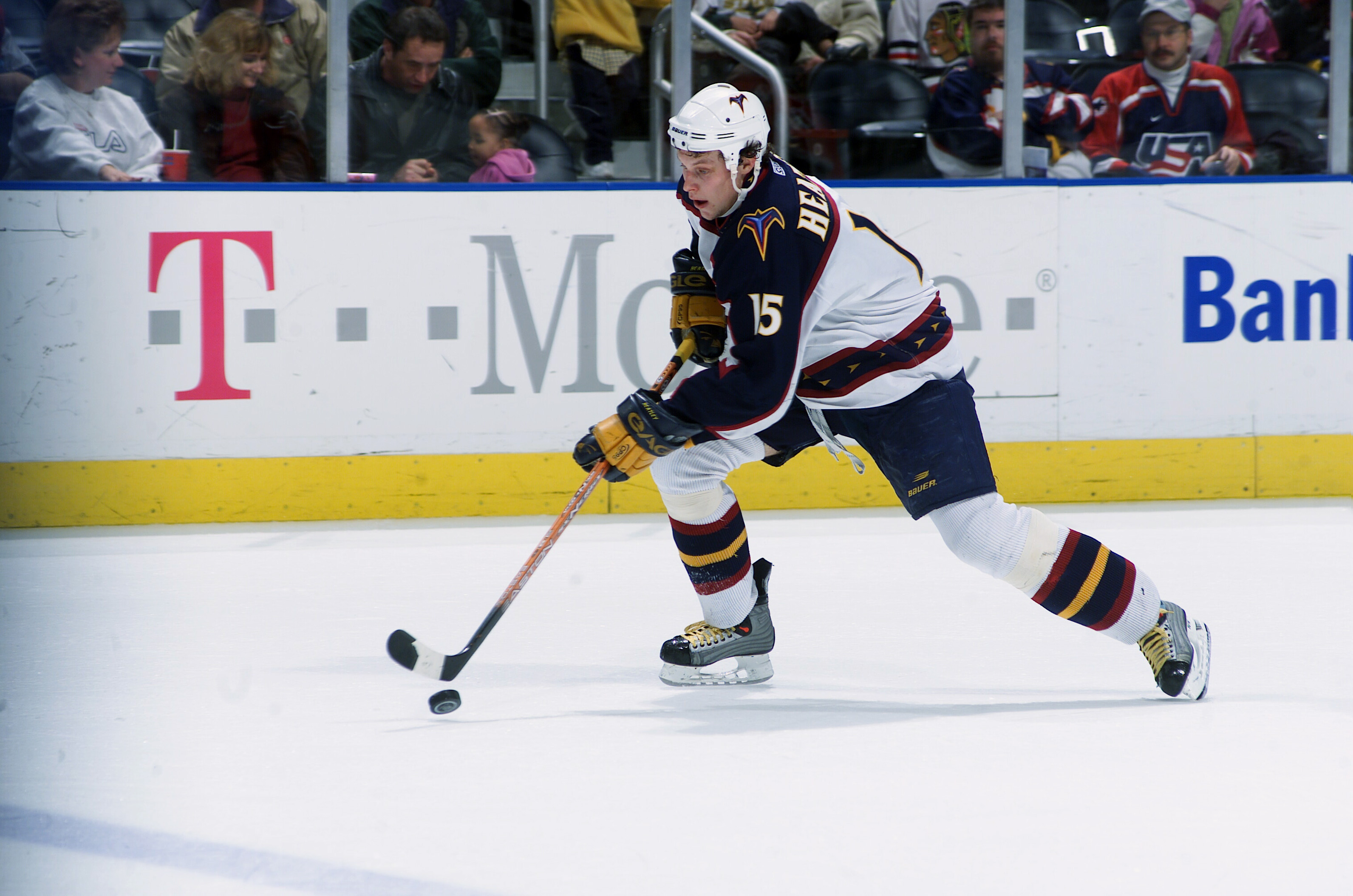 A native of Germany, Dany Heatley made a name for himself during his amateur days playing in Canada. And after starring at the University of Wisconsin for two years, he achieved his dream of becoming a pro hockey player.
Selected second overall in the 2000 NHL draft, he quickly made the New York Islanders look foolish for using the first pick on Rick DiPietro. Heatley played all 82 games as a rookie. The 6-foot-3 winger quickly asserted himself as a playmaking force. By the time the 2001-02 season concluded, he had racked up 26 goals and 41 assists. He won the Calder Memorial Trophy, which is awarded to the NHL's Rookie of the Year.
Heatley took his game to an even higher level in his second season with the Thrashers. He scored a team-high 41 goals in 77 games. Despite his youth, he already ranked as one of the top players in the league.
But just as soon as Heatley had become the face of Atlanta's franchise, he found himself in the headlines for a tragic reason.
The former NHL Rookie of the Year was responsible for the tragic death of one of his teammates
Less than two weeks before the 2003-04 NHL season began, the Thrashers organization suffered a devastating loss away from the ice. On Sept. 29, Dany Heatley lost control of his Ferrari while speeding through a residential neighborhood in Georgia. His vehicle slammed into a wrought iron fence and split in half upon impact.
While Heatley survived, the other passenger in the car ultimately died. Teammate Dan Snyder had to undergo emergency surgery to repair a depressed skull fracture. Already in a coma, he lapsed into septic shock and died on Oct. 5.
His death came just four days before Atlanta opened its season against the Columbus Blue Jackets. It inspired an outpouring of support from fans, who paid homage to the fallen center by holding up signs at the game. Thrashers players also wore small No. 37 patches on the left shoulder of their jerseys to pay tribute to their late teammate.
As for Heatley, he didn't return to the ice until January. The following February, he finally faced legal consequences for accidentally killing his teammate.
Heatley avoided jail time and went on to play for four more NHL franchises
On Feb. 4, 2005, CBC Sports reported Dany Heatley pleaded guilty to four of six charges in the vehicular homicide case against him. He received a sentence of three years probation. In addition, the court ordered him to deliver 150 speeches about the dangers of speeding.
Heatley was also told he could not drive except for work, medical purposes, going to the grocery store, or attending his mandated speeches. He faced up to 20 years in prison and fines totaling $5,000 if he had been convicted on all the charges brought against him.
"The mistake I made that night was speeding," Heatley said at his sentencing hearing. "This mistake will stay with me the rest of my life."
Although he suffered major injuries in the high-speed accident that led to his teammate's death, Heatley recovered and resumed his NHL career. He played 31 games for the Thrashers during the 2003-04 season.
He then surpassed 100 points in his first two seasons with the Ottawa Senators. Heatley last suited up in an NHL game during the 2014-15 season.
All statistics courtesy of Hockey Reference.