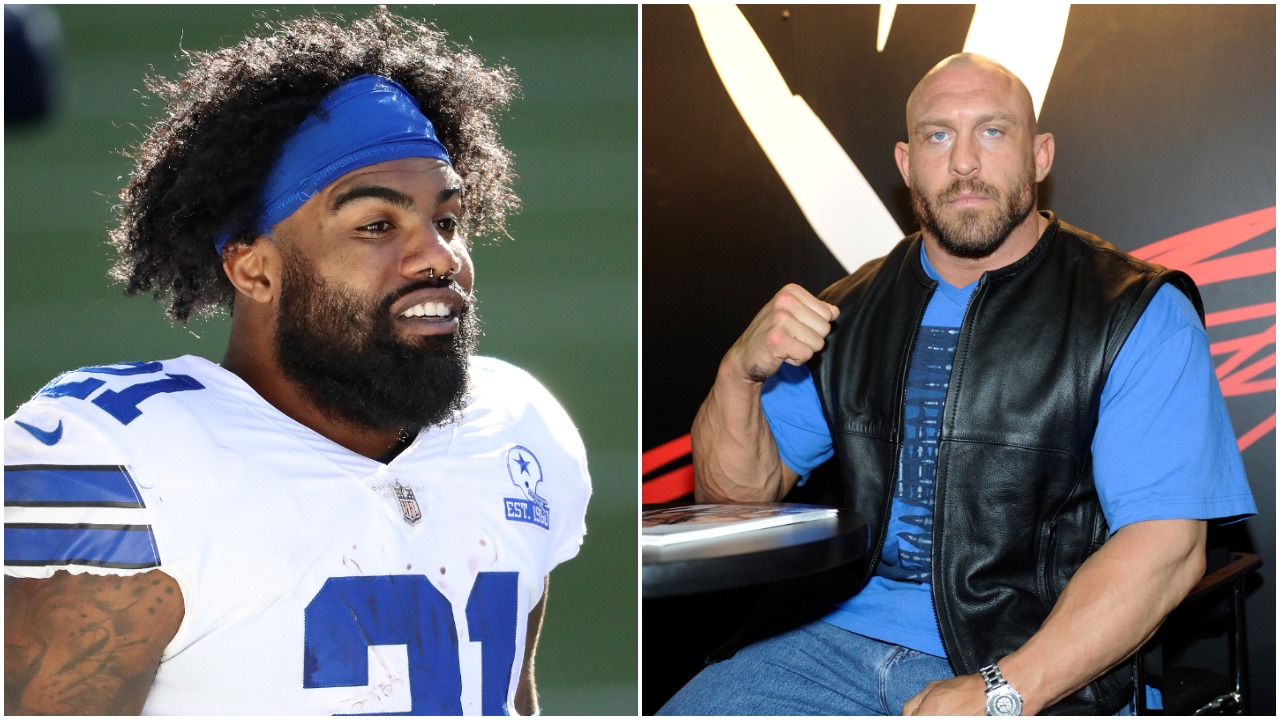 Former WWE Star Ryback Is Legit Threatening Ezekiel Elliott Over the Phrase 'Feed Me'
Ex-WWE star Ryback is threatening Dallas Cowboys running back Ezekiel Elliott with legal action over a trademark for the phrase, "Feed Me."
If you had a legal fight between Dallas Cowboys running back Ezekiel Elliott and former WWE star Ryback on your crazy 2020 bingo card, you're in luck.
While this might sound like a storyline cooked up by Vince McMahon (well, this actually sounds a bit more like something Vince Russo would do), this is actually a thing. Ryback is upset that Zeke has been trying to trademark the phrase, "Feed Me," which is very close to the phrase he used to become a star in WWE.
Ryback used the phrase 'Feed Me More' in WWE
After using the name Skip Sheffield in his early days with WWE, Ryan Reeves was rebranded as Ryback in 2012 and was actually one of the biggest stars in the company for a short time, despite having a reputation for being dangerous in the ring.
Ryback began using the phrase "Feed Me More," which quickly became one of the more popular chants among live crowds. He engaged in main-event feuds with the likes of CM Punk, John Cena, and The Shield before heading to the midcard. He played a bully character for a short time and teamed with Curtis Axel in a tag team creatively called Rybaxel (we hope you're picking up the sarcasm there) before returning to the "Feed Me More" gimmick in the fall of 2014.
In May 2015, he won the Intercontinental Championship and held the title for 112 days before dropping it to Kevin Owens. Ryback left WWE over a contract dispute the following year.
Reeves legally changed his first name to Ryback in 2016, the same year he departed from WWE, and has been engaged in a long legal battle with WWE over the trademark for years, something it seems he's prepared to go through again with Ezekiel Elliott.
Ezekiel Elliott has the phrase 'Feed Me' tattooed on his stomach
Anyone that's ever seen Ezekiel Elliott play football knows that he makes an eating gesture after any big run, something he started doing at Ohio State and has continued to do in the NFL with the Dallas Cowboys.
The gesture has become part of his personal brand and he even got "Feed Me" tattooed on his stomach ahead of training camp this summer, a tattoo he showed off to the world after scoring his first touchdown of the 2020 season in Dallas' Week 1 loss to the LA Rams.
Elliott recently filed a trademark application for the "Feed Me" phrase and Ryback isn't happy about it whatsoever.
Ryback is threatening Ezekiel Elliott with legal action over the 'Feed Me' trademark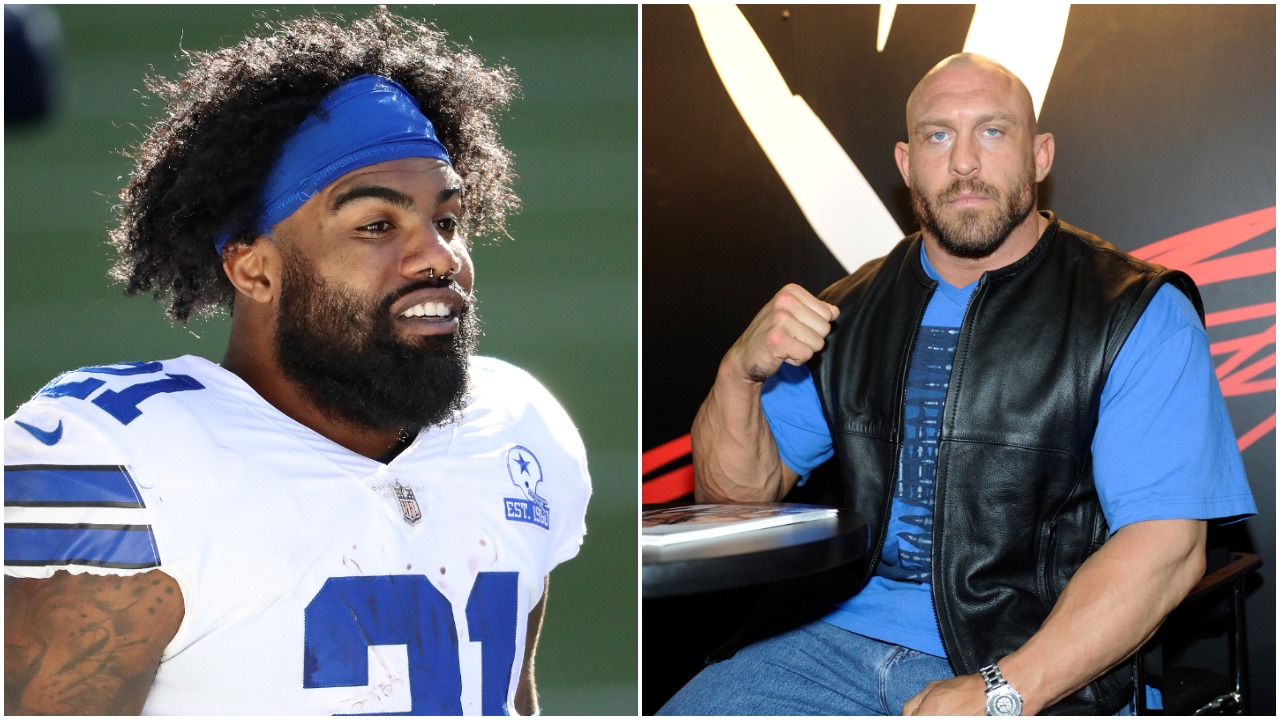 On a recent episode of his podcast, The Ryback Show, the former WWE star went off on Ezekiel Elliott for filing his application as he thinks that "Feed Me" is way too close to "Feed Me More," which he says he has trademarked in numerous categories. Thinking people "will get confused," Ryback is prepared to take legal action against Elliott if he continues with his application process, saying he would "tie him up for years" in court while also taking some other shots at him.
"He ain't using it. So he better get a good tattoo artist to go have him cover that sh—y tattoo up on his stomach.

"It's very disappointing. This is exactly my phrase. I think it's low-life scum s–t, quite frankly. He's a wrestling fan. He 100% got [the phrase] from me. I already established it and own it. You got to fight this stuff.

"You're literally trying to latch onto somebody else's brand and then take it and make it your own. It's like, come on, be a little more creative."

Ryback on Ezekiel Elliott and the "Feed Me" phrase
Happy 2020, everyone.