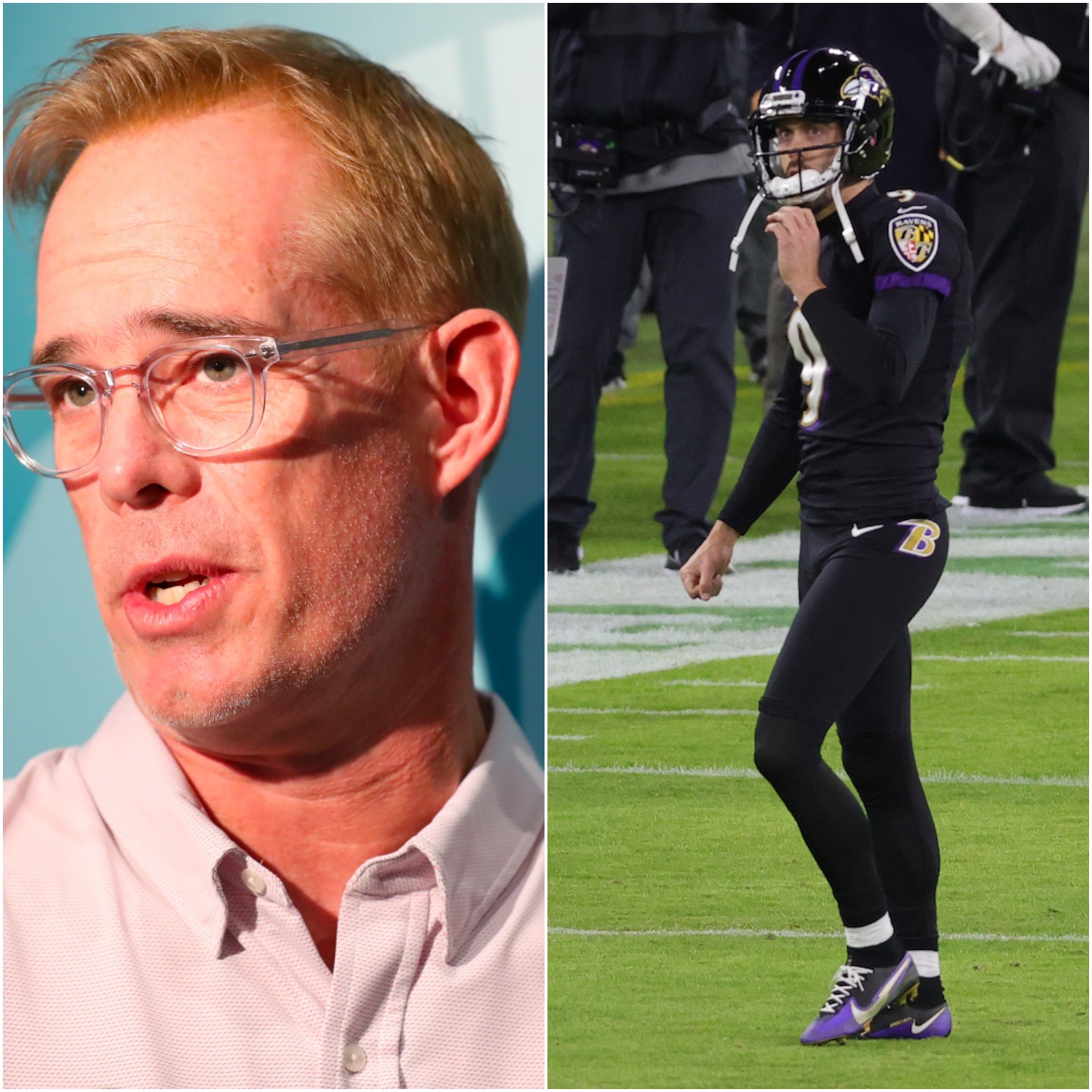 Fox Sports' Joe Buck Confesses He Jinxed Baltimore Kicker Justin Tucker, Snapping His NFL Record Streak
Fox Sports announcer Joe Buck brought up Justin Tucker's NFL record streak moments before he missed a kick to end it. Twitter blamed Buck. He has responded.
Joe Buck is used to it. He has been on the receiving end of criticism for years as an announcer for NFL and MLB games with Fox Sports. During Tuesday night's matchup between the Baltimore Ravens and Dallas Cowboys, Buck found himself in a familiar position, as critics blasted him for comments he made moments before Baltimore kicker Justin Tucker missed a field goal attempt that snapped his NFL record streak. Today, Joe Buck has responded.
Justin Tucker is the NFL's best kicker
Coming out of the University of Texas, Justin Tucker went undrafted in the 2012 NFL Draft. A month later, the Baltimore Ravens signed him to compete with starter Billy Cundiff. Tucker won the job and hasn't looked back. 
In his ninth season in Baltimore, Tucker has likely clinched an invite to Canton, putting up Hall of Fame-worthy numbers. Among them, he led the league in field goals made in both 2013 and 2016 with 38.
He holds numerous franchise and NFL records. His NFL records include most seasons with 30 field goals made (6), most 50-plus yard field goals in one game (3), most 50-plus yard field goals in one season (10), and fastest kicker to 1,000 points in NFL history in 2019.
With all of his impressive numbers combined, Justin Tucker has earned the title of most accurate kicker in NFL history with a minimum of 100 attempts. He has also received four All-Pro honors and three Pro Bowl nominations.
Joe Buck jinxes Justin Tucker 
On Tuesday night, Justin Tucker entered the contest against the Dallas Cowboys with one of his most impressive NFL records intact—70 consecutive field goals made within 40 yards. In the second quarter, the 31-year-old kicker trotted out on to the field to attempt a 36-yarder or a "gimme" in Tucker terms. 
Before he lined up for the kick, Fox Sports announcers Joe Buck and Troy Aikman talked about Tucker's impressive career and the record on the line.
"Justin Tucker since 2016 has made 70 straight inside 40 yards," Buck informed the audience.
"It's nice when you've got a kicker like that that you can depend on and now we'll see if he keeps that streak alive," Aikman responded. 
"I'm just gonna say he is. There's no announcer's jinx, come on," Buck said moments before the kick.
Tucker pulled the kick left and shockingly missed.
"Aaaaaaaaand he yanked it. No good. Who gets blamed for that?" Buck asked.
Later in the quarter, Justin Tucker converted on a 35-yard attempt and then added a 22-yard field goal in the fourth quarter to start a new streak.  
Fans blame Joe Buck and he hilariously responds
As is to be expected, following Justin Tucker's miss, the Twittersphere exploded with fans stunned that Tucker had missed the kick. 
"Justin Tucker missing a field goal inside 40 might be top 5 bizarre things to happen in 2020," wrote one sports fan.
While most focused on the shock of Tucker's miss, some couldn't help but blame all of it on Joe Buck for his pre-kick remarks and "jinxing" Tucker.
"Did Joe Buck actually just do that to Justin Tucker? Awkward…" tweeted one fan. 
On Wednesday, Sports Illustrated's Jimmy Traina caught up with Joe Buck and he responded to the incident and his overall jinxing powers. 
"There are few things I relish more than affecting the outcome of kicks, no-hitters, wins and losses from the broadcast booth. It's fun. It's power that cannot fall into the wrong hands," Buck joked. "Think about it—had I not said what I said, Justin would have made the kick. There is zero doubt. I have sent a letter of apology to Tucker, the Ravens, their fans and Kim Jung Un (just to be safe). I'm most fun at parties. All I have to do is say it and the opposite happens."
Joe Buck has thrived in the sports broadcast business for years not only because he's good at calling games, but also because he understands it's sports and doesn't take himself or the games too seriously. That's a winning strategy many sports fans could benefit from if they chose to adopt it. Just as long as Buck isn't the one suggesting it.