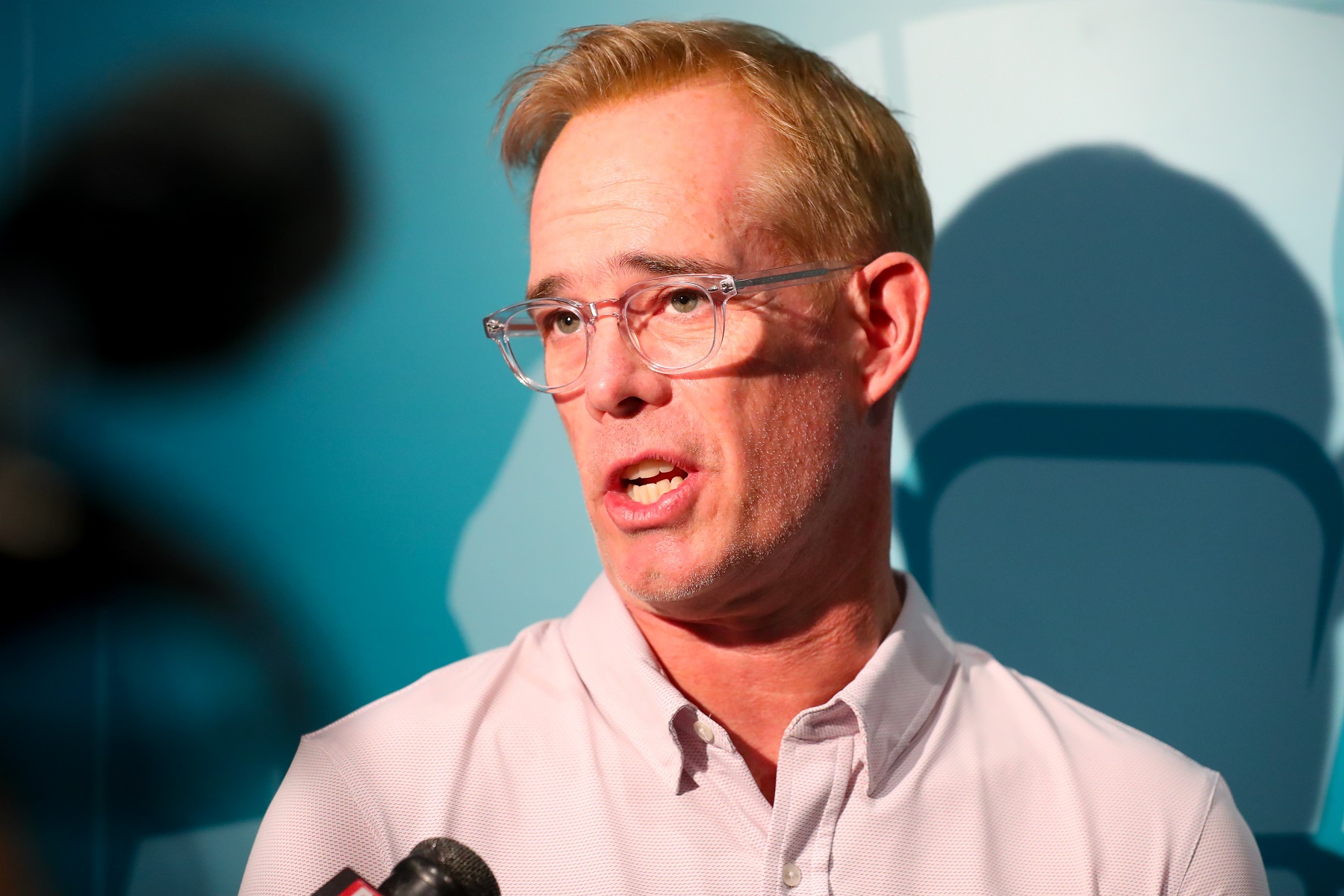 The Joe Buck Haters Are About To Lose Their Collective Mind
Fox Sports play-by-play announcer Joe Buck is a finalist for the Ford Frick Award from the Baseball Hall of Fame.
Fresh off calling six World Series games between the Los Angeles Dodgers and Tampa Bay Rays, interspersed with three NFL games last month, Joe Buck remains one of the busiest figures in broadcasting. Why that would translate into more animosity aimed in his direction is anyone's guess, but you can be sure purported sports fans used it as one more reason to hate him.
That being the case, the latest development in Buck's career is sure to dial up the hate a little bit more.
Joe Buck's long, multi-sport career
Joe Buck had already been broadcasting minor-league baseball for several seasons when he was called upon to sub on St. Louis Cardinals games for his legendary father in 1991 on days when Jack Buck was working on CBS broadcasters. The perception of nepotism probably explains the beginning of the hatred aimed in Buck's direction.
When Fox Sports wrestled the NFC portion of the Sunday NFL package away from CBS in 1994, Buck was one of the first play-by-play announcers the network hired. Making his debut at the age of 25, he was the youngest full-time NFL play-by-play man ever.
When Fox landed rights to Major League Baseball games in 1996, Buck teamed up with Tim McCarver on weekly games and then became the youngest network play-by-play announcer for a World Series.
Buck relinquished his full-time football role in 1998 to focus on baseball, but he resumed dual responsibilities in 2002 when he replaced Pat Summerall in the football booth. He kept up that pace and was still working some St. Louis Cardinals games on radio and TV up until 2008.
Following Fox's deal with the UGA, Buck hosted U.S. Open golf coverage for six years beginning in 2019.
Joe Buck haters already got bad news once this year
Joe Buck, 51, has now spent more than half his life broadcasting NFL and MLB games for Fox Sports and has accumulated a slew of honors. The recognition includes being selected the National Broadcaster of the Year four times by the National Sports Media Association. It's an award Bob Costas has earned eight times and Al Michaels three times.
He scored an even bigger honor this fall. The Pro Football Hall of Fame chose the Week 2 Thursday night game and the 100th anniversary of the formation of the NFL to announce Buck's selection for induction into the shrine for his contributions as a broadcaster.
He will be honored officially when the Canton, Ohio, shrine is able to resume induction ceremonies. The selection has special meaning to Buck since his father, Jack Buck, had been inducted previously.
He's on the verge of another major honor
On Nov. 2, the Baseball Hall of Fame released its list of finalists for the 2021 Ford C. Frick Award, and Joe Buck's name is a new addition this year. The award is presented to one recipient annually who exhibits "commitment to excellence, quality of broadcasting abilities, reverence within the game, popularity with fans, and recognition by peers."
The winner will be announced Dec. 9 and be honored during the Hall of Fame induction ceremony this July.
Besides Buck, the nominees are: Buddy Blattner, Dave Campbell, Dizzy Dean, Don Drysdale, Ernesto Jerez, Al Michaels, and Dan Shulman. The honor has gone to a mix of local and national broadcasters over the years. Given that Bob Costas in 2017 was the most recent national voice to be selected, there is a fair chance that Buck's name will be called.
If it happens, it will be the second time that Buck has followed his father into a national hall of fame. Jack Buck was enshrined in Cooperstown in 1987.