Chiefs Need to Trade the Frank Clark Contract Now
Kansas City Chiefs defensive end Frank Clark is one of the NFL's top pass-rushers. However, as the Super Bowl champs showed last offseason with the Tyreek Hill trade, they will only pay the absolutely elite veterans on their team, like Patrick Mahomes, Travis Kelce, and Chris Jones. As the DE heads into the last season of the current Frank Clark contract, now is the time to deal the pass-rusher and get a draft pick or two in return.
The Frank Clark contract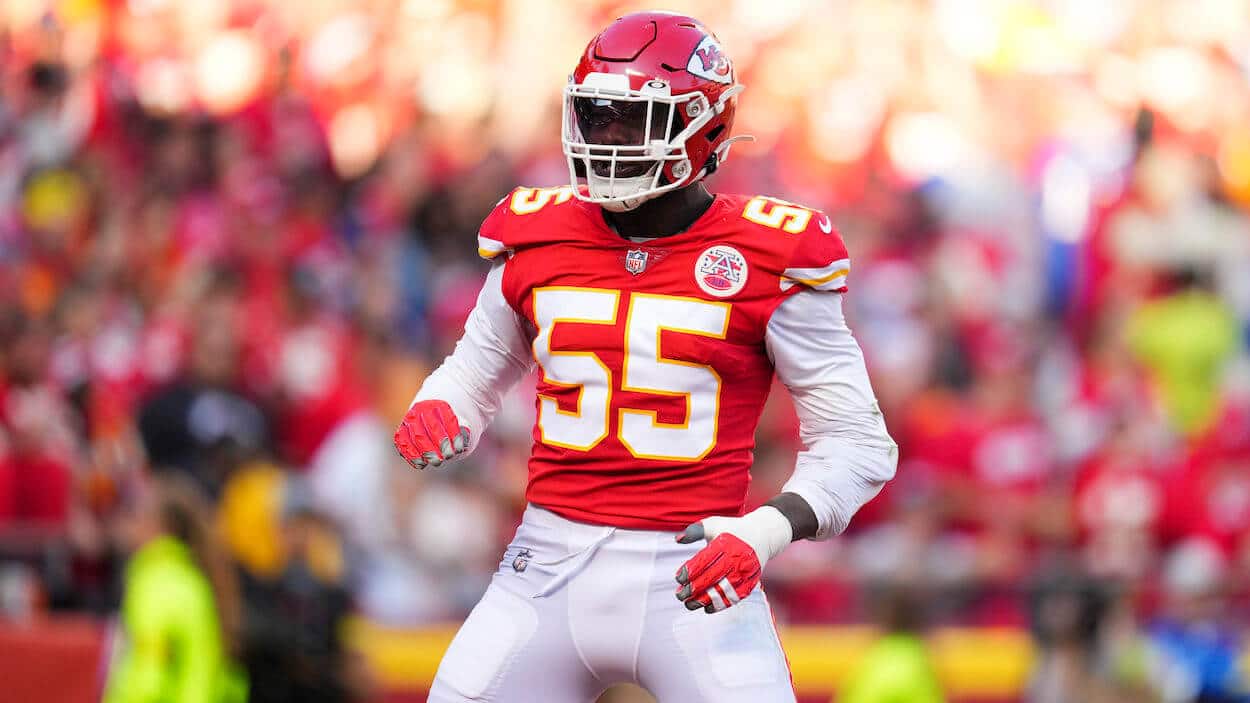 Frank Clark was a second-round pick of the Seattle Seahawks in the 2015 NFL Draft out of Michigan.
After 3.0 sacks in his rookie season, Clark broke out with 10.0 in year two, 9.0 in year three, and 13.0 in year four. After that season, the rookie Frank Clark contract was up, and the Seahawks franchised the edge-rusher.
Without a long-term deal in place, the Seahawks traded Clark to the Chiefs in the 2019 offseason, along with a 2019 third-round pick for 2019 first-and third-round picks and a 2020 2nd round pick.
After the trade, Clark signed a five-year $104 million extension with the Chiefs. In the 2022 offseason, Clark restructured his deal by inking a two-year, $30,175,000 contract with a $4,550,000 signing bonus, $8,275,000 guaranteed, and an average annual value (AAV) of $15,087,500.
This offseason, Clark's base salary will be $20,500,000 with a workout bonus of $500,000, a cap hit of $28,675,000, and a dead cap value of $9,075,000.
This Frank Clark contract is large and prime for a trade this offseason.
Why the Chiefs should trade Frank Clark
The $28.6 million cap hit of the Frank Clark contract in 2023 is the 19th-biggest in the league and the fifth-biggest for a defensive player. It's even approximately $300,000 higher than Chris Jones' cap hit.
That's 12.8% of the Chiefs' salary cap, which only trails Patrick Mahomes and his $49.2 million cap hit next season (22.09%).
Kansas City has shown a willingness to let big-name players go and draft players who can help the team for much cheaper. And that's exactly what the team should do with Clark.
In the 2023 offseason, there is a decided lack of high-end pass-rushers on the free-agent market, and nearly every NFL team wants more pass rush. Trading Clark can fetch a few premium draft picks and save the Chiefs $21.1 million.
Clark's next team will get a contract with $22,500,000 in non-guaranteed salary. That franchise will likely extend the DE. Spotrac estimates he will get a two-year, $25 million extension, although, with the money left on his current deal, the next team might have to make that number over $30 million.
Even if that is the final Frank Clark contract extension number, that's a good deal for a 30-year-old pass-rusher with at least two years of tread left on the tires.
And for the Chiefs, they can draft more young edge-rushers to replace him, and if it works out like last offseason, they won't miss a beat.