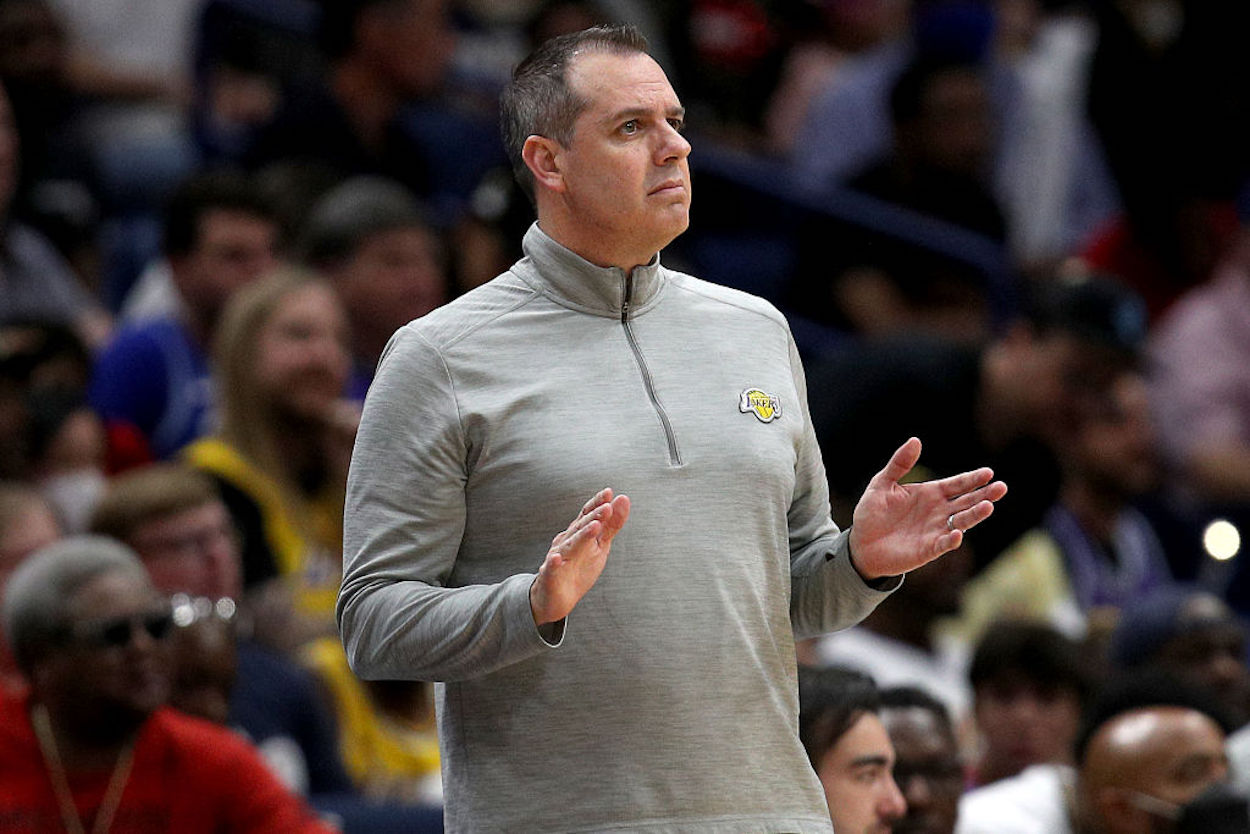 Frank Vogel's Comments About the Lakers' Lineup Should Be a Warning to Front Offices Everywhere
While it's easy to point the finger at Frank Vogel, his recent quotes highlight a larger issues that hamstrings teams around the world, including his Lakers.
By now, you probably know that the Los Angeles Lakers have missed the playoffs. The iconic franchise began the season boasting a star-studded roster and dreaming of a championship. Now, they're playing out a few meaningless games as social media points and laughs at their downfall. It's certainly a season that those in Hollywood won't be able to forget, as much as they might want to.
To be clear, though, the fate that befell the Lakers isn't unique to them. It's a situation that appears throughout the sports world in various forms. Great players do not automatically equal a great team. Just ask head coach Frank Vogel about that.
The sooner front offices understand that reality, the sooner they'll avoid painful situations like the one the Lakers just experienced.
Frank Vogel pointed the finger at the Lakers' front office in a recent interview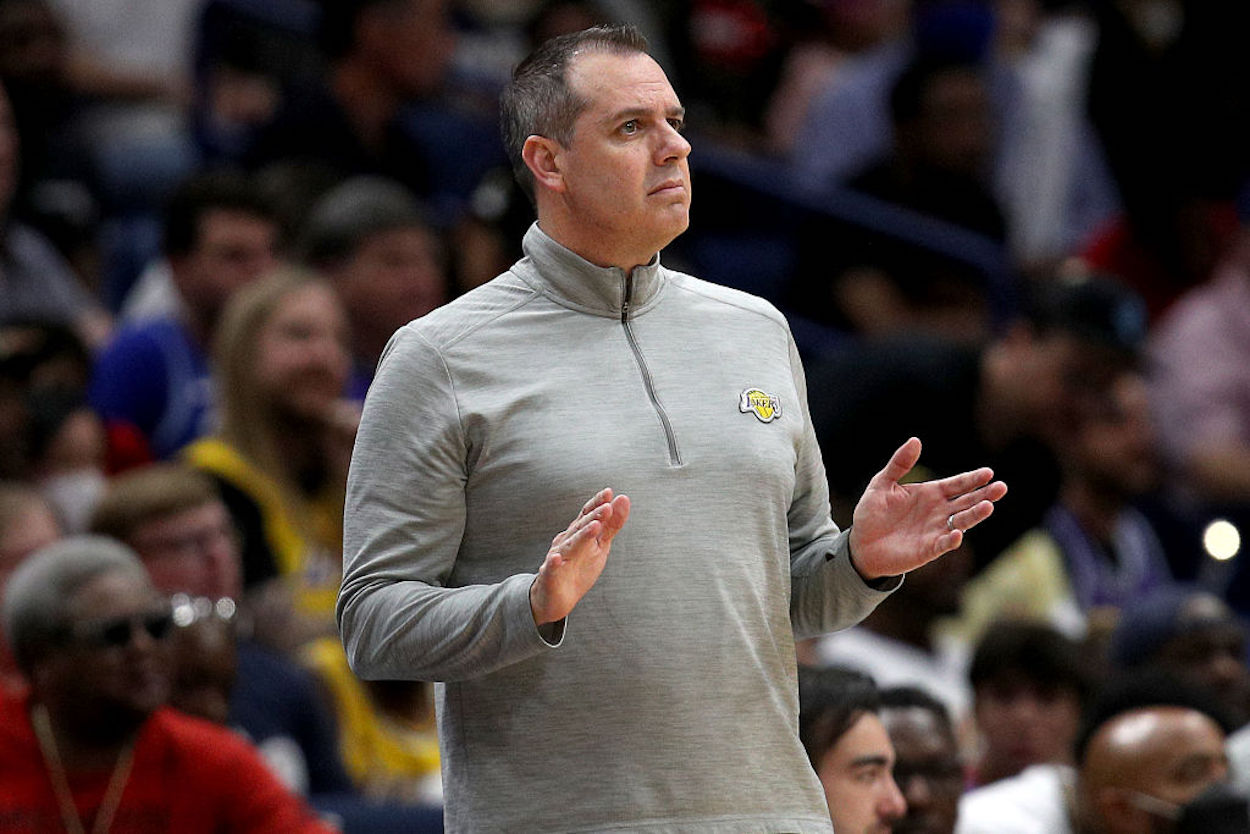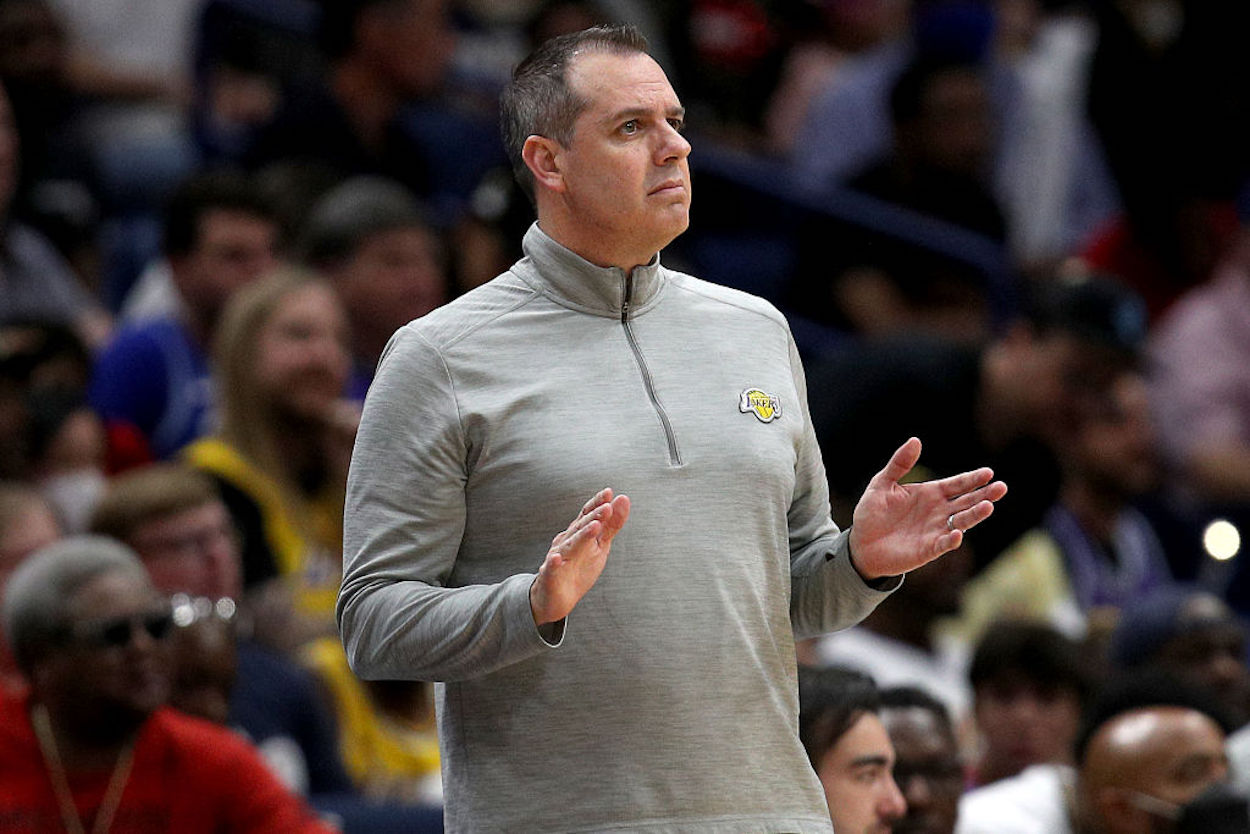 On Tuesday, April 5, the LA Lakers were mathematically eliminated from playoff contention. Hours before the game tipped off, head coach Frank Vogel did an interview with Bill Oram of The Athletic. By that point, he could read the writing on the wall.
The bench boss was remarkably candid, admitting that his team had problems beginning in the preseason. He acknowledged they never found an identity, which wasn't helped by untimely injuries. Most strikingly, though, the coach also seemed to suggest that he didn't have the tools to execute his vision.
"The nature of how our offensive pieces fit together didn't allow us to play with a defensive size and positional size that I typically like to have to give us that type of defensive success," Vogel explained. "So there were a lot more smaller lineups to open up the floor because of how our offensive pieces fit. Trying to make the offense work compromised our defense directly."
It doesn't take a deep knowledge of the Lakers to realize what he's talking about. During the 2021 offseason, LA acquired Russell Westbrook while losing the likes of Alex Caruso, Dennis Schroder, and Kentavious Caldwell-Pope. The roster was then filled out with aging, bit-part players. While that may seem like an increase in raw talent, it simply didn't work.
As Vogel said, the Lakers found themselves fielding smaller lineups that lacked defensive stability. During the 2019-20 campaign, the club finished with the league's third-best defensive rating. They then climbed to first place the following year before falling off a cliff in 2021-22. As of April 7, the Lakers sit in 21st place, which is incredible considering they have a defensive-minded head coach.
If you believe that defense wins championships, those numbers tell you everything you need to know.
The Lakers' season underscores the importance of proper organizational planning
In fairness, blaming the entire Lakers' collapse on the roster is probably a bit simplistic. Injuries also affected things, and, as the head coach, Vogel can take some responsibility for failing to adjust when he saw things weren't working. When push comes to shove, though, you can highlight a lack of collective vision.
By this point, we all know how Vogel wants his teams to play. His bosses, however, seemed to miss the memo. And whether you want to blame Rob Pelinka, Jeanie Buss, or Kurt Rambis, the Lakers replaced some of the team's best perimeter defenders with Westbrook.
If they wanted a run-and-gun offense predicated on three stars, they could have hired a different coach. They didn't, and created a mismatch. From there, the rest is history.
To be fair, though, this sort of situation isn't limited to the Lakers. In the world of soccer, it was demonstrated by two of England's biggest clubs. In the late Arsene Wenger and early Unai Emery eras, Arsenal tried to pry their Champions League window open with big-name signings rather than committing to a rebuild. Per Mertesacker has since offered a biting summary of those moves, saying the club "lost our way… tried to bridge the gap to the top faster with costly investments … [and] fell on our faces with that." (h/t James Benge).
While Arsenal have seemed to learn their lesson and are moving in the right direction, Manchester United are suffering from a similar lack of organizational planning. Their current campaign is a perfect example. The club's summer window was highlighted by bringing in Cristiano Ronaldo, which seemed to be motivated more by keeping him away from Manchester City than anything else. The aging striker has produced some moments of magic, but he's also an imperfect match for Ralf Ragnik's pressing system. You could argue that the German is only an interim manager, but, since he'll be moving to a consultancy role, he will theoretically have some say in larger organizational philosophies. Meanwhile, the defense is weighed down by Harry Maguire's massive price tag and the midfield is reliant on a rather underwhelming duo of Fred and Scott McTominay. It's easy to see how Ronaldo's massive wages could have filled those gaps.
If you're feeling generous, you could counter that United have the financial might to spend their way out of any problem. Their recent campaigns, however, will suggest otherwise. Spending money doesn't always help if you're not doing so in a tactical way.
The same points can be made in other sports. It didn't take a genius, for example, to realize that John Tortorella and Patrik Laine weren't a match made in Heaven. In the NFL, the Dallas Cowboys have been spinning their wheels because Jerry Jones, rather than a general manager, is guiding personnel decisions. The team's vision isn't grounded in a particular philosophy beyond the big boss' ideas.
So, as those examples show, the lack of cohesive vision isn't a problem unique to Los Angeles. The Lakers' 2021-22 campaign, however, does provide a very tangible example to those in North America. If a famous franchise, with LeBron James, Russell Westbrook, and Anthony Davis on the roster, can fail to even reach the Play-In Tournament, it can happen to anyone.
As sports fans, it's easy to view players and coaches as miracle workers. The guy calling the shots, whether he's Frank Vogel, Arsene Wenger, or anyone in between, can figure out a way to get the best out of his players. The stars, ranging from LeBron James to Cristiano Ronaldo, are superheroes, ready to put on a cape and will the team to victory. In reality, though, that's not always the case.
While you need both talent and good coaching to succeed, it's essential to have an organizational plan. Otherwise, you'll be stuck with a mismatched collection of pieces and a whole lot of disappointment.
Just ask Lakers fans about that.
Stats courtesy of NBA.com