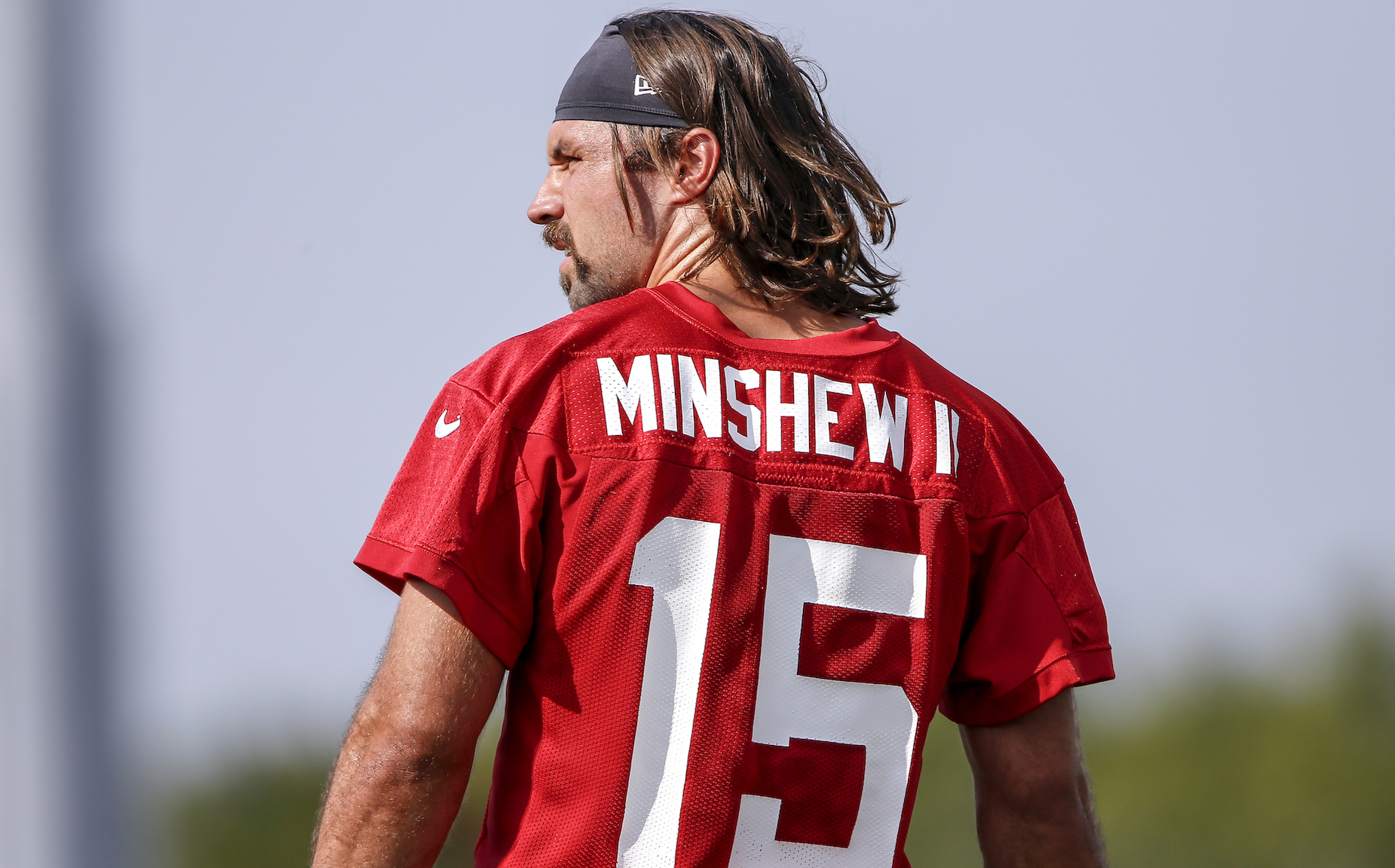 Gardner Minshew Is 'Known for Not Spending Any Money,' According to His Mother
NFL fans probably know Gardner Minshew for his mustache and signature style. The Jaguars quarterback, however, is also known for not spending money.
Last season, Gardner Minshew exploded onto the NFL scene and became somewhat of a cult hero. Even if the rookie quarterback couldn't lead the Jaguars to the promised land, he still made quite a reputation for himself; one season into his career, most football fans recognize his name and, if nothing else, his mustache. Despite that newfound status, the signal-caller isn't exactly living a life of luxury.
While it's easy to assume that every NFL player is splashing the cash whenever they feel like it, that's not how Gardner Minshew rolls. In fact, the quarterback is "known for not spending any money."
Gardner Minshew's unlikely rise to stardom
When you imagine a starting quarterback's road to the pros, you probably envision him suiting up for a big-time NCAA program and becoming a first-round draft pick. Gardner Minshew, however, did things a bit differently.
After high school, Minshew headed to Northwest Mississippi Community College, where he promptly led the Rangers to a national championship. That success helped him make a move to Eastern Carolina University; the quarterback played a total of 17 games for the Pirates, throwing for 3,487 yards and 24 touchdowns before graduating.
Minshew's NCAA career wasn't done yet, though, and he headed to Washington State. As a graduate transfer, he immediately took charge of the Cougars offense; there, everything clicked, and he piled up 4,779 passing yards and 38 touchdowns during his final year of eligibility.
When the 2019 NFL draft rolled around, the Jacksonville Jaguars selected Minshew in the sixth round. While he began the season as the backup quarterback, an injury to Nick Foles forced the rookie into action. Thanks to his fearless play and unique style, Minshew became a fan favorite and, as of 2020, the team's uncontested starter.
Holding onto some frugal habits
Over the years, we've all heard stories about professional athletes who used their first big paycheck to buy a new car or some extravagant jewelry. For Gardner Minshew, though, spending money doesn't exactly come naturally.
"Gardner is known for not spending any money," Kim Minshew told Jason Gay of the Wall Street Journal in October 2019. Even at the NFL level, old habits die hard.
"He would not get an apartment until he saw his name on the roster," Kim explained. While that makes sense—there's no guarantee a sixth-round pick will stick around past training camp—Minshew wasn't ready to splurge on home furnishings, even after surviving the last round of cuts.
According to his mother, Gardner still drives the old Acura he received as a high school graduation gift; he also needed some help filling out his apartment. "I sent him everything he needed for the kitchen, bathroom and bedroom," Kim continued. "I knew if I didn't send him things for his apartment, he wouldn't have them."
Gardner Minshew hasn't made a great deal of money in the NFL… at least not yet
While Gardner Minshew's spending habits might sound a bit surprising, they're probably serving him well. Despite his status as an NFL starter and a fan favorite, the Jaguars quarterback hasn't made a great deal of money in the pros.
According to Sportac, Minshew signed a four-year deal worth a grand total of $2.7 million; of that money, only the $190,000 signing bonus was guaranteed. As a rookie, the quarterback's base salary was $495,000. This season, he's made the jump to $850,000 for the season.
Based on his early career, though, Minshew shouldn't have any problem earning a bit more money in the future. Even if he never turns into a top-tier pro, his status as a cult hero should serve him well from a business perspective; if Minshew-mania keeps picking up steam, there's no telling how large of a fortune he can build.
Will he spend that money, though? At this point, only Gardner Minshew himself knows the answer to that question.
Stats courtesy of Sports-Reference