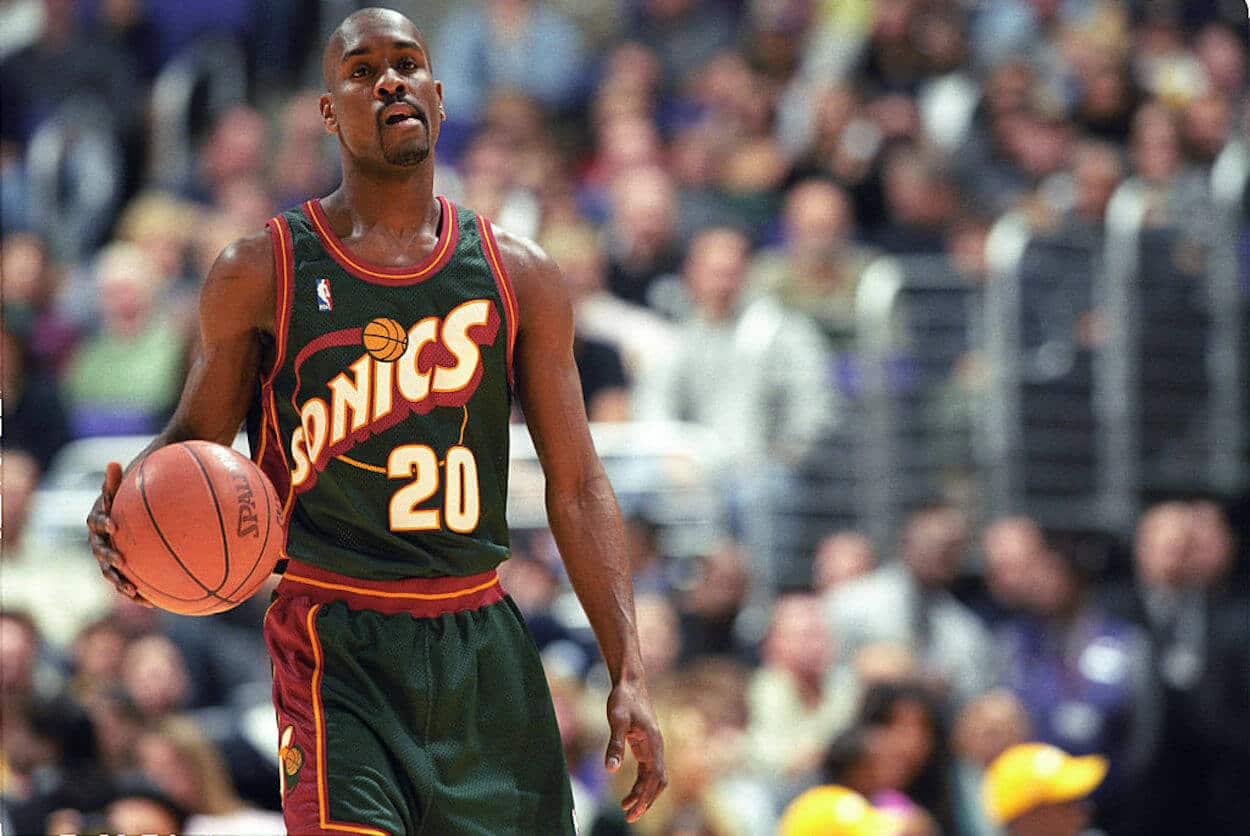 Gary Payton Is Confident About Seattle's Chances of Returning to the NBA: 'I'm Pretty Guaranteed We're Gonna Come Back Soon'
On the basketball court, Gary Payton was never short on confidence. That's also true when it comes to discussing Seattle's NBA future.
While most NBA players are confident — you can't step onto the hardwood doubting your own ability, after all — Gary Payton was in a league of his own. The Glove was a lockdown defender and a capable scorer, but his trash talk is the stuff of legends. If you crossed paths with the California native, you'd know exactly what he thought about your game.
In retirement, things aren't that different. GP is talking a bit less smack these days, but he's still more than willing to speak his mind and share his opinion. Consider, for example, the topic of NBA expansion returning a team to Seattle.
While that topic can be somewhat touchy — it's been more than a decade since the franchise moved to Oklahoma City, leaving a hole in Seattle's heart — Payton isn't hesitating. He's confident that Association basketball will be returning to Washington State before too long.
Let's break it down.
After Adam Silver's expansion comments, Gary Payton is ready for the NBA's return to Seattle
During each league's championship series, the commissioners of America's Big Four sports will usually engage with the media in some capacity. During the 2023 NBA Finals, Adam Silver did just that, and during a conversation with Shaquille O'Neal, the topic of expansion came up.
When the big man raised the idea of NBA expansion, Silver said there was a "possibility" of expanding to Seattle and Las Vegas, but a new TV deal had to be negotiated first (h/t Forbes). The commissioner even went as far as saying that expansion "makes sense over time," even if that did come with the caveat that the Association "doesn't have anything specific in mind right now."
While there's certainly some equivocation there, Gary Payton doesn't seem too concerned about what the future holds.
"I think we're gonna be OK," The Glove told Landon Buford. "Adam Silver is a great commissioner, he knows what he's talking about. We've already did the collective bargaining [agreement], now we have to do the TV deal, which is going to be next year in 2024."
Although cynics could say that Silver is just playing things safe — even if he has doubts about Seattle, he's not going to voice them publicly at this stage — Payton isn't too concerned. In fact, he even went as far as guaranteeing that NBA action would return to Washington State in the foreseeable future.
I think we got a good chance of getting back in 2025-26, and it will be there. I'm not worried about that. I think Seattle is the first one on the list of being an expansion team, and that's what it should be. It should be that way.

We should have never lost the team from day one, you know what I'm saying? We had bad ownership at the time, and that's what they took away from us. And we been gone since 2007, which has been 16 years, and we been fighting, fighting, fighting, and I think Adam Silver knows that. And I think that's gonna happen. I'm not worried about that; we'll be back soon. I'm thinking, I'm pretty guaranteed we're gonna come back soon. I think that's gonna happen. We just gotta wait and let it be a process.

Gary Payton
Seattle SuperSonics fans will hope that their former guard's words come to fruition ASAP.
At the risk of tempting fate, Payton's pledge seems to be in a good place to come true
Predicting the future is a fool's errand; that's especially true in sports, where luck, money, and legal intricacies all affect the biggest decisions. With that being said, though, the prospect of an NBA team returning to Seattle seems to be well within the range of possibility.
From an Association perspective, the league is doing well. As documented by Front Office Sports, the NBA broke $10 billion in total revenue for the first time in 2022; that was quite the jump from the $8.3 billion in revenue earned during the 2020-21 campaign.
While the realities of COVID-19 and playing behind closed doors surely played a role in those numbers, the league is clearly in a strong financial position. Add a new TV deal — remember that Silver said negotiating that will come before any potential expansions — and it's easy to imagine revenue continuing to balloon for the foreseeable future.
It's also worth noting that, from the talent perspective, the league isn't scraping the bottom of the barrel. While there's plenty of room to debate the definition of true parity, the NBA seems to be threading the needle relatively well. There are plenty of big-name stars spread around the league, and, as noted by Inside Hook, all but four teams were within the playoff hunt during the final weeks of the 2022-23 season.
Moving on to a city/franchise perspective, a major concern from the SuperSonic's previous era has been addressed. A key issue that led to the franchise's departure was the lack of a new arena. While that technically hasn't come to pass, KeyArena has been rebranded as Climate Pledge arena and underwent a massive redevelopment. That process saw the facility become home to an NHL expansion team, suggesting that it's suitable for NBA action.
And while you could argue that a new building won't solve the attendance issues that plagued the franchise during the end of its time in the Pacific Northwest, returning to the city as an expansion team could help solve that problem. A return of the SuperSonics would tap into a great deal of nostalgia, and that excitement would probably help sell plenty of tickets. That initial rush would theoretically give the club a buffer during the early years, allowing a contending roster to (theoretically) get built before the crowds wane.
Is any of that set in stone? Of course not, and anything can happen in sports; Sonics fans in the 1980s and 1990s probably never thought the team would head south. With that being said, though, an NBA return to Seattle would certainly make a great deal of sense.
If nothing else, Gary Payton is ready for it.