Geno Smith Contract: Seahawks QB Just Doubled His Career Earnings in 1 Day
Seattle Seahawks signal-caller Geno Smith finally broke out in 2022 after 10 years in the NFL. Now the quarterback is finally a true starter in the league and, maybe more importantly, is being paid like one. The new Geno Smith contract is by far the biggest deal he's ever signed, and in one day, the Geno Smith career earnings doubled.
The Geno Smith contract doubles his career earnings
The exact details of the new Geno Smith contract aren't out just yet, but what we do know is that, at its core, it is a three-year, $75,000,000 pact with an average annual value (AAV) of $25,000,000 and $30,000,000 guaranteed, per Spotrac.
However, the longtime backup's contract also comes with $40 million incentives, making it worth up to $105,000,000.
We'll all have to wait and see what those incentives are and how attainable they will be. That said, if we assume that the Seahawks QB will at least hit a small fraction of those bonuses, the Geno Smith career earnings will double because of this deal.
Heading into the 2023 NFL offseason, the total Geno Smith career earnings are $17,446,078.
That includes the initial rookie Geno Smith contract with the New York Jets for $5,028,578 as a second-round pick. He then got $1,187,500 for one season with the New York Giants, $1,000,000 for one season with the Los Angeles Chargers, and $10,230,000 over four seasons with the Seahawks.
Starting in 2023, Smith's AAV will be more than $7 million more than his career earnings. And if he hits all the incentives, the Geno Smith career earnings will jump six-fold. At the very least, he's 100% guaranteed to nearly double that $17.4 million in the next three seasons.
Not bad for a guy who once lost his starting job because a teammate punched him in the face.
The Seahawks QB is a study in perseverance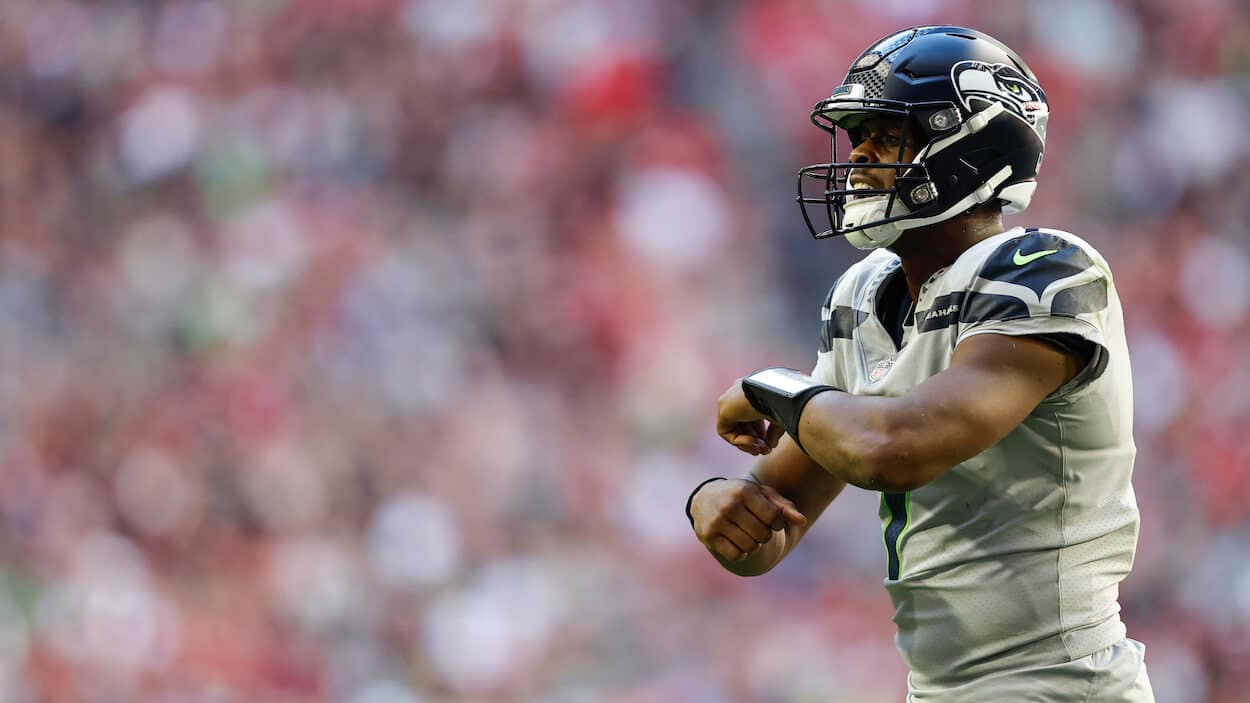 Geno Smith was a good (not great) prospect coming out of West Virginia in 2013. The Jets thought enough of him to make the QB the No. 39 pick of the NFL draft that year, with only (noted first-round bust) EJ Manuel going to the Buffalo Bills ahead of him.
In his rookie season, Smith was 8-8 as a starter with over 3,000 passing yards but also threw 12 touchdowns to 21 interceptions. The following year was even worse. Smith went 3-10 starting games with 2,525 passing yards and 13 TDs and INTs apiece.
Heading into the 2015 season, Smith was going to battle Ryan Fitzpatrick for the starting job. However, Fitzpatrick won by default after teammate IK Enemkpali sucker punched the QB, breaking his jaw, in a dispute over reimbursement of an airline flight.   
Fitzpatrick led the team to a 10-6 record (just missing the playoffs on a tiebreaker with the Pittsburgh Steelers), and Smith was never thought of as a starting QB again until 2022.
After the Seahawks traded Russell Wilson, the team gave out a one-year, $7,000,000 Geno Smith contract and gave him his first no-doubt starting job since 2014.
Smith responded like a true veteran as 4,282 passing yards, 30 touchdowns, 11 interceptions, and a league-leading 69.8% completion rate followed.
Now the QB has a deal that doubles the Geno Smith career earnings, and he is officially an example of perseverance that NFL players and everyday people alike can point to as someone who never gave up on himself.