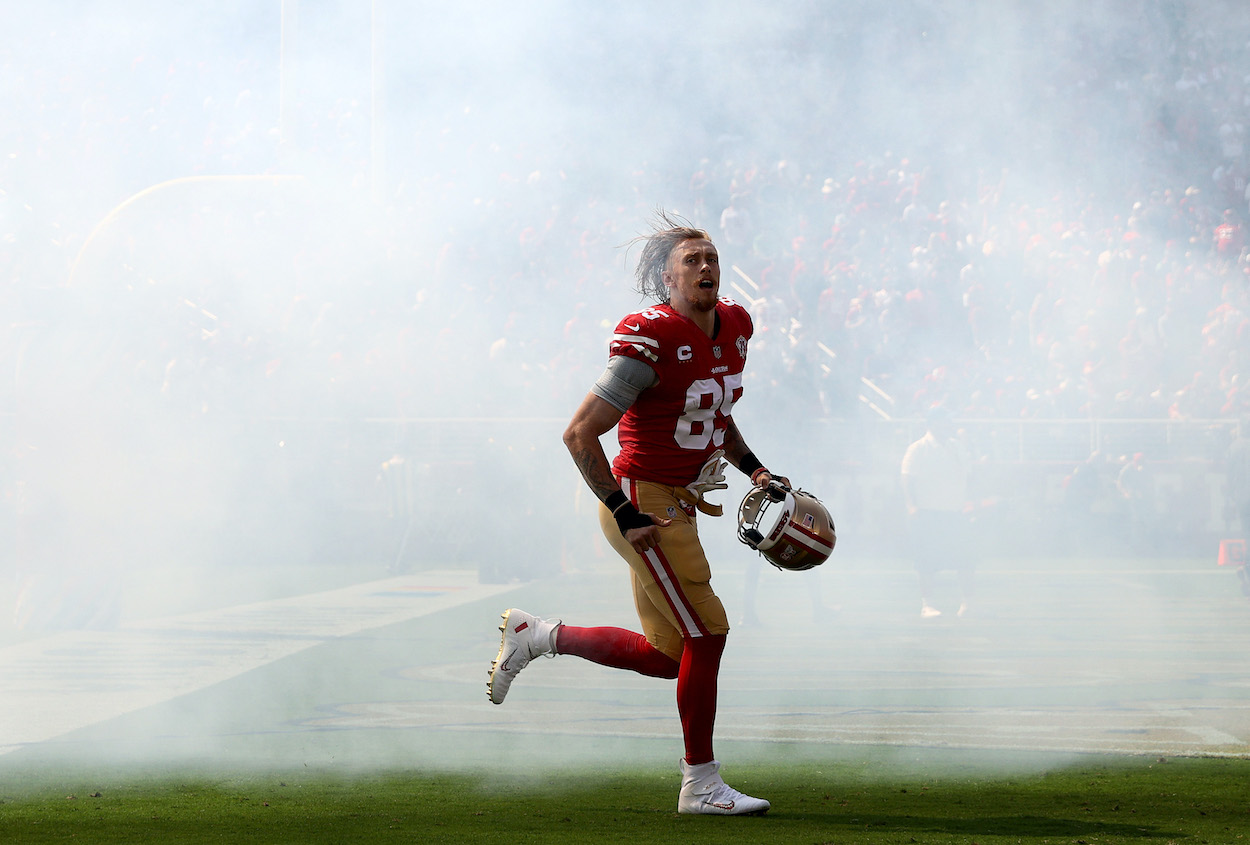 George Kittle's Teammate Reveals the TE's Surprising Trait That Makes Him the Key to the 49ers Offense: 'It Trickles Down to All the Other Guys'
The San Francisco 49ers George Kittle is a thoroughly modern TE but also has old-school skills that helps drive Kyle Shanahan and the Niners' throwback offense.
San Francisco 49ers tight end George Kittle is unquestionably one of the best pass-catching tight ends in the NFL in 2021. However, his complete skill set — something not every modern TE has these days— is what truly sets him apart. And, according to his teammate Kyle Juszczyk, it's his skills on running plays that help drive Kyle Shanahan and the 49ers' throwback offense.
The San Francisco 49ers George Kittle is part of a new breed of NFL tight ends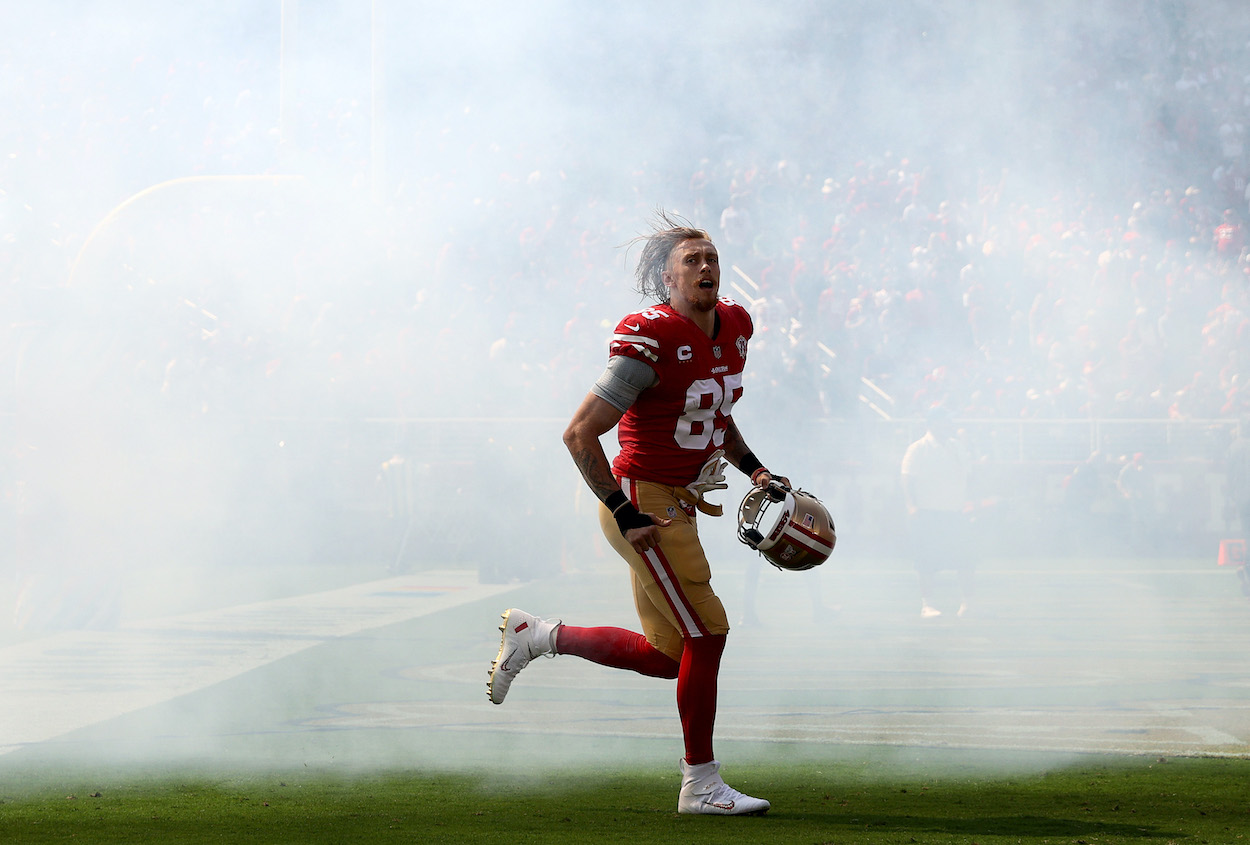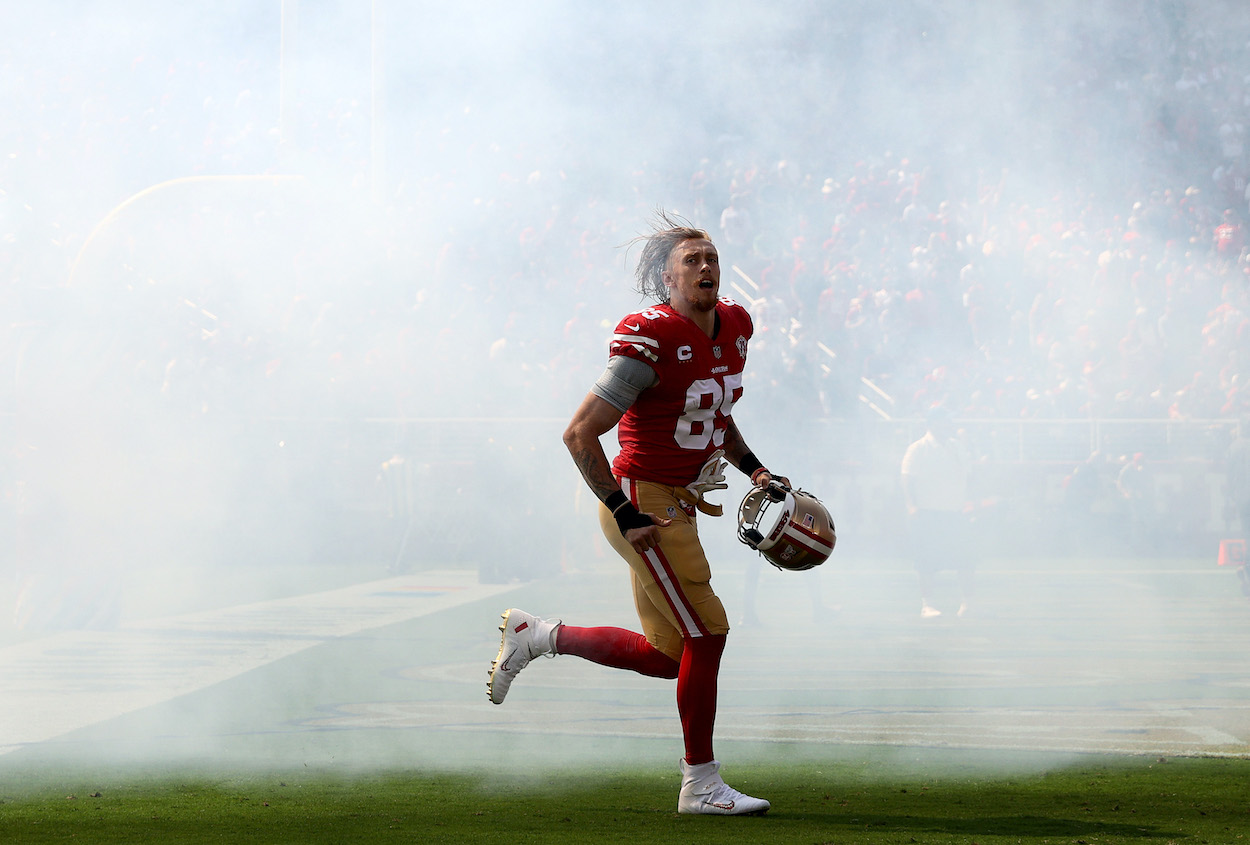 There is possibly no position in the NFL that has evolved over the course of league history more than tight end.
In the 1960s, when the NFL was almost exclusively a running league, tight ends were basically offensive tackles that could run and catch. The Chicago Bears' Mike Ditka and the Baltimore Colts' John Mackey were the best of these early star tight ends.
In the 70s and 80s, as passing became more a part of the game, tight ends with real receiver skills became more valuable. The San Diego Chargers' Kellen Winslow and the Oakland Raiders' Dave Casper were a big part of this transition.
As TE became more of a glamour offensive position, it attracted bigger, stronger, faster, and more skilled athletes. It attracted college basketball players who played Power Forward like Tony Gonzalez and Antonio Gates, as well as other unique athletes like Shannon Sharpe and Jason Witten.
This ushered in a Golden Age of tight ends where the position became a lynchpin of offenses. Jeremy Shockey, Greg Olsen, Jimmy Graham, Dallas Clark, Heath Miller, and Todd Heap helped change how defenses approached the game.
In 2021, we are still in the tight end Golden Age, but the position has continued to evolve.
Tight end's have become not much more than giant wide receivers. The pass-catching and run-after-catch skills of guys like Rob Gronkowski, Travis Kelce, Darren Waller, and rookie Kyle Pitts have made blocking an afterthought for the position.
The San Francisco 49ers TE George Kittle is a modern exception to this rule, according to his longtime teammate, and that is crucial to the improving Niners offense this season.
Kyle Juszczyk says Kitttle's blocking is the key to the 49ers offense
The 2021 season has been a rollercoaster ride for the San Francisco 49ers. After a 2-0 start, the team suffered a crushing four-game losing streak.
However, starting in Week 8 — which coincidentally coincided with TE George Kittle returning from a calf injury — the 49ers have ripped off four wins in their last five games. Since coming back, Kittle has 16 catches for 198 yards and three touchdowns.
That's not why the 49ers O is so much better when Kittle is in the lineup, though, according to San Francisco FB Kyle Juszczyk.
The Harvard-educated blocking back joined the Pat McAfee Show and talked about what makes Kittle so unique and so vital to Kyle Shanahan's run-based offense:
One of the cool things about [Kittle] is, a couple years ago, he set the all-time receiving record for tight ends, and you don't expect a guy like that — who's had the glory of catching the football and doing all the fun stuff — to be so into the run game and be so wanting to block and wanting to be physical. And, it trickles down to all the other guys.

Kyle Juszczyk on George Kittle
Juszczyk's assessment of what Kittle's blocking brings to the offense also checks out on the stat sheet. In the five wins, Kittle has been on the field for, the 49ers have rushed for 131, 117, 165, 171, and 208 yards.
The 49ers run-based offense is an outlier in toady's pass-happy NFL
In the modern NFL, where teams like the Los Angeles Rams, Buffalo Bills, and Kansas City Chiefs throw the ball all around the yard, head coach Kyle Shanahan's San Francisco 49ers offense is a throwback.
Shanahan comes from his father's West Coast/Zone Run school of offensive football, which he's evolved to work in 2021.  
Of the teams that have had their bye, the 49ers are third in rushing attempts (330) and second in yards (1,440).
Kyle Juszczyk, who is a major key to this run game himself, told Pat McAfee that's just the way the Shanahan and the Niners plan it:
Three weeks ago, against LA [Rams], the night before [Shanahan] spoke about our goal was to get 40 runs in that game. And, which you guys know, in today's NFL, that's just an insane amount of runs. You just don't see it week to week. You don't see it around the league. … We ended up getting 44 runs in that game and knocked off a really good LA Rams team.

Kyle Juszczyk on the San Francisco 49ers offense
In Week 13, we should see even more of this hard-nosed style from George Kittle, Juszczyk, and the rest of the 49ers O. The team faces the Seattle Seahawks and their 23rd-ranked rush defense.
Forty-plus runs and a win this week would go a long way to solidifying the 49ers' playoff positioning and possibly even allow them to overtake the LA Rams for second-place in the NFC West if Sean McVay's bunch were to lose a fourth game in a row.
All stats courtesy of Pro Football Reference