Georges St-Pierre Spent $20,000 on Dinosaur Fossils: 'If I Would Not Be a Fighter, I Would Be a Paleontologist'
Georges St-Pierre has accomplished a lot — not only is he a legendary MMA fighter, but he's also starred in Hollywood films like Captain America: The Winter Soldier. The fighter has one other strange achievement under his belt that may surprise you: He's an avid collector of dinosaur fossils. So what fueled this odd obsession, and what made St-Pierre say that if he weren't fighting, he'd actually dedicate his life to studying dinosaurs? Learn more about his hobby and his net worth here.
Georges St-Pierre has spent a lot of money on dinosaur fossils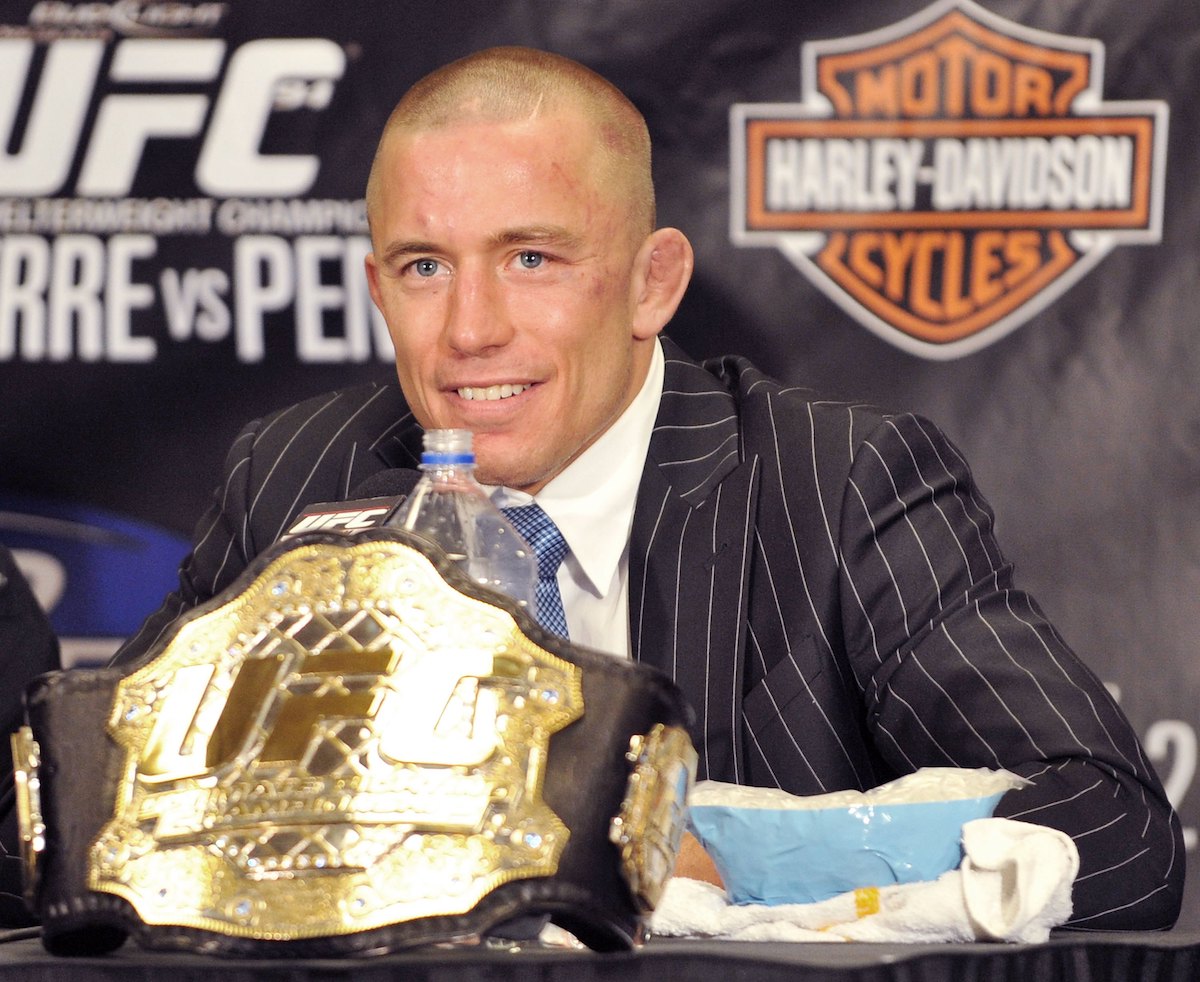 For someone as successful at fighting as St-Pierre, success comes with plenty of perks. One of those undeniable perks is a lot of money; St-Pierre is one of the more financially successful UFC fighters in history (more on his earnings below). Georges St-Pierre has spent a decent amount of that money on dinosaur fossils, as paleontology is actually one of his interests. 
In an interview with GQ, St-Pierre broke down how he spent the first $1 million he made in UFC. When an athlete first strikes it big, that can be an overwhelming moment in which they make some lavish purchases. While St-Pierre spent his money fairly responsibly, there was one extravagant buy he made: dinosaur bones. 
"So I'm really into dinosaur fossil [sic]. I love paleontology. And I bought for, I would say $20,000, Megalodon tooth, Mosasaurus jaw, Tyrannosaurus Rex, all kinds of different animals that used to live a long time ago."
St-Pierre added that if not for his career as a fighter, he would have pursued paleontology as a vocation. He explained that he liked the ability to study what came before him: 
"Paleontology, I love it because you learn about the past, and if you learn about the past you can understand the present better, and predict the future."
His love of dinosaurs didn't stop him from being one of the best fighters in the world
Fossils weren't the only investment St-Pierre made, of course. In the interview, he also discussed the need for those involved in combat sports to "invest on yourself, get new knowledge, make sure you have treatment to recuperate better." 
St-Pierre also cited his ability to meet "incredible mentors" that helped him grow as an athlete. It's clear that St-Pierre's investment in himself has paid off as he's become one of the biggest names in the sport, even if his prime performance years might be behind him. 
He also noted that he's set to have a statue made in his honor in his hometown of Saint-Isidore, Quebec, comparing his situation to that of the fictional movie boxer Rocky Balboa and his Philadelphia statue. 
Georges St-Pierre made enough money to buy museums full of fossils
So after all those investments and all that success, just how much is St-Pierre worth? According to Celebrity Net Worth, he's worth approximately $30 million. At the height of his career, he had a price tag of $6 million a fight.
He's retired now, but he's cemented a legacy as one of the top fighters to ever compete. As UFC continues to grow in magnitude, St-Pierre was one of the fighters who, in the sport's formative years, helped it grow into the popular juggernaut it is today. He made a lot of money while doing so. 
St-Pierre started from humble beginnings and made quite a name for himself. While his UFC days are over, he may have a future in show business. He made yet another Marvel appearance in this year's Disney+ web series The Falcon and the Winter Soldier. Of course, based on his history, the franchise he might be better suited for could be Jurassic World.