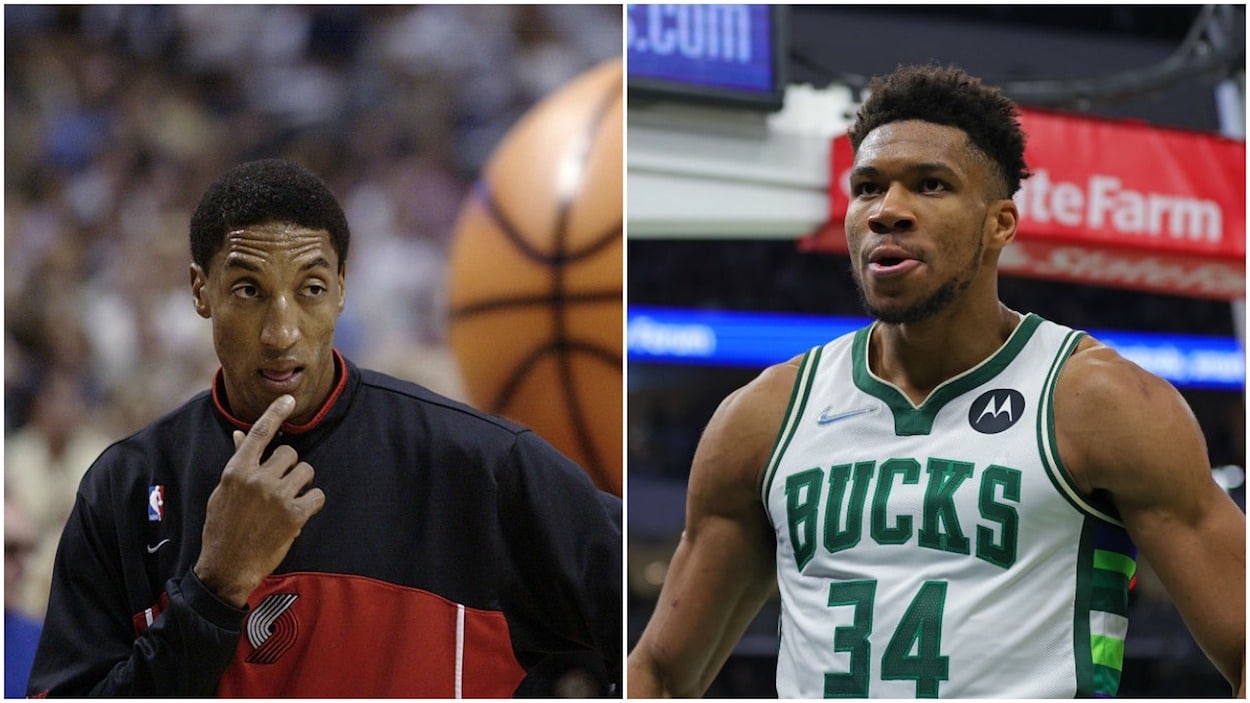 Giannis Antetokounmpo Is So Unique That Scottie Pippen Doesn't Think He Could Guard Him
For all of his defensive prowess, even Scottie Pippen isn't confident in his ability to slow down the unicorn that is Giannis Antetokounmpo.
For better or worse, sports fans love hypotheticals. If you spend any amount of time watching games, you'll inevitably run into a debate about how a modern player would match-up against a historical great. In this situation, Giannis Antetokounmpo and his incredible skill set are pitted against Scottie Pippen, who, despite failing to win a Defensive Player of the Year title, could lock down just about anyone.
While veteran NBA fans might back Pip, the former Chicago Bull offered his own take on the matter. In his mind, the Greek Freak is simply too much for Pippen to handle.
Scottie Pippen doesn't think he could defend Giannis Antetokounmpo on his own
While it's easy to remember him as Michael Jordan's sidekick, Scottie Pippen was a capable player in his own right, especially on the defensive end of the floor. With that being said, though, the retired forward knows the limit of his skill set. In this case, that means backing down from the Greek Freak.
During his interview with TrashTalkProduction, Pip was asked about how he'd defend a unicorn like Giannis. Unsurprisingly, the six-time NBA champ targeted the closest thing Antetokounmpo has to a weakness.
"I think you gotta to try to force him out on the floor," said Pippen. "When I mean out on the floor, you got to take him out of the paint. That's your first job. Not an easy task by any means. He's definitely a dominant player. Reminds me a lot of Shaq. But I'm going to say that he has a bit more range than even what Shaq had. … I think, physically, you have to try and push Giannis up. You gotta get him out of the paint."
As Pippen explained, though, that's easier said than done. In fact, he went on to say that the Greek Freak would be too much of a challenge for him to contain.
"I don't think, I don't think I'm the guy that could guard Giannis, I think he's too big for me," the NBA vet continued. "I would probably say [that] I would be more of a helper, more of a double [team]. I would say, with Giannis, you would have to put a big body on him… someone like Horace [Grant], Dennis Rodman. … Giannis is, he's a tall order. You would really have to put so much effort on the defense to try and stop him because he's a force."
Pippen also noted that his defensive game plan was predicated on the rest of the Bucks' roster failing to hit their shots. If you force Giannis to pass, and someone else sinks an uncontested three, "You ain't did nothing."
Both the eye test and the modern metrics back up Pip's take on Giannis
Given the confidence that we usually associate with professional athletes, it's a bit jarring to hear Pippen admit that he probably couldn't defend Giannis Antetokounmpo on his own. With that being said, though, his take makes perfect sense.
As anyone who's ever watched the Greek Freak can confirm, his nickname is rather accurate. The Bucks' star clocks in at 6-foot-11 but can run the floor like a guard. His incredible blend of size, strength, and athleticism makes him almost unstoppable in transition or on the low block. Antetokounmpo can overpower smaller defenders, outpace big men, and, ever since some notable struggles during last year's playoffs, has improved his free throw shooting. As Pip said, your best bet is to force him out of the paint and hope that he'll take an unnecessary jumper rather than firing a skip pass across the court to an open shooter.
If you'd prefer some hard data to back up those assertions, Giannis shines there, too. As documented in a recent Tim Cranjis tweet, Antetokounmpo ranks above the 90th percentile in most situations; the only exceptions are in transition (61st percentile), as the ball-handler in a pick-and-roll (87th percentile), on spot-up shots (70th percentile), and on hand-offs (19th percentile). Keep in mind that those are his worst metrics. Plenty of other players would be thrilled if they could be in the 87th percentile of offensive efficiency in any situation.
It's also worth noting that Giannis received an A+ as a rim protector and defensive rebounder, and an A- when it came to screener mobile defense and screener rim defense. While that doesn't speak to the challenges he presents on the offensive end of the floor, those grades to underscore just how unique of a talent the Greek Freak truly is.
All of that is to say that, regardless of your preferred metric, this Giannis Antetokounmpo fellow is pretty good at basketball. Even if you're a purist who thinks things peaked in Scottie Pippen's day, you'll still want to appreciate the Milwaukee Bucks man before it's too late.
Stats courtesy of Basketball-Reference