Gilbert Arenas Once Sent Richard Jefferson Into the Fetal Position Using an Adult Movie and His Stereo System: 'He Was an Evil Genius'
These days, Richard Jefferson and Gilbert Arenas are both remembered as capable NBA players who strutted their stuff during the 2000s. Before those men ever reached the professional ranks, though, they played college ball together at the University of Arizona. There, they helped the Wildcats emerge as one of the top programs in the entire country.
Arenas and Jefferson did more than just play basketball, though. As two of the big men on campus, the student-athletes were bound to have a bit of fun. On one occasion, however, things got a bit embarrassing for the small forward.
Gilbert Arenas and Richard Jefferson played their college ball together at Arizona
While the University of Arizona might not be a true college basketball blue blood, the Wildcats have managed to put together some solid squads over the years. Take, for example, their 2000-01 team, which boasted four future NBA players.
With all due respect to Luke Walton and Loren Woods, Arenas and Jefferson's names jump off the team sheet. At the time, Agent Zero was a sophomore and showing flashes of his signature offensive talent. He averaged 16.2 points per contest during that campaign, with Jefferson, a junior, adding 11.3 points and 5.4 rebounds a night.
That year, Arizona failed to win the Pac-10 title but showed enough to enter the NCAA Tournament as a number two seed. They advanced all the way to the championship game, where they fell to a Duke Blue Devils squad led by Jason Williams and Shane Battier.
Shortly after that defeat, both Arenas and Jefferson announced that they'd be entering the 2001 NBA draft.
Richard Jefferson ended up in the fetal position thanks to an adult movie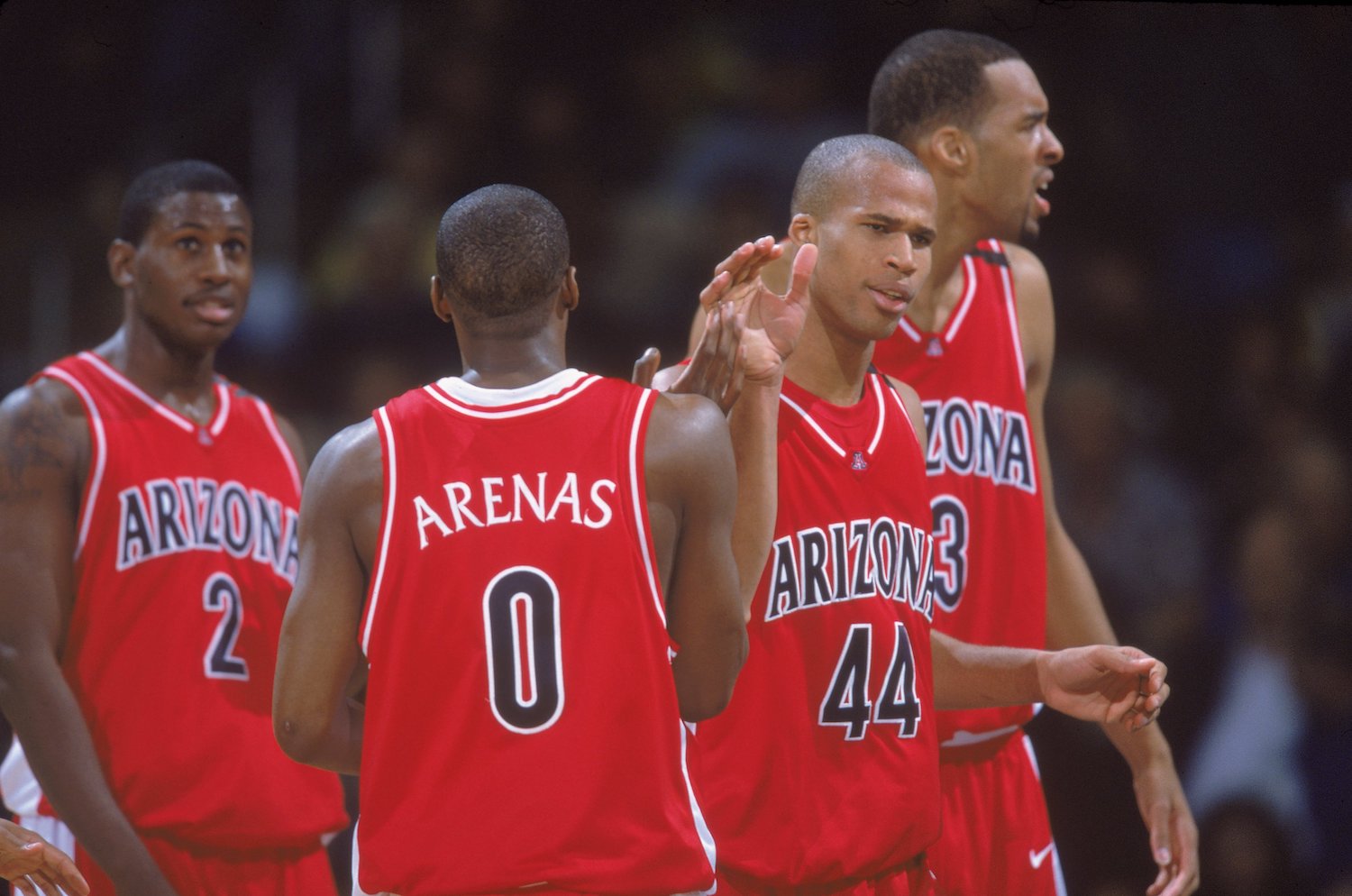 When Jefferson and Arenas were in college, they had their fair share of fun. On one occasion, though, the latter player took things a bit beyond the bounds of good taste.
As he recounted in a Players' Tribune post, Jefferson got a bit hungry during 2001's Family Weekend. Arenas then stepped in, offering to drive over to the student union building in his car. As you might expect from a future NBA star, Agent Zero had a tricked-out ride complete with rims, a DVD player, and a sizable sound system. Something, however, was amiss.
"He was an evil genius," Jefferson said of Arenas. "He's got that mischievous grin. That mad-scientist grin. I should've known. I should've saved myself. But I let him drive me."
While the pair drove through campus playing music on the stereo, the guard decided to call an audible.
He reaches for the 100-strong CD sleeve. Remember those? He slides something into the DVD player, and this movie starts to play.

This movie starts to play ridiculously loud, with full bass, over his ridiculous stereo system.

It was … how do I say this?

Let's just say this movie was … adult in nature.

It was very adult. It was NSFW. It was WTF.

Richard Jefferson writing in The Players' Tribune
As you might expect, Jefferson wasn't exactly comfortable sitting in a car that was blasting an adult movie in the middle of a crowded campus. "I was so embarrassed that I fully reclined the passenger seat and curled up into the fetal position," he recalled. Arenas, however, was having a ball.
"But Gilbert had an enormous smile on his face. He was waving to everyone. Grandpas, children, professors. He was waving like a presidential candidate," the forward continued. "He was so proud. He was a true evil genius."
That move was par for the court with Gilbert Arenas
These days, Arenas is mostly remembered for his decision to bring a gun into the Washington Wizards locker room. Beyond that incident, though, the guard was generally considered a fun guy to have on your roster.
At SBNation's Bullets Forever, Sean Fagan assembled a list of some of Agent Zero's most notable pranks. Over the years, Arenas apparently used Andray Blatche's shoes as a toilet, provided his teammates with donuts coated in baby powder rather than powdered sugar, and soaked Awvee Storey with a hose while he was using the bathroom.
In theory, college is a place to hone your skills and prepare for life in the professional world. Both from a prank and a basketball perspective, it seems like Gilbert Arenas got a good education at Arizona.
Stats courtesy of Sports-Reference