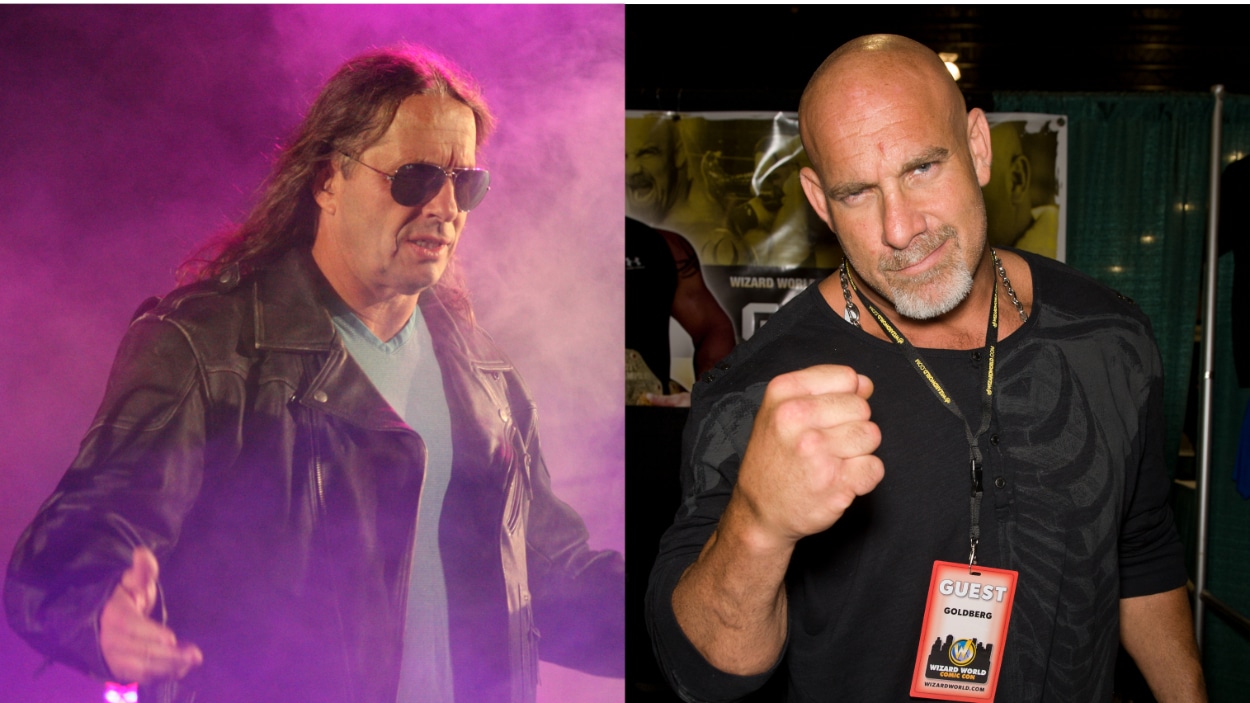 Goldberg Admits He's 'Pretty Pissed Off' at Bret Hart Because 'The Hitman' Blames Him for Ending Career: 'I Will Take It to My Grave'
Bill Goldberg hit Bret Hart with a kick in a match 23 years ago that ended 'The Hitman's' career, and both men are still upset about it.
For years, one of the greatest WWE superstars of all time, Bret Hart, hasn't been shy about blaming Bill Goldberg for ending his career. "The Hitman" has gone into detail multiple times about the incident, disparaging his fellow pro wrestler each time. Goldberg recently shared that while he still feels horrible about the whole scenario, he's sick of hearing about it from Hart.
The Bill Goldberg vs. Bret Hart feud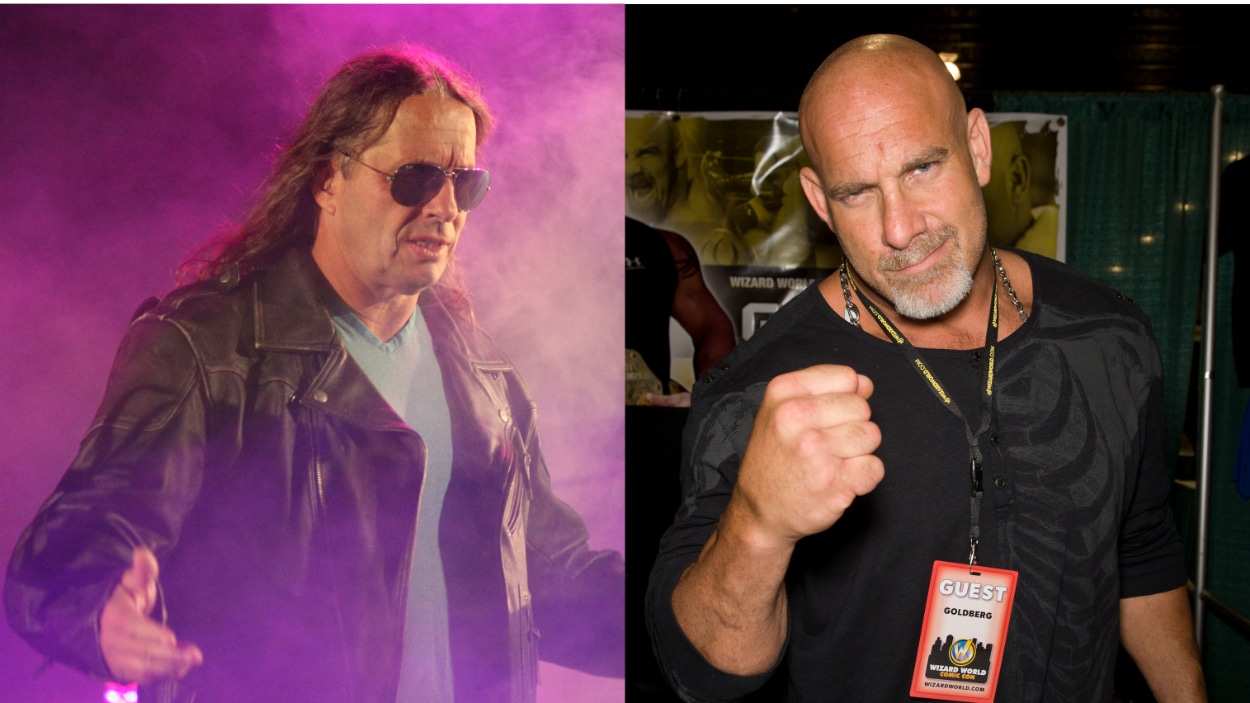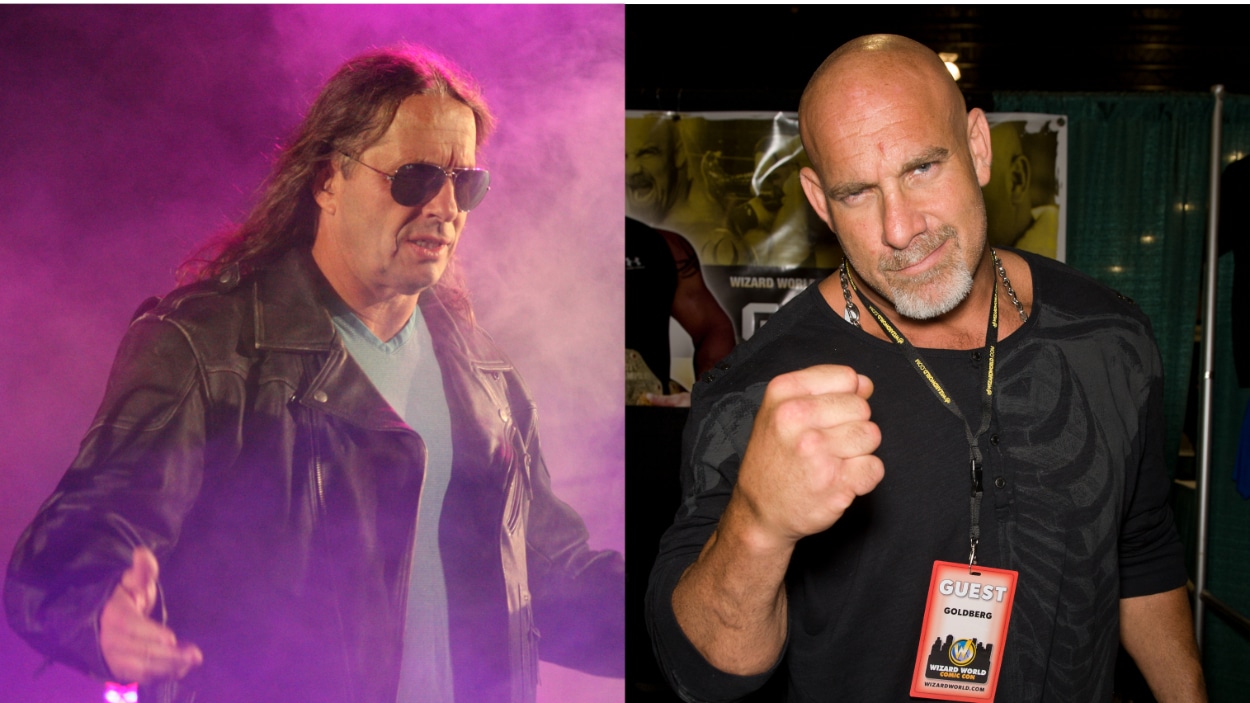 Two of the most iconic pro wrestlers of all time, Bret Hart and Bill Goldberg, faced off at WCW Starrcade in 1999. At one point, Goldberg threw "The Hitman" into the ropes. Hart bounced off, and Goldberg hit him with a kick to the head.
It looked like a normal pro wrestling spot. One you'd see dozens of times in a match and hundreds of times on a single card.
However, this kick hit different.
The kick caught Hart underneath his jaw and gave him a concussion. Hart was unable to wrestle in the coming months while dealing with severe post-concussion syndrome. About a year and a half later, "The Hitman" suffered a stroke. He says it was related to the injury sustained in 1999. That stroke officially ended the in-ring career of "The Best There Is, The Best There Was, The Best There Ever Will Be."
For years after, Hart expressed his displeasure with Goldberg for the incident. In 2019, Hart sat down with Inside the Ropes and discussed the incident. "The Hitman" accused Goldberg of not calling him to apologize until eight months after the injury. And he says doesn't know if "he even cares" about ending his career and costing him millions of dollars.
It is obvious that Hart is still quite upset about the entire situation two decades later.
"The Hitman" incident still bothers Goldberg on several levels
On a recent episode of The Michael Kay Show, co-host Peter Rosenberg interviewed Goldberg ahead of his upcoming A&E Biography premier.
The sports talk and morning show host admitted that he's a major Brett Hart fan. He also noted it's evident that the Canadian wrestling legend is still bitter about the incident. Rosenberg then asked the former WCW and WWE star if he's still upset about the Hart situation. Goldberg responded in a contrite fashion:
Yes. As Goldberg the character and Goldberg the human, there's no question about it. When an accident happens, and you tell your side of the story, and nobody believes it — especially the person who was negatively affected by it — yeah, it sucks. And I will take it to my grave because I'm sure he will never forgive me.

Goldberg on Bret Hart
However, as Goldberg continued his answer, he started recalling how many times he's apologized to Hart. With that, he shared how many times Hart has rebuffed his apologies. Then Goldberg got heated:
I've said I was sorry — that it was unintentional, and it was the furthest thing from my mind — I don't know, a million times? And of those a million times, he's come back with, 'Yes, it was intentional. And he's a punk, and he doesn't know what he was doing, and he ruined my career.' So, you know, it sucks. But you can lead a horse to water, and you can shove their face in the damn water, but you can't make 'em suck it up their esophagus. If you can tell that I'm pretty pissed off about the fact that he still harbors it, yeah, it sucks.

Goldberg on Bret Hart
Twenty-three years later, it's clear that Goldberg both feels bad and is sick of hearing "The Hitman" drag his good name through the mud.  
Despite what either thinks these days, though, it does seem like Hart will never change his mind and Goldberg's done apologizing. It's unfortunate that two of the greats seem like they will never make amends.
Like Sportscasting on Facebook and subscribe to our YouTube channel.