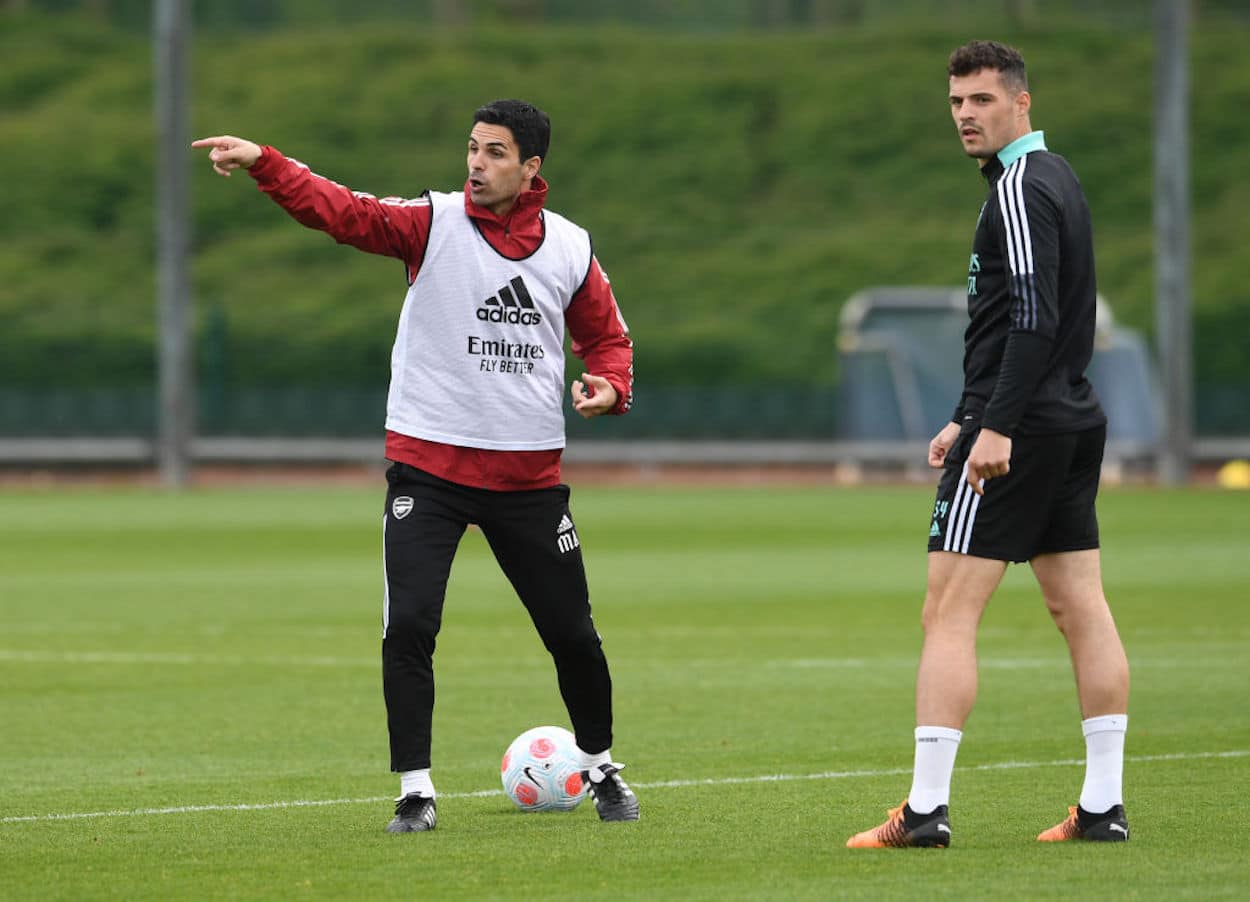 Granit Xhaka's Transformation Proves Why Mikel Arteta Is the Right Man for Arsenal
While there are still some skeptics out there, Mikel Arteta's work with Granit Xhaka speaks volumes about his managerial chops.
Among Arsenal fans, Granit Xhaka is a divisive figure. Some view the Swiss midfielder as an important, if somewhat imperfect, cog in the Gunner's football machine. Others view him as a mediocre player whose continued presence in the starting lineup embodies the club's declining standards.
One man's opinion, however, hasn't wavered. Manager Mikel Arteta convinced Xhaka to stay at the club, and that faith has been paying off. Through the opening weeks of the 2022-23 campaign, the veteran has looked like a new player, worn the captain's armband, and even been serenaded with his own song by the traveling supporters.
While it's easy to get bogged down in the minutia during a season — every match contains countless clues about what the future holds — let's zoom out a bit and look at the bigger picture. Arteta's work with Xhaka shows exactly why he's the right manager to lead a project like Arsenal's.
Mikel Arteta convince Granit Xhaka to stay at Arsenal and currently has the midfielder playing some of the best football of his life
Although 2019 may feel like an eternity ago, all Arsenal supporters will remember that time. Things were unraveling under Unai Emery, and Xhaka, who had been named captain in a way that undermined his authority, was stripped of the armband after he cursed at the fans who were jeering him off the pitch.
When Mikel Arteta took over, Xhaka was ready to leave North London and turn the page. The Spaniard, however, had other ideas.
"When Mikel was appointed in December, I told him that I wanted to leave. He understood completely. We had a second chat a few days later, and when I went in, I had talked it through with my wife. Our suitcases were literally placed by the door," Xhaka explained in a 2022 Players Tribune piece. "When I have made a decision like that, it is very difficult to change my mind. But then Mikel began to talk about how I was a big part of his plans. I liked his warmth. He was honest, straight. Clear plans. I felt I could trust him. He told me to give him six months to prove me wrong, and then if I still wanted to leave, no problem."
That offer was more than good enough for the Swiss.
"Normally I spend a lot of time making these decisions," the midfielder continued. "I talk to everyone around me, I weigh up the pros and cons. But that day I broke my own rules. I told Mikel, "'O.K.'"
While things haven't been perfect for Arsenal, Arteta, or Xhaka since then, it's easy to see why those quotes are recirculating.
During the early days of the 2022-23 campaign, the Swiss has looked like a new man. Rather than sitting at the base of the midfield, where his lack of pace was exposed, Xhaka has pushed higher up the field as a free 8. While he's not the most natural player in the attacking third, he's done a fine job of making late runs, picking out key passes, and helping to hem the opposition deep in their own territory.
Statistically, things have paid off. The midfielder has been producing goal-contributions at an unprecedented (for him) rate and no longer looks like a player one misstep away from disaster. The attitude around Xhaka has also changed. While the club was previously hesitant to confirm his contract extension due to the social media backlash, Arsenal's Twitter account recently asked followers what they thought of his performance and shared a clip of the veteran speaking about the supporters singing his name.
A few years ago, that would have been unimaginable.
Mikel Arteta's ability to make the most of players' talents will be key at a club like Arsenal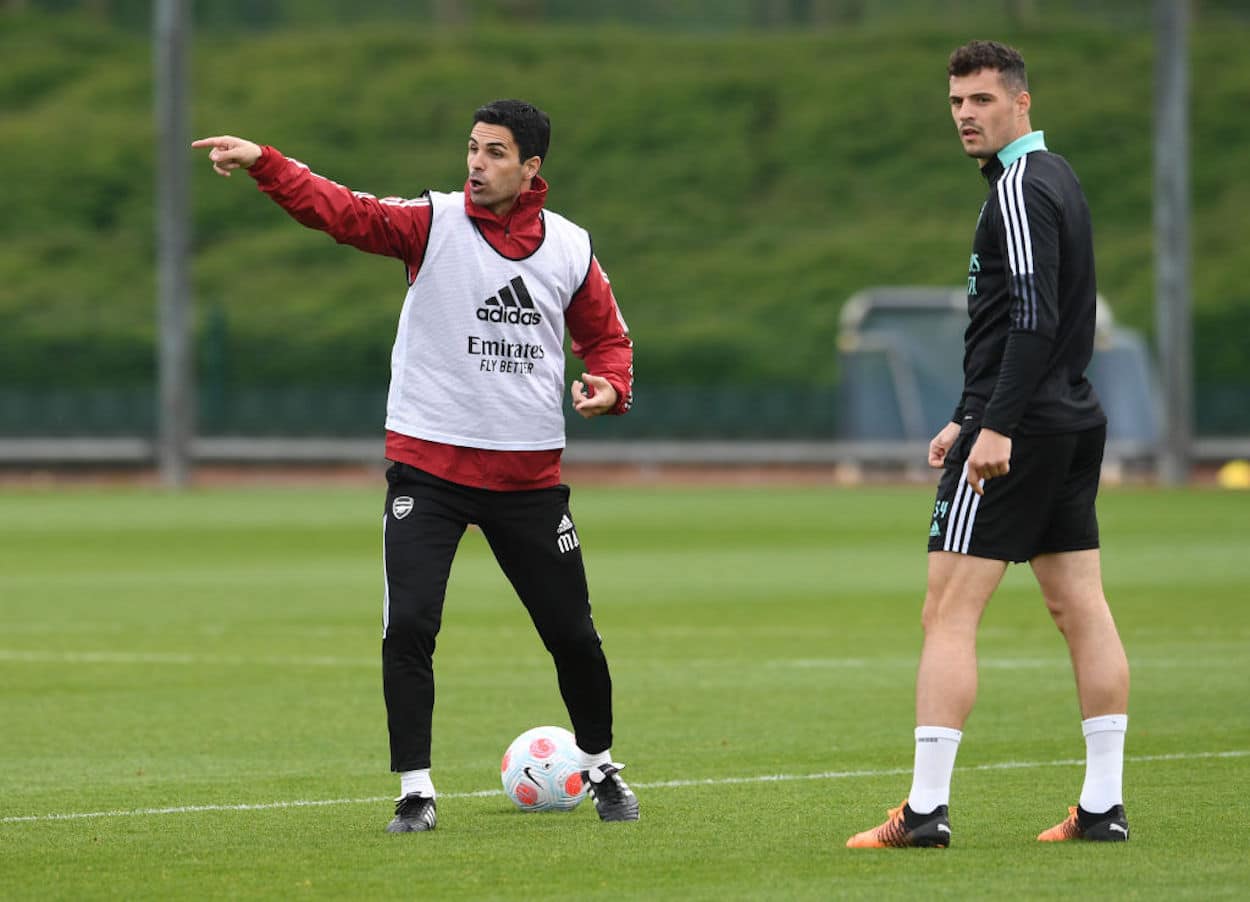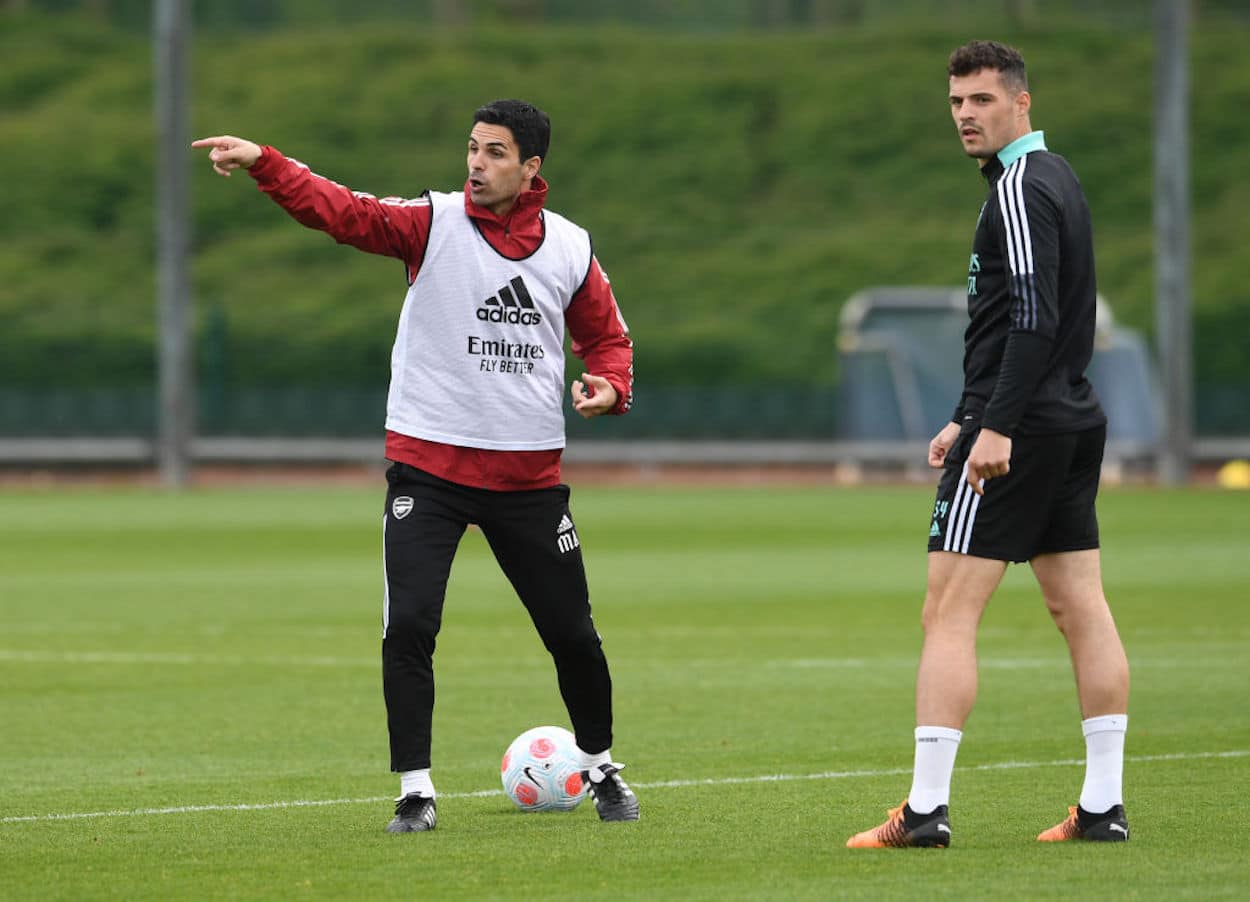 Thus far, I've spent more time talking about Granit Xhaka than Mikel Arteta, which might leave you asking, "What does any of this have to do with the manager?" To that, I'd say that the Swiss midfielder's transformation perfectly embodies what a bench boss can do.
At the basest level of coaching and managing, the job is about making the best use of resources possible to win games. There are multiple ways to accomplish that reality, and through the lens of Xhaka, we can see Arteta flexing a diverse set of muscles.
Personal skills/selling a vision – Arteta took a player who was on the verge of leaving the club and convinced him to stay. The Swiss lasted beyond those six months; he's still at the club and looking more settled than ever. As much as we might want to focus on the "hard" skills of coaching, the boss needs to work with people and get everyone to buy in. Doing that with a man who's firm in his convictions, like Xhaka, shows that the Spaniard can certainly sell a vision.
Tactical intelligence – As any Arsenal supporter can tell you, leaving Xhaka as the deepest midfielder didn't exactly work. Whether it was his plan all along or something that developed after coming to Arsenal, Arteta figured out a way to maximize the midfielder's talents while mitigating his flaws. While most armchair tacticians wouldn't have pegged Xhaka as a box-to-box threat, the manager saw something.
Coaching/helping a player evolve – In a similar vein to the above point, Xhaka had occupied a similar role during his entire time at Arsenal. While it's impossible to know exactly what happened behind the scenes and who deserves the credit, Arteta and his staff have gotten the midfielder to slot into a slightly different role with different responsibilities. That, at the risk of defining a word with itself, suggests the coaching team is actually able to, well, coach.
Beyond all of those points, let's consider something specific to Arsenal. While the club may be part of the Big 6, the Gunners don't quite have the financial might of a Manchester United or a Manchester City. Spending has gotten a bit freer in recent years, but it's unlikely that the Kroenke family will be blindly bankrolling hundreds of millions of dollars of spending every summer.
In that context, Arsenal has to work smarter. Whether that means buying players slightly ahead of their prime and helping them develop — think Gabriel Martinelli or even Fabio Vieira, despite his transfer fee — or making the best use of the assets that are already at the club. In either case, Arteta and his staff will be tasked with doing plenty of tactic work, coaching, and selling players on the project. While there may be some exceptions, like a Thomas Partey or a Gabriel Jesus, the club will probably be more reliant on their manager's skills than simply handing him 11 world-class starters.
So, while you could cynically argue that Arteta found his perfect subject in Xhaka — someone who was clearly talented but obviously flawed and occupied a similar role in the team to the Spaniard during his playing days — all we can go by is the situations we've seen. And, if transforming Granit Xhaka is at all emblematic of his skillset, Mikel Arteta is the right man to lead Arsenal through the (potential) end of their rebuild.
Like Sportscasting on Facebook. Follow us on Twitter @sportscasting19 and subscribe to our YouTube channel.