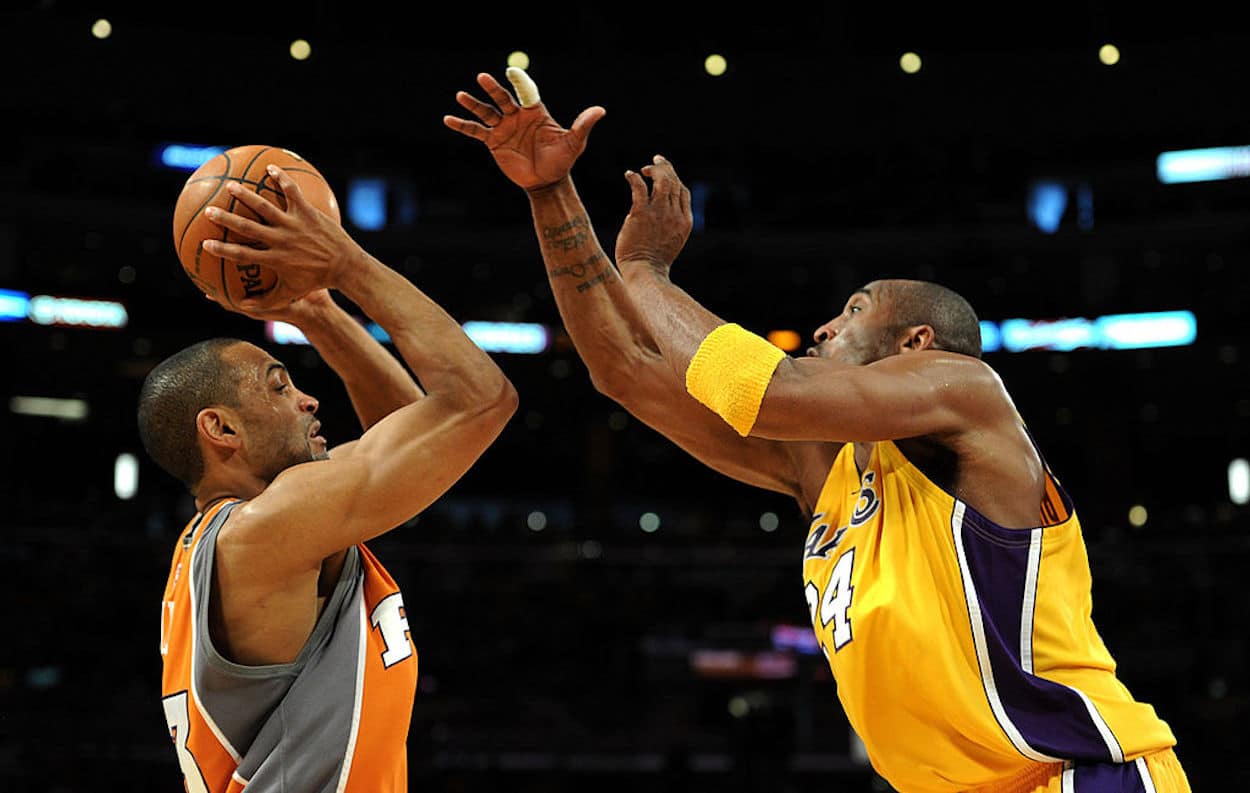 Grant Hill Calls Kobe Bryant the 'Best Player' He Ever Faced
Over the years, Kobe Bryant has received plenty of compliments. In a recent interview, Grant Hill paid him another piece of high praise.
In modern basketball history, certain names loom large. Kobe Bryant is undeniably one of those iconic players. No matter who you ask, there's probably a story about the LA Lakers star and his Mamba Mentality. Grant Hill is no exception to that rule.
Although he faced plenty of great players over the years, Hill recently came forward to pay the late Lakers legend quite the compliment. In the former Duke Blue Devils' mind, Bryant was the greatest opponent he ever faced.
Grant Hill faced some legendary opponents, but has indelible memories of Kobe Bryant 
Although injuries limited his effectiveness, Grant Hill played in the NBA from 1994 through 2013. During that time, he crossed paths with the likes of Michael Jordan, LeBron James, and virtually every other modern legend. Kobe Bryant, however, stands out.
On a recent episode of the All the Smoke podcast, Hill recounted how the Lakers star exploded during Game 6 of the 2010 Western Conference Finals. That segued into a discussion about the challenges of guarding Kobe.
"Look, Kobe, like when I guarded LeBron back then, my attitude was, 'I'm not gonna crash the offensive glass,'" Hill recounted. "When we shoot, I'mma find him. I'm not gonna let him get out in the open court with a full head of steam. I'm not gonna let him turn the corner and go right and get to the rim. Make contested jump shots, and I'm not gonna foul him. If he posts me up, don't help cause he beats you with his passing. … I didn't have a strategy for Kobe. I didn't know what to do. And so, sometimes, man, like I would just, he goes up for a shot [and] I just hit his arm."
While that may already sound impressive, it gets even better when you consider Hill's body of work. Although injuries took their toll, the former Duke Blue Devils was a tough defender who had no problem locking down opposing stars (h/t Seth Pollack of SB Nation). For him to be floundering, guessing about what Kobe would do and resorting to fouls, speaks volumes about Bryant's skill.
It seems like Hill was impressed, too.
"He was the best player I played against," the forward admitted. "And I say this respectfully with Jordan because I didn't guard Jordan. Pippen and I matched up. But the best player that I played against, hands down, was Kobe.
Hill still regrets ignoring a phone call that could have allowed him to team up with Kobe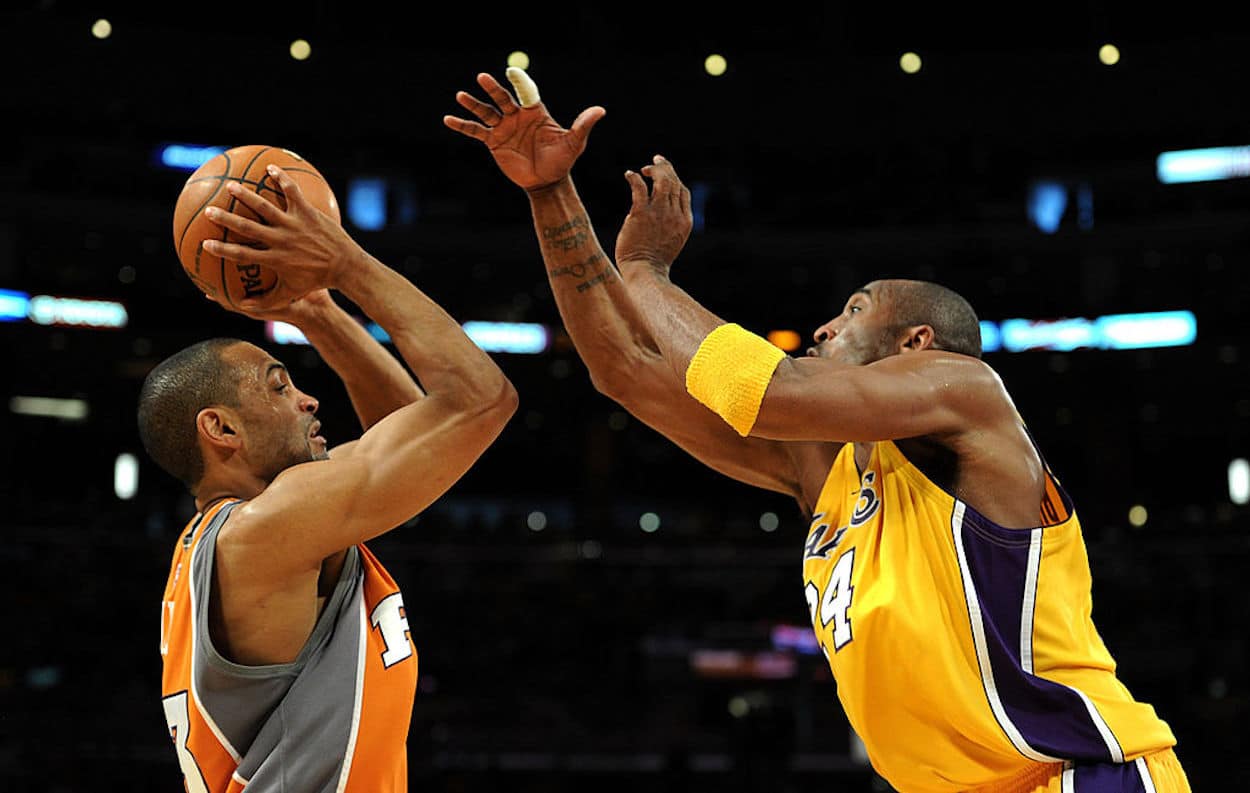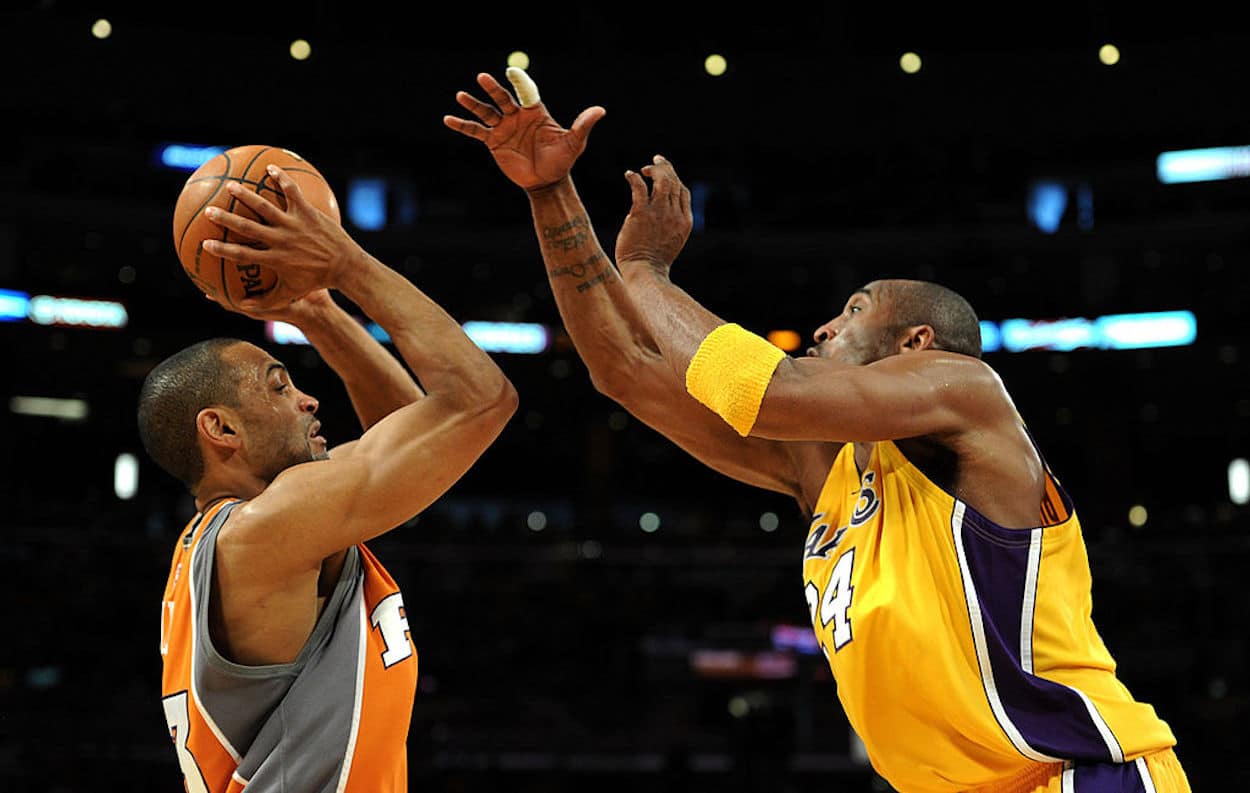 Based on the times they crossed paths, Grant Hill certainly had plenty of respect for Kobe Bryant. That manifested itself in another way beyond calling the Lakers' legend his best opponent, though.
As long-time basketball fans will remember, there's a rumor that Hill could have been traded for Kobe Bryant after Phil Jackson joined the Lakers. While the forward can't speak to the accuracy of that story, he did share that he still thinks about missing another chance to team up with the Black Mamba.
"One of my regrets, it's in the book, in '07, when I left Orlando, Phil Jackson called me three times," Hill continued. "When I left Orlando, Phil called. Three times. I didn't call him back. And I'm thinking, 'Oh, it's over in LA.' Kobe, you know, he's talking about [Andrew] Bynum, you know. They're imploding in the playoffs. Like I just thought the run was over in LA."
The run, of course, wasn't over. Bryant's Lakers, with the help of Pau Gasol, won the 2009 and 2010 NBA titles; the latter championship run included dispatching the Suns in the Western Conference Finals. While Hill and the big Spaniard weren't exactly the same player, it's easy to imagine how the Zen Master would have used the former Blue Devil as a secondary ball-handler, defensive stopper, and element of the triangle offense.
NBA history, however, played out differently. Hill moving to Hollywood and teaming up with Kobe will have to remain another 'what if' about the forward's career.
Like Sportscasting on Facebook. Follow us on Twitter @sportscasting19 and subscribe to our YouTube channel.